Going for a day trip to Rotterdam and not sure what to do? Here is my guide on how to spend 24 hours in Rotterdam!
Ahhh Rotterdam, Amsterdam's little sister. Most people who aren't very familiar with the Netherlands may still have heard of Rotterdam. If you've been following my blog for a while, you may know that I like to put a spotlight on lesser-known cities – especially in countries I have lived in.
Especially because the Netherlands isn't very big, it's super easy to take the train to other cities while visiting. Rotterdam is a perfect example of this. Here is my guide on how to spend 24 hours in Rotterdam.
About Rotterdam
Rotterdam was founded in the 13th century and grew into the second biggest city in the Netherlands. After Amsterdam, Rotterdam is one of the most visited cities for tourists. It also is home to a lot of international students, with more than 180 nationalities. At the start of the Second World War, German bombs destroyed the city centre on May 14th 1940. After the war, Rotterdam was rebuilt and turned into a hub for modern architecture. It is now a lively city filled with great things to do and see.
Rotterdam or Amsterdam?
Amsterdam is by far the most popular city in the Netherlands for tourist. The architecture, the touristy hot-spots and let's not forget the many coffee shops. Personally, I don't think Amsterdam gives you a great insight into Dutch culture. It's a more fabricated tourist culture that people enjoy. If you do want to experience some real Dutch culture, I'd highly recommend visiting some other cities in the Netherlands.
If you are looking for a touristy hotspot, Amsterdam is your go-to place. The canals, the canalside houses and world-famous musea – it's a lovely city to visit for a few days. But if you're looking for more modern architecture, a more easy-going city and a lot less expensive, Rotterdam should be on your list.
Money in Rotterdam
The currency used in The Netherlands is Euros (€). The best way to get the most out of your money is by getting an international currency card (like Monzo or Tranferwise). This way, you don't pay any extra charges for converting your pounds or dollars. The currency exchange of the euro sits around:
$1 = €0.92
£1 = €1.19
The Dutch aren't very big on tipping. You only tip if you had a great service, which should be around 5-10%. If your service was average, it's still a good custom to round up your bill. You don't have to tip if you didn't think the service was worth it. No hard feelings 😉 For more information about how to tip in the Netherlands, you can read this article.
Language in Rotterdam
The Dutch are known to speak pretty great English (*cough* is there anything we Dutchies can't do *cough*), but it's always appreciated when visitors know a few words or sentences. It just shows that you're interested in the culture, that you're willing to put effort into it and it will guarantee you a smile from the waiter/waitress when ordering food. Whenever Richard (my English boyfriend) and I are in the Netherlands and he speaks a few lines of Dutch, people LOVE it! Here are a few basic lines to get you started.
Yes/No = Ja/Nee
Thank you = Dank je
Hello = Hallo
Do you speak English? = Spreekt u Engels?
Please = Alstublieft
Bye = Doei
Excuse me = Pardon
Looking to learn a bit more Dutch? Check out my 30 basic Dutch phrases for tourists.
How to get to Rotterdam
By plane: Rotterdam does have its own airport, but unfortunately, it's not a very big one. Not many airlines fly to it, but it's worth checking! The Netherlands isn't a very big country and public transport allows you to quickly get from one city to the next. Because of this, I'd recommend you to fly to either Amsterdam or Eindhoven if there are no flights directly to Rotterdam. From there, you can take the train to get to Rotterdam.
By train: You can take the train from anywhere in The Netherlands to get to Rotterdam within a couple of hours. From Amsterdam, a single ticket will cost you €16.40 and will take 40 minutes. If you have decided to fly to Eindhoven, a single ticket will cost you €19.40 and will take just over an hour. Check my guide on how to use the trains in the Netherlands for everything you want to know about Dutch public transport. It also includes some tips on how to get discounted train tickets.
24 Hours in Rotterdam Itinerary
And now to the fun part: the actual itinerary! Here are some of the best highlights of the city that you can easily check off your list within 24 hours.
Wake up in the Euromast Rotterdam
One of Rotterdam's main highlights is its observation tower: The Euromast. Built between 1958 and 1960, this tower has been an iconic piece of the Rotterdam skyline. You can go up the tower to enjoy a view across the city, or…You can actually stay inside of the Euromast! Yes, sleep INSIDE! Check out the prices per night here. It's a bit more unique than staying in your average hotel, so if you want to spice things up a bit, I'd highly recommend it!
Photograph the Cube Houses
Another tick off your Rotterdam Bucket List, the famous Cube Houses (or Kubuswoningen in Dutch). Designed by Piet Blom, the cube houses can be found in both Rotterdam and Helmond. The design is meant to represent a tree. Together, the houses form a forest. Because of its unique shape, the cube houses attract quite a bit of attention.
Shop in Rotterdam Markthal
Another win for Rotterdam's modern and quirky architecture's fame. The Markthal is a beautiful residential and office building, under which a market is located. What speaks to me most if the artwork inside the hall. Painted by artist Arno Coenen, the walls of the hall are covered in colourful fruits, vegetables, seeds and insects. It's a real treat to look at, especially when the sun is lighting up the building.
Eat some poffertjes in the Cool District
It's a little self-explanatory, but the Cool District in Rotterdam is by far the coolest district in the city. Alongside many shops, restaurants and bars, the Cool District is a cultural hub. This district dates back to at least the 13th century, but due to the WWII bombing, not many historic buildings remain.
When in the Cool District, make sure to visit the Witte de Withstraat. On it, you can find some great independent cafes and small bars. You really get to blend in with the locals here. Oh – and try some of the poffertjes here. A Dutch delicacy. Mini pancakes!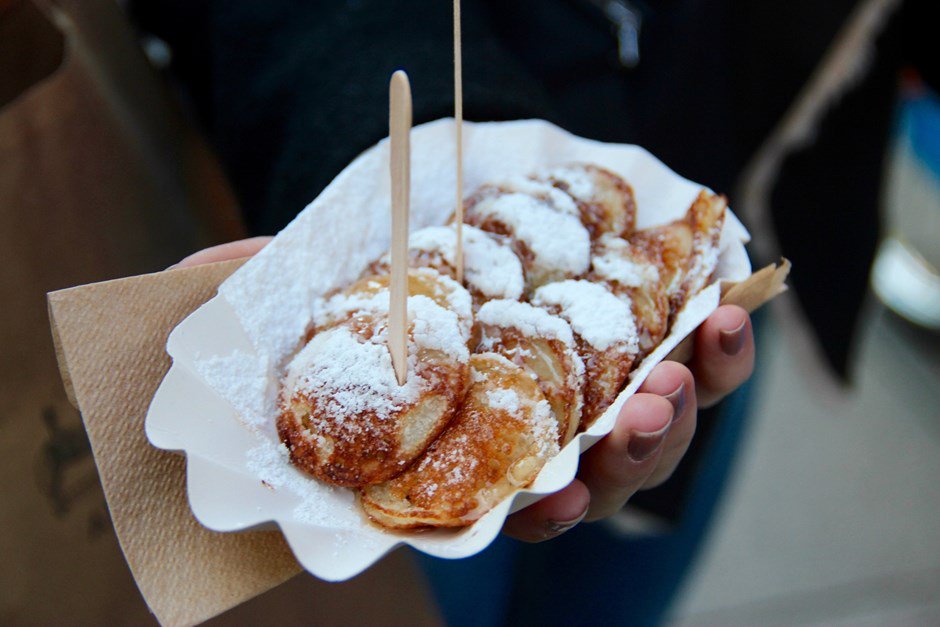 Wander the Old Harbour
Rotterdam is known as the harbour city of the Netherlands, with Europe's biggest port. You can take a step back in time and see where it all began, at the Old Harbour. Located almost next to the Cube Houses. It is the oldest harbour in the city, but most of the area was destroyed in the bombing. Only a few buildings survived. One of which is the White House. The architect was inspired by Manhattan's skyscrapers and built the first skyscraper of the city back in 1898.
The historic Old Harbour is a perfect place to enjoy a beverage, as it is now lined with many cafes and restaurants. It's especially nice to visit it during the summer when most cafes have tables outside to enjoy the sun. If you're looking for Rotterdam's nightlife scene, this is a great spot. From Thursday till Sunday, you can find a lot of locals and tourist here to enjoy a few drinks and music.
Check out the Erasmus Bridge
Possibly even more iconic than the Euromast is the Erasmus Bridge in Rotterdam. Even if you only have 24 hours, I'd definitely make sure to check it out. It really is one of a kind. The Erasmus Bridge connects the north and the south part of the city and was designed so that even large ships can still pass underneath it. This beautiful piece of engineering is named after the Renaissance humanist Desiderius Erasmus of Rotterdam.
Erasmus Statue
If you have time, stop by the Erasmus statue. Desiderius Erasmus Roterodamus (1466-1536) is probably the most famous Rotterdam-born person out there. He was a Dutch philosopher and considered to be one of the greatest scholars of his time. His books have been translated into many different languages and studied across the globe. Rotterdam, being his hometown, names its university after him.
Enjoy A Dutch Pancake On The Water
Being so close to the water, Rotterdam has some great opportunities to eat in style. Dutch pancakes (one of my favourite Dutch foods) make up for a great dinner. You may see them as desserts, but then you haven't tried the Dutch ones yet. Bigger than your typical American pancake and thicker than your average French crepe, Dutch pancakes come with all sorts of toppings. Sweet, savoury, a mixture of both – you name it.
End your 24 hours in Rotterdam enjoying one of these typical Dutch dishes on a ship in the Rotterdam harbour. You can check the availability of the pancake cruises here.
Day trips from Rotterdam
If you're staying in (or near) Rotterdam for longer than one day, there are some great opportunities to go for fun day trips. Here are some of my favourites:
Kinderdijk (Windmills)
Only 15 kilometres from Rotterdam, Kinderdijk can be found. This is one of the best tourist sights in the Netherlands. What comes to mind when thinking of The Netherlands (apart from weed, tulips, cheese and wooden shoes)? WINDMILLS! Right?
To drain the Alblasserwaard polder, 19 beautiful windmills were built back in 1740. They still remain there to this day, sharing a story of how the Dutch used windmills to create more land. These windmills were awarded UNESCO world heritage status in 1997. It's a great place to learn about Holland's history and enjoy some gorgeous windmills.
Other Dutch cities
Because the Netherlands is not very big, it's super easy to jump on the train and go visit another city. All big cities are connected with each other through the public transport system. If you're unsure about how to use them, check out my guide on how to use the trains in the Netherlands.
Visiting cities inside the Netherlands that may be not as popular as Amsterdam is a perfect way to really get to know the Dutch culture. Even though Amsterdam makes for an awesome weekend away, it doesn't particularly reflect Dutch culture (in my opinion). Some cities that I'd highly recommend are Eindhoven, Den Bosch and Maastricht (the oldest city in the Netherlands). You can check out my one-day trip guides by clicking on the names.