Last Updated on July 20, 2021
Looking for an efficient 4 day Prague itinerary for first time visitors? We've broken down all the best highlights in the city for an easy-to-follow guide on how to spend four days in the city.
In recent years, Prague has turned into one of Europe's top destinations. It has the perfect mixture of history, gorgeous architecture, exciting things to do and of course… cheap beer! What else do you want? This 4 day Prague itinerary is an example of how you can spend four days in Prague and see some of the best highlights of the city! Scroll all the way to the end for some extra tips about how to get to Prague, how to get around the city and some bits of information about the language and money.
*The Navigatio uses affiliate links. If you make a purchase through these links, I will receive a small commission at no extra cost to you. Thank you!
4 Day Prague Itinerary
Day 1 in Prague | Old Town (Staré Mesto)
This Prague itinerary starts in the middle of the Old Town. This part of the city definitely does its name justice: it feels like a time machine. The beautiful cobblestoned paths and historic buildings are simply stunning. This is one of the reasons I'd highly recommend booking a hotel in the Old Town – but more on that later!
Old Town Square
Prague's Old Town Square is probably one of the most visited highlights of the city. Not only can you find many of the top tourist attractions on the square, but you can also find one of Europe's best Christmas markets here in December. When visiting Old Town Square, make sure to try a chimney cake called "trdelnik". Originally, this treat comes from Hungary but is very popular in Prague and other cities in Czechia. And it's very tasty!
Old Town Hall
On Old Town Square, you can find the Old Town Hall. Completed in 1364, this building is full of history. In medieval times, the 70 meters of height market the tallest building in the city. You can climb the tower for one of the best views across Prague, but you do have to pay a little fee to get there. In order to avoid waiting in lines, you can purchase skip-the-queue tickets before you go to Prague.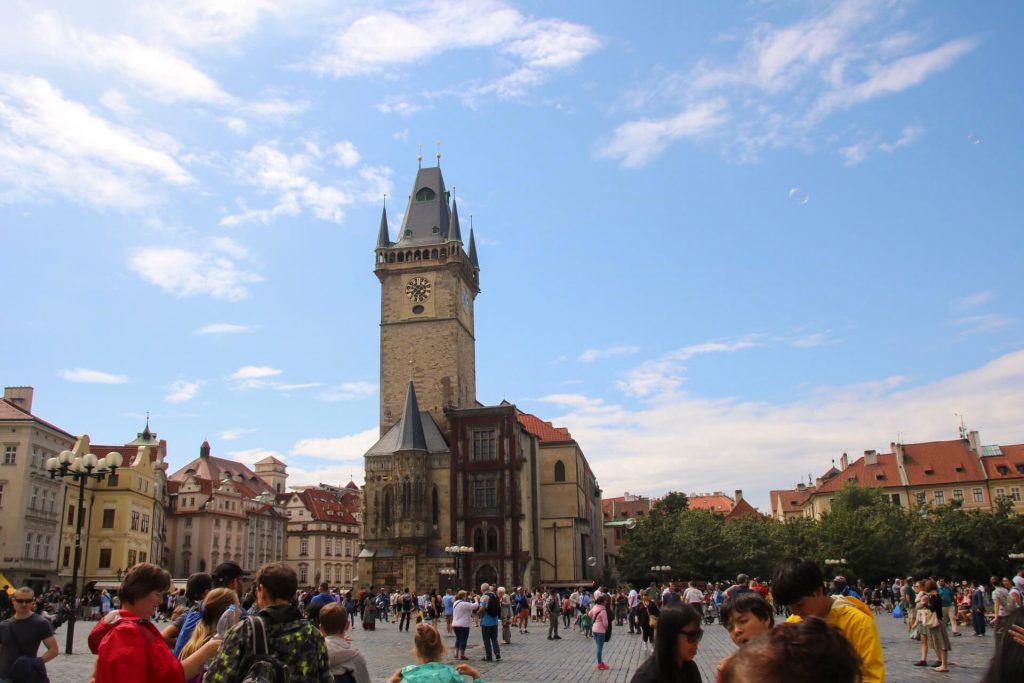 Astronomical Clock
On the southern side of the Old Town Hall, you can find the famous astronomical clock. Every hour on the hour (between 9 AM and 11 PM), the 12 apostles start moving around. This usually attracts quite a few tourists, but it's not really worth the wait in my opinion. If you happen to be around when it happens, it's fun to have a quick look though! The clock was created in 1410, making it the third-oldest astronomical clock in the world and the oldest that's still being operated.
Legend says that the creator of the clock was blinded by the council in Prague after he finished it. This was supposedly done to avoid him re-creating the clock for other cities. I'm not sure if that legend is true, but it sounds crazy!
Kinsky Palace
Another eye-catcher on the Old Town Square is the Kinsky Palace. This building was formerly used as a palace (hence the name) and now houses an art museum. The beautifully decorated building was built between 1755 and 1765 for the Golz family. The style of the palace is Rococo. This late Baroque style is famous for its ornamental and theatrical tendencies, which is definitely seen back in the gorgeous exterior of Kinsky Palace.
Church of Our Lady before Týn
The last attraction to check out while visiting Old Town Square is another icon of the Prague skyline: the Gothic Church of Our Lady before Týn. This beautiful church took almost two centuries to build (between the 14th and 16th century) and houses the oldest organ in Prague (1673). Legend says that this church inspired Walt Disney for Sleeping Beauty's Castle. What do you think? Do you see the resemblance?
Powder Tower
This beautiful Gothic tower is located on the border between the New and Old Town. It marks the entrance of the Old Town with its beautifully designed gates. The tower was finished in 1475 and was one of the 13 original city gates of the city. It was used as a place to store gunpowder, where the tower got its name from. You can climb the 186 steps for a lovely view across Prague. Close to the Powder Tower, you can also find the Czech Museum of Cubism.
Clementinum
This complex of historic buildings is definitely worth a visit. Located close to the Charles Bridge (which we will visit on the second day of this itinerary), visiting it can fit easily into your trip to Prague. The clementrinum used to be the third-largest Jesuit college in the world. It used to host the National University and the Technical library (before it got moved in 2009). Make sure to visit the Baroque Library. This beautiful library is known for its stunning interior and ceiling artwork by Jan Hiebl.
Jewish Quarter (Josefov)
This small area in the Old Town of Prague used to be known as the Jewish Getto. It was formed in the 13th century when Jewish people were ordered to relocate in this area. Even though this part of the city doesn't have the nicest history, many buildings and monuments have been preserved beautifully. It is actually the best-preserved historical Jewish monuments in the entirety of Europe. In the Jewish Quarter, you can find many synagogues and statues dedicated to the Bohemian writer Franz Kafka, as he was born in the Jewish Quarter of Prague.
Walking/Cycling tour
A lovely addition to your time in the Old Town of Prague is booking a walking or cycling tour through the city. We did a 2.5-hour cycling tour that guided us to all the best spots in the Old Town. What I liked so much about it is that the guide could give us so much extra information about all the sights! I learned so much in only a couple of hours.
TIP: Restaurants in the Old Town don't have a great rep. They're usually pretty expensive for what they offer and can seem like tourist traps. One great restaurant we had dinner at was Nuance Restaurant. It may seem very fancy (and it is!) but it's not more expensive than any of the restaurants that are in the same neighbourhood! The food was absolutely stunning and it was probably the best places I ate at during my entire trip to the Czech Republic.
Also read: 25 best things to do in Prague
Day 2 in Prague | Prague Castle & Malá Strana
We continue our Prague trip in the Lesser Town, where we visit some highlights including the Charles Bridge, the Lennon Wall, the Kafka Museum and of course, Prague Castle. The streets in this part of Prague resemble the Old Town a lot – cobblestoned streets and a feeling you stepped back in time.
Charles Bridge
Even though this bridge is technically part of the Old Town, we start day two by visiting the Charles Bridge. Crossing the Vltava river, the Charles Bridge (which is 516 meters long, 9.5 meters wide and 13 meters heigh) connects the Old Town with the grounds of Prague Castle. Charles IV had it built in 1357 and it wasn't completed until the 15th century. It's not only one of the most famous, but definitely also one of the most beautiful bridges in the world.
Because it's such a popular tourist sight in Prague, I'd highly recommend visiting the bridge either early in the morning or later at night. That's the reason why I put it at the start of day two in this itinerary, rather than on day one. Visiting it early (before 10 AM) gives you the opportunity to see the bridge without all the touristy stands, which in my opinion is a much nicer experience.
Lennon Wall
After crossing the Charles Bridge, you can find the Lennon Wall within only a few minutes. The homage to the famous musician has been filled with quotes and graffiti from visitors since 1980. Why there is a Lennon Wall in Prague, you may ask? His art inspired many people during the totalitarian era. The wall offered people a place to express themselves, even though they'd risk being put in prison! Today, you can also put something on the wall (it's encouraged!) to leave your park in Prague.
Kafka Museum
The Kafka Museum is located on the riverbank of the Vltava river, not far from the Lennon Wall. As a literature graduate, I know all too well about Franz Kafka (1883-1924), the famous Prague-born author. There are many tributes in Prague to Kafka, statues and other art, but this museum is probably the most important. Inside, you can find some first edition books and original letters from the author.
Outside the Kafka Museum, you can have a laugh at the peeing statue. It's a perfect example of Kafka's humour, but it did offend a lot of people. This is mainly because the statues are peeing on a shape that resembles the Czech Republic…
Wallenstein Garden (Valdštejnská zahrada)
While walking towards Prague Castle (our last stop of the day), stop by at Wallenstein Garden and Wallenstein Palace. The baroque palace is where Albrecht von Wallenstein resided, who started to build the palace back in 1623. The gardens were built alongside the palace and act as a beautiful place of nature in the middle of Prague. During the summer, you can find many concerts and theatre performances in the garden.
Prague Castle (Pražský hrad)
You cannot visit Prague and not visit Prague Castle! Being one of the most significant buildings of the Czech Republic, visiting it is an absolute must. It is also one of the 12 UNESCO world heritage sites of the Czech Republic. The castle was founded in 880 and has served people for over a thousand years. It is the largest castle complex in the entire world and its romanesque style mixed with the gothic alterations that have been made in the 14th century, this building is absolutely stunning.
When walking up to Prague Castle, you will have to get your bags checked by security. This is only done for safety and it doesn't cost you any money to enter the castle grounds. It does require a fee to go inside the castle and cathedral, but I'd highly recommend getting skip the line tickets. This way, you won't have to wait around and waste your precious time in Prague.
Day 3 in Prague | The New Town (Nové Město)
The newer town in Prague lays on the border with the Old Town. Even though it is called "new", the New Town in Prague was established in 1348. Not so new, then ;). Today does involve quite a bit of walking, as the New Town is pretty big! It does allow us to see some more of Prague's beautiful sights and learn more about its history.
Letna Park (Letenské sady)
We start the day at Letna Park. It takes a bit of effort to climb the steps to get to this park, but the view will be worth it. I promise! You'll be able to see the Vltava river, the Charles Bridge and shoot some gorgeous pictures of the view. Going in the morning helps you avoid many tourists that always want to snap this shot!
Museum of Communism
The Czech Republic and communism have a complicated history and relationship. This museum is dedicated to the post-WWII communist regime that ruled over Czechoslovakia. Both the good and the bad about this period are laid out chronologically in this exhibition. Anything from original artefacts, photos, film, propaganda art and documents in the museum give you a real understanding about the communist times in Prague and the rest of the country. To avoid waiting in line, consider buying tickets in advance.
Wenceslas Square
After the museum of communism, we walk towards Wenceslas Square. Named after a Bohemian saint, this square is mainly famous for its historic events. Many of which include either protests or celebrations. One that stood out to me while I went for a tour through Prague, was when a student named Jan Palach set himself on fire to protest the Warsaw Pact Invasion of Czechoslovakia in 1969.
Apart from the protests that have been held on this square, the architecture is beautiful. Walking down the street you can find many shops, hotels, restaurants and more. If you're looking for a more budget option for hotels, you should definitely look for a hotel in the New Town of Prague rather than the Old Town.
National Museum
When standing on Wenceslas Square, you'll definitely have spotted the National Museum of Prague already. The iconic building that acts at the background of Wenceslas Square was founded in 1818 and houses an enormous historic collection and anything that has to do with natural sciences. Even if you're not interested in visiting the museum itself, the building definitely deserves a close-up look!
Day 4 in Prague | Petrin Hill & Prague Beer Tour
The last day in Prague has arrived! Today, we will go up Petrin Hill and look over Prague while visiting a beautiful rose garden and the Petrin Tower. In the afternoon/evening, you can plan in a fun Prague-activity or tour to finish these 4 days in Prague with a unique memory.
Petrin Hill
Petrin Hill is the perfect place to get out of the city for a little while and enjoy some peace and quiet in a nature park. To get to the top of Petrin Hill, you can either walk your way to the top through a lovely park, or you can take the funicular to the top.
The funicular was installed in 1891 and still works perfectly fine. To get on, you can use a public transport ticket. They're sold at the newsstand near the entrance. There are two stops: the first stop is at a restaurant and the second stop gets you all the way to the top. At the top, you can find a gorgeous rose garden, mirror maze and the famous Petrin Tower.
Petrin Tower
When visiting Petrin Hill, you should definitely check out Petrin Tower. Obviously modelled after Paris' Eiffel Tower, the Petrin Tower was built 1891 for the Jubilee Exhibition. There are 299 steps you can climb to the top, or take the elevator. The view from the top is stunning! On a clear day, you can see as far as 150 kilometres in the distance.
Tour or activity
The late afternoon/evening on your last day in Prague can be spent going back to some of your favourite spots inside the city, or you could book a unique tour/experience to finish your Prague trip on a high! Here are some ideas:
Beer Spa Experience: Czechia is of course known for its cheap and tasty beers. But we're taking it a step further. You like beer? Why not take a beer bath? Did I mention it comes with unlimited beer?!
Medieval Underground Dungeon Tour: Explore the secrets of the underground dungeons in the Old Town of Prague with this tour.
Prague Beer Tour: Yes, we're talking about Czech beer again – but it's just so tasty! Following a beer-tour gives you the opportunity to try the best craft beers in the Czech Republic and enjoy a real Czech bar experience.
Where to stay in Prague
When visiting Prague, I'd highly recommend staying somewhere in the Old Town of the city. Hotels in this area are centrally located, making it a perfect place to stay for first-time visitors who are still getting familiar with the city. Not to mention that tons of restaurants and sights will be right at your doorstep. The atmosphere in the Old Town is simply lovely! Apartman Nebovidy would be perfect for a few days. It's located near the Charles Bridge and comes with a beautiful balcony to enjoy a view over the city.
Alternatively, you can stay in the New Town. Even though it's located right next to the Old Town, it's a lot cheaper! The atmosphere is still very "Prague" and the New Town is still located very centrally.
Prague Travel Tips
Now we've covered all the things you could do while spending four days in Prague, it's time to give you some additional information about this beautiful city. The following tips will help you make your way around the city easier and prepare yourself for your trip.
How to get to Prague
There are multiple ways to get to Prague, whether that's by plane, train or by car. Of course, this all depends on what your travel style is and what your other travel plans are! If you want to combine Prague with other European cities, or more sights in the Czech Republic, you want want to consider a different transport option.
Travelling to Prague by plane
When flying to Prague, you will most likely fly to Prague Ruzyne Airport (Václav Havel Airport Prague). Many budget airlines like Ryanair and Easyjet fly to this airport. Prague's airport is located about 15 kilometres from Prague city centre. From the airport, there are a few ways to get to your hotel:
Book an airport transfer in advance: This is the easiest and most comfortable way to get to your hotel from the airport. A private chauffeur will be waiting for you at the airport, ready to drive you straight to your hotel. This usually costs around €20. Make sure to book your airport transfer in advance!
Taxi: It's also possible to take a taxi from the airport to your hotel. This usually costs between 500-800 Kč (€18-€26). Personally, I'd book an airport transfer over using a taxi because it saves you a lot of hassle after arriving in Prague and it's about the same price.
Public Transport: If you want to save some money, you can always use public transport. From terminal 1 and 2, you can take bus 119 which will take you to Nádraží Veleslavín. From there, you can take the metro line A to get to a station close to your hotel. A single ticket will cost you 32 Kč (€1.50) and can be used for your entire journey (bus and metro).
Travelling to Prague by train
Getting to Prague by train is the perfect solution when you're visiting multiple European cities during a trip. From Vienna, it takes about 4 hours to get to Prague and tickets can be bought through the OBB Austrian Railways website. From Budapest, it takes about 7 hours and will only cost you about €19 when booked in advance. Alternatively, you can use the TGV to travel to Prague by train from almost any European city.
Travelling to Prague by car
When you're travelling to more than just Prague in the Czech Republic, you might want to rent a car or take your own. A car can be rented from the airport after you arrive. Because Prague's city centre isn't very big and has a lot of older streets, driving inside Prague isn't always very easy. There are lots of trams and busses to look out for too. It's much easier to navigate your way through Prague on foot or by using the public transport network. Like any city centre, there is not a lot of parking space (or very expensive). If you're planning on driving in Prague, make sure your accommodation offers parking space.
NOTE: There is ZERO tolerance for using alcohol when driving in the Czech Republic. If you've been caught drinking even one before getting behind the wheel, you could risk 3 years in prison…
How to get around Prague
Because Prague is not a huge city, it's easy to get around the city centre either by walking or by using public transport. Especially for this 4 day Prague itinerary, every day is set in a specific part of the city. This way, you don't have to travel lots during the day.
Using the public transport network in Prague is super easy. Tickets are valid for any type of public transport and can be bought inside metro stations, at the orange ticket machines at bus stations, newsagent stands and at Public Transport Information Centres. Rather than buying tickets for how many stops you want to travel, in Prague, you buy tickets for the amount of time you wish to travel. These are the prices for students and adults as of 2019:
30 minutes = Kč 24
60 minutes = Kč 32
1 day = Kč 110
3 days = Kč 310
NOTE: Make sure to ALWAYS validate your ticket before using it. You can do this by stamping it at the entree of the metro station or bus. This way, the time and date will appear on the ticket, so officers will know whether you're travelling with a valid ticket.
NOTE: Avoid taxi's in Prague, as they tend to overcharge a lot!
Money in Prague
In the Czech Republic, the currency used is called Czech Koruna.
€1 = Kč25
$1 = Kč23
£1 = Kč28
At many places in Prague, you're also able to pay in Euros. Please do check the daily exchange rate though. We noticed that the exchange rate these shops and restaurants offer differ quite a bit (in their favour) compared to the actual exchange rate. It's almost always cheaper to pay in Koruna.
The Czech Republic is known to be a pretty affordable country, but Prague is definitely more expensive compared to other places in Czechia. It's obvious, as it's the capital of the country and a tourist magnet – but I thought it's worth mentioning. Especially if you're on a road trip through the Czech Republic, this is worth noting. Prague is, however, still a very affordable city to visit in Europe. Hotel prices are very similar to other European cities, but food and transport are considerably cheaper. Tipping is not necessary (like in countries like the United States of America), but it's always appreciated to leave an extra 10% when the service was good.
Language in Prague
In Prague (and the rest of the Czech Republic), the official language is Czech. Luckily, most people also speak fairly good German and English. Especially as a tourist, you shouldn't have to worry if you do not speak any Czech. People who work in the tourism industry speak great English and German. It's always nice to learn a few sentences of the local language when travelling, though. It shows that you're interested in their culture and is always much appreciated! Here are a few to remember when visiting Prague:
Yes/No = Ano/Ne
Thanks = Dekuji
Hello = Dobry den
Do you speak English? = Mluvíš anglicky?
Can I have the bill, please? = Zaplatíme
Best times to visit Prague
Czechia has a continental European climate, which means it experiences warm summers (20 to 27°C) and cool, snowy winters (3 to -3°C). Summers tend to get very humid, especially in the city. And due to Prague's rising popularity with tourists, summers are usually incredibly crowded. The best times to visit Prague would be around April-May or September-October. This way, you'll catch a lovely mild temperature and avoid the seas of tourists that pour into Prague during the summertime. During the winter (November-February), Prague tends to get very cold. But in December, you can visit one of Europe's best Christmas Markets located on the Old Town Square.
Finish your Czech Republic itinerary
If you think that Prague sounds good, what about the rest of the Czech Republic? Finish your itinerary by checking out other posts on this amazing country including my seven day Czechia road trip itinerary and my day trip to Cesky Krumlov guide.
Save for later…