Looking to drive through the Czech Republic? This 7 day Czech Republic road trip itinerary will show you an efficient route to see the main highlights.
This summer, I was lucky enough to finally visit the Czech Republic. This seven-day road trip took me to some of the best spots in the country. Czechia is filled with culture, castles, history, colourful houses and some beautiful nature parks. As tourism has been growing pretty rapidly in the Czech Republic over the last few years, I thought it's time to write up my own itinerary for the gorgeous country!
This 7 day Czech Republic itinerary takes you to some of the countries most popular highlights but also covers some of the rural, lesser-known places. When travelling, I think that adding rural places to your trip add just a little bit extra to the experience. It shows you the core of the country and culture, rather than only touristy places! This itinerary is a mixture of historic cities and beautiful rural nature hikes. Let's dive in…
About the Czech Republic
Apart from knowing what to do and what to see in the Czech Republic, it's also useful to know some of the basics of the country. What money do they use, how expensive is it to visit and what are the best times to visit?
Money and Price
The currency in the Czech Republic is the Czech koruna. Currently, the exchange rate sits around:
€1 = Kč25
$1 = Kč23
£1 = Kč28
The Czech Republic is not an expensive country, and holidays can be done on a budget. Of course, cities like Prague and Brno are more expensive compared to rural towns. Beer is very cheap in Czechia, you're able to get 0.3 litres for Kč25. The average meal at a restaurant will cost you around Kč300 and a hotel room for two people varies, but usually sits around Kč2100. Tipping in restaurants is not necessary, but it's good etiquettes to tip around 10%. For more information about how expensive the Czech Republic is, you can check this budget breakdown from Budget Your Trip.
Czechia is a very cash-based country. Even though there are tons of ATMs in the Czech Republic, not every restaurant, hotel or shop accepts cards. We often stumbled upon places that didn't accept card and we didn't realise until after we'd eaten our food… Most places also accept Euros but you have to be careful when paying in Euros as the exchange rate might differ. When taking out money from an ATM (from a bank account in a foreign currency), you should also be careful and check the exchange rates online. I noticed that restaurants or ATMs sometimes have their own exchange rates, which turn out to be a lot more expensive.
Language
The official language spoken in the Czech Republic is Czech. Many also speak German and English, especially in the tourism industry, so there's no need to worry if you do not speak Czech. Some handy phrases to learn before you go include:
Yes = Ano
No = Ne
Thanks = Dekuji
Hello = Dobry den
Do you speak English? = Mluvíš anglicky?
Best times to visit Czechia
With a continental European climate, the Czech Republic has warm and dry summers (20-27°C) and cold, snowy winters. During the winter, Czechia acts as a lovely place for skiing and other winter sports. Late spring (May) and late summer (September) are probably the best times to visit Czechia, as the weather is still nice and mild but you avoid the huge waves of tourists. By avoiding the huge crowds in June-August, you're usually also able to score some cheaper hotels!
7 Day Czech Republic Roadtrip Itinerary
Day 1 – Bohemian Switzerland
As we drove to the Czech Republic via Dresden (Germany), we made a quick stop in Saxon Switzerland and Bohemian Switzerland National Park. It's an active start of this road trip, as these nature parks are perfect for hiking through some of the most beautiful sceneries. The Czech Republic is mainly known for cities like Prague and Cesky Krumlov, but one of Europe's most beautiful nature park is also a must-visit on a road trip like this one.
If you're not exactly following this road trip and want to incorporate Bohemium Switzerland in your own itinerary, this national park is only a 90-minute drive away from Prague. There are also many tours available from Prague is you want to visit a polar opposite of the busy city and go for a nature hike through this mystical landscape. Check out the video below to see why this park is an absolute must:
Because we entered the Czech Republic via Germany, we had our first stop at Saxon Switzerland, the German part of the nature park. Bastei Bridge (pictured below) is located in this part and acts as a perfect introduction to Bohemian Switzerland. After our hike, we continued our drive to Harrachov. This is where we will stay for two nights. Other places to check out in this park include:
Pravčická Gate
Tisa Rock labyrinth
Mariina Skala
Day 2 – Harrachov
Harrachov is a little Czech town located right next to the border with Poland. Mainly known for its winter sports facilities, Harrachov has many ski slopes and two huge ski jumping slopes. But also in summer, there is enough to do in Harrachov.
We started our day in Harrachov with a hike through its forest. The ski lifts operate in summer, too, but only take hikers and cyclists up to the mountain top once every half hour. From the top, we hiked down through beautiful and quiet nature.
We stayed in Harrachov for two nights in Pension & Restaurant Krakonoš.
We then made our way to Mumlava Falls. This waterfall is located on the edge of the town and can be reached after an easy hike. The hike takes about 30 minutes and when following the "fox path", takes you through a magical forest. Please avoid having lunch near the waterfall, as the restaurants aren't that great.
After two hikes, it was time for a Czech beer. And Harrachov has its own little brewery – perfect for a cold pint in a locally made beer glass. The brewery is located right next to the local glass factory. The factory offers tours every day from 8 AM till 3 PM and last 45 minutes. Apart from the museum and factory, there is also a Beer Spa next to the brewery. Yes, you read that correctly: BEER. SPA. Bathe in beer. Amazing! I didn't have the time to try it out myself, but I was very tempted. Maybe during my next visit, I'll give it a go!
Day 3 – Jicin & Český Ráj (Bohemian Paradise)
From Harrachov, we drive to Český Ráj. By car, this takes about an hour. Make a quick stop at Wallenstein Loggia in Jicin, one of the most significant buildings in Jicin. Once owned by the aristocrat Albrecht von Waldstein, the building now houses a little cafe (Cafe Loggie) and acts as a perfect little stop while driving towards Cesky Raj.
To get to Český Ráj (also known as Bohemian Paradise), you have to drive through Jicin. Wallenstein Loggia is located in this town, but the town itself is worth a visit too. The beautifully coloured houses on the market and the Valdice Gate give this town such a lovely and fairytale-like vibe.
In the afternoon, it's time to explore Český Ráj. This nature park is known for its crazy rock formations and abandoned castles. You can park your car near the start of many different hiking trails and pick one of the many hikes. There are some for everybody – easy, hard, short, long hikes. Something to keep in mind is probably what you'd like to see on your hike. After exploring this beautiful nature park, we drove on to Turnov, where we stayed the night in the beautiful Bohemia Inn Hotel. Some of the highlights you should definitely consider while inside Český Ráj include:
Prachov Rocks
Příhrazy Rocks
The Hruboskalske rock town
Trosky Castle
Valdstejn Castle
After the nature parks and the more rural side of the Czech Republic, it's time to dive into the city. There is so much to do in Prague and you could easily spend a week there and not get bored. Unfortunately, when you only have a week to see the best of the Czech Republic, we only spent two days in Prague. And you can see a lot in just two days! You can read more in-depth information about Prague in my 4 day Prague itinerary.
In the morning, we explored the Old Town of Prague. On the famous square in the Old Town (Staromestska namesti) you can find the Astronomical Tower and Clock, the Old Town Hall and the beautiful Gothic Church of our Lady before Tyn. There are some food stands where you can try an amazing Prague snack (which is actually Romanian) called trdelnik (pictured below). Other things to check out in the Old Town are the Powder Tower, the Charles Bridge and the Jewish Quarter.
The afternoon was spent at Prague Castle. From the Old Town, you can walk towards Hanavský pavilion where you'll have a wonderful view over Prague. You can then continue to walk towards the Castle. Prague Castle is the largest coherent castle complex in the world and can be visited for free. The Castle was founded around the year 880 and is absolutely stunning!
Our second day in Prague, we visited the Charles Bridge early in the morning. Crossing the Vltava river, this 600-year-old bridge connects Prague's Old Town with the Lesser Town and is one of the main highlights of Czechia's capital. The beauty of this bridge is much appreciated by visitors and it gets very crowded during the day. That's why you should really try to see it before 9 AM or after 7 PM.
At 10 AM, we had a tour of Prague by bike. With a group of 12 and a tour guide, we cycled through the Old Town, some other highlights (like the Lennon Wall) and a few more hidden places. What I really liked about the tour is that you get so much more information compared to just walking through the city yourself. It really added a lot of value to our visit to Prague! You can book your own Prague Cycle Tour here.
In the afternoon, we took the monorail up Petřín hill. On the top, you can find the Petřín Lookout Tower (also known as Prague's Eiffel Tower), giving you a lovely view over the city.
Day 6 – Telč & Znojmo
Leaving Prague was a little sad, as I enjoyed visiting the city so much. But when you only have a limited time to visit a country, you need to continue the trip! We continued by driving to Telč.
This UNESCO world heritage site has one of the country's best-preserved historic squares according to Lonely Planet. The beautifully painted houses definitely stand out and it's not difficult to see why many guides recommend visiting this town. Completely burned down in the year 1530, the town was built from the ground up just a few years later.
You can park your car outside the city centre, as there are no cars allowed in the historic square. The village itself is pretty small and doesn't take very long to explore. But it has a lovely feel to it. It's one of those places you just have to visit when in the area! Take some time to walk through the park and see Telč from a distance.
We then drove to Znojmo, where we stayed the night. We stayed in the Penzion Solnice. Czechia isn't only good at making beer, it also has a pretty lively wine scene. Znojmo stands proudly in the middle of the wine region of the Czech Republic. The historic town has a beautiful castle. There are many wine tastings you can try and in the evening, a stroll through the wine yards ends the day perfectly.
Day 7 – Český Krumlov
On the last day of this Czechia itinerary, we visit Český Krumlov. This historic town is absolutely stunning and turned out to be one of the highlights of this road trip through the Czech Republic. Given UNESCO world heritage status in 1992, this gorgeous little town cannot be missed when visiting Czechia.
This historic city is a blend of Gothic, Renaissance and Baroque architecture. I have to stay that I'm not very knowledgable about architecture styles, but I do know that Český Krumlov felt like walking through a medieval fairytale setting. Walking through the cobblestone roads felt amazing, hundreds of thousands of people must have walked those same streets over the last few hundreds of years!
Spending one day in Český Krumlov is a perfect way to end this lovely little trip. And there are lots of things to do in this little village apart from simply strolling around and enjoying the gorgeous buildings!
Cesky Krumlov Castle: Even though the town of Cesky Krumlov isn't that big, its castle is actually the second largest in the Czech Republic! Walking up the hill towards the castle is an absolute must, as you find the best photography spots there. From there, you can see the entire village. Visiting the castle itself is also possible. There are tours that take you through the beautiful interior of this ancient castle.
Castle Tower: Another perfect place for photos, the top of the castle tower. From here, you get a beautiful view across the village. It costs Kč50 to climb the tower, and you can pay a little extra to also visit the museum.
Cathedral of St. Vitus: The iconic cathedral of Cesky Krumlov also offers a lovely place to explore (for free!).
Kayak from the Vltava River: During the warmer months, it's possible to kayak or canoe down the river that surrounds Cesky Krumlov!
As the old historic part of the town is a pedestrian zone, cars aren't allowed inside. Some cars are able to get a special permit to drive through the town, but between the hours of 10:30 AM and 3 PM, no cars are seen inside the centre. You can park your car outside the historic town, on car park 1-5. I'd recommend parking on P1, as it's located closest to the entrance of Český Krumlov's historic town. Parking can get a little expensive, but many hotels that are located inside the centre offer a discounted parking ticket.
Where to stay in Český Krumlov?
Even though you can stay outside the historic town, I would HIGHLY recommend staying inside the centre. Sleeping in one of the old, historic houses is an incredible experience and really adds to your stay. Many tourists leave the city after 5/6 PM, which leaves it open to explore for those who are staying there.
We stayed at Penzion Pod Radnicí and it was absolutely amazing! Right in the middle of the historic centre with a beautiful view of Český Krumlov's tower. The house that has turned into a hotel must have been at least hundreds of years old!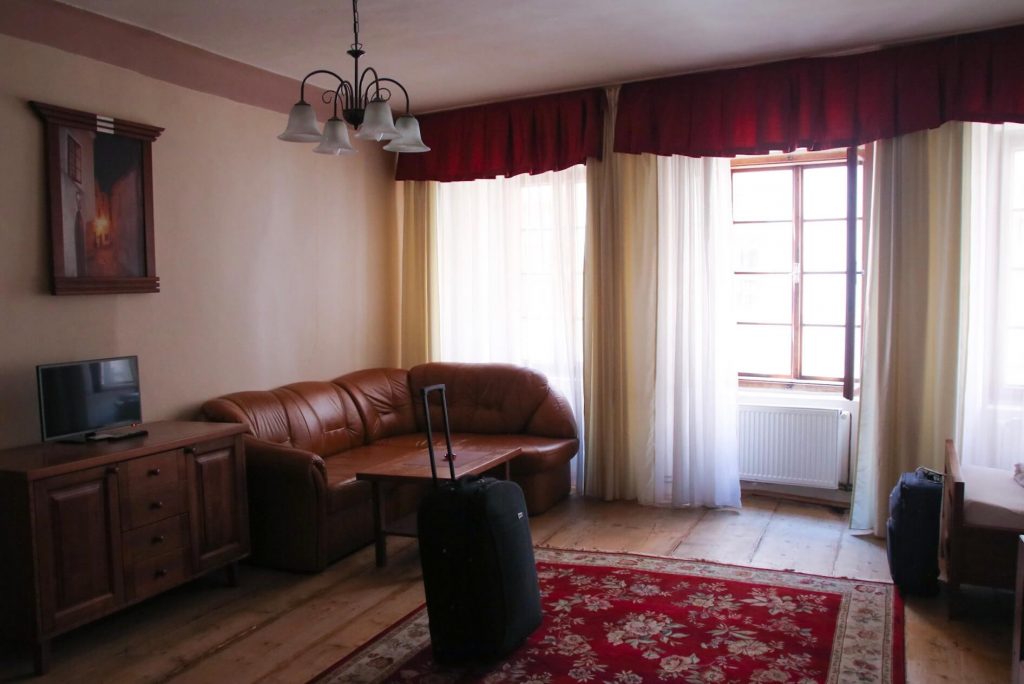 Driving in the Czech Republic
Let's talk "driving in Czechia" as this is a road trip itinerary. The advantages of using a car to get around the Czech Republic is that you have the freedom to get anywhere you want. Especially rural places are almost impossible to get to when using public transport. And believe me, you do not want to be stuck on a bus on the swirly country roads! Obviously, you can use your own car to drive through Czechia, or you can rent a car at the airport. Here are a few things to keep in mind while driving in the Czech Republic:
Vignette/Toll Sticker: If you're using your own car to drive through the Czech Republic, you need to purchase a vignette. This is basically paying for road tax as a tourist. These stickers can be bought at petrol stations or at shops located near the border.
Zero alcohol tolerance: The Czech Republic is one of the few countries with an absolute zero tolerance for alcohol when driving. You're not even allowed to drink one before getting behind the wheel. If you do, you risk 3 years in prison…
Speed limits: In urban areas, you can drive up to 50 km/h. Outside cities and towns, a 90 km/h limit has been set in place. It can seem a little crazy to drive 90 on some winding roads in rural Czechia, especially if you're not used to it – so be careful! On the highway, 130 km/h is the limit.
Culture Smart Guide
To prepare for my Czech Republic road trip, I have kindly been gifted this travel guide by Culture Smart. Rather than information about hotels, tourist sights and hidden gems, this guide dives into the culture and customs of the country you're visiting. I found it so refreshing to read about the Czech people and culture! I definitely feel like it's given me a real insight on how they live and it's helped me understand things better while I was visiting. Culture Smart has guides for over 105 destinations!