This efficient Cesky Krumlov itinerary helps you to explore this fairytale-like town in under 24 hours.
If you're looking for a real-life fairytale town, look no further. Visiting Cesky Krumlov in the Czech Republic feels like stepping right into a fairytale book. The narrow, cobblestoned streets, the lack of cars, the old but beautiful buildings, a castle! It's no surprise to see how many fairytales are actually inspired by central-Europe seeing how gorgeous this little town is.
Attracting almost 2 million visitors every year, Cesky Krumlov definitely isn't a secret to the world anymore. Nonetheless, it's definitely worth paying a visit to one of the most picturesque little towns I've ever visited.
About Cesky Krumlov
Cesky Krumlov started to grow around its castle that was built in the 13th century by the Vitkova family. Located in south Bohemia, the town acts as a perfect day trip from Prague or other nearby cities. The medieval charm of Cesky Krumlov attracts almost 2 million tourists every year, even though it only has 13.000 habitats. Only 500 of them live in the old historic town surrounding the castle. This castle complex was awarded the UNESCO world heritage status in 1992.
One Day Cesky Krumlov Itinerary
The city of Cesky Krumlov isn't very big. You can easily walk from one side to the other in less than 20 minutes. But there is definitely enough to do for one or two days. Here are some recommendations of the best things to do in Cesky Krumlov:
Cesky Krumlov Castle
Probably the biggest and most famous attraction in Cesky Krumlov is its beautiful castle complex. This UNESCO world heritage site is the second largest castle complex in the Czech Republic. It's said to only be one square meter smaller than the one in Prague!
This beautiful castle was build in the 13th century. In the 16th century, it was rebuilt in Renaissance style and a few decades later, renovated into a Baroque and Rococo style. When visiting the Castle, you can decide to either explore it on your own terms or book one of the tours. These tours will give you some extra information when exploring the insides of the castle. There is a legend that claims the castle is haunted by the ghost of Perchta Rosenberg. So keep an eye out for a blonde lady dressed in white 😉 Also, make sure to check out the Castle Theater, the Castle Gardens (which are over 10 hectares big!) and the Castle Museum.
Castle Tower
The Gothic and Renassaince inspired Castle Tower is definitely one of the most iconic buildings in Cesky Krumlov. Climbing to the top requires you to climb up quite a few uneven steps, but the view will be worth it! A 360 degrees view all across the beautiful Cesky Krumlov will give you the perfect opportunity to take some amazing photos.
Old Historic Town
Walking through the historic town of Cesky Krumlov is probably how you'd want to spend the rest of our day after paying a visit to the castle. This part of the town is almost completely car-free. You can't get your car in without a one-time valid permit. And even with a permit, you can only enter between 3 PM and 10:30 AM. The lack of cars really adds so much to the charm and I'm so glad they did put such strong restrictions in place.
Whether you decide to book a walking tour through the Old Historic Town or wander through the streets yourself, you'll have a wonderful time. The buildings
Canoe down the Vltava River
During the warmer months, you can go for a unique float on the Vltava river around Cesky Krumlov. Whether you want to paddle down the river in a canoe, raft or kayak, there will be something for you. A bus will take you to a drop off point. From there, you can float back towards the town centre. There are some restaurants and other tops along the way for you to get some food and drinks, too (hooray for cheap Czech beer, am I right?).
Try a Trdelnik
When in the Czech Republic, you have to try a Trdelnik. This sugary treat originates from Hungary but is very popular in Prague and Cesky Krumlov. You can find many different shops selling freshly made ones – a real treat!
Best Photo Spots in Cesky Krumlov
In a town as picturesque as Cesky Krumlov, taking some amazing shots isn't too difficult. There are some special spots in the town that you should check out for the perfect photos, though!
Seminární zahrada
Just opposite Hotel Ruze, you can find a lovely little square with a beautiful view across the village.
From the Cloak Bridge
Climbing up the Cloak Bridge gives you an even higher (and maybe even more beautiful) view across Cesky Krumlov. There are several "viewpoints" near and alongside the bridge. This is probably the best place to fully soak in the beautiful views of the Vltava river alongside the historic old town.
Castle Tower
As mentioned previously, the Castle Tower gives you a wonderful 360 degrees view across Cesky Krumlov. Even though it's a little climb (over old, uneven steps), the view will be worth it!
Is it worth staying overnight?
Even though Cesky Krumlov is a small town and you don't need much more than a day to see all its highlights, I do recommend staying overnight! At night, the town has a completely different vibe. Between 11 AM and 5 PM, it gets very busy in Cesky Krumlov because that's when most tourists visit for a day trip from Prague. Before and after, you get to experience the medieval atmosphere on a completely different level. Personally, I'd really recommend you to stay here overnight rather than taking a one-day trip from Prague.
As well as less crowded streets, there are some great restaurants in Cesky Krumlov. Dinner with a view of the Vltava river and the Castle Tower does sound pretty magical, right? Then there are the hotels. We stayed in the middle of the old town for one night and it added so much to our experience of Cesky Krumlov. Our hotel was called Penzion Pod Radnicí. The house that was turned into a hotel must have been hundreds of years old with its original wooden stairs and flooring still intact. Sleeping in a room like this made the medieval/fairytale experience complete. Let's not forget the amazing view of the Castle Tower right outside our window.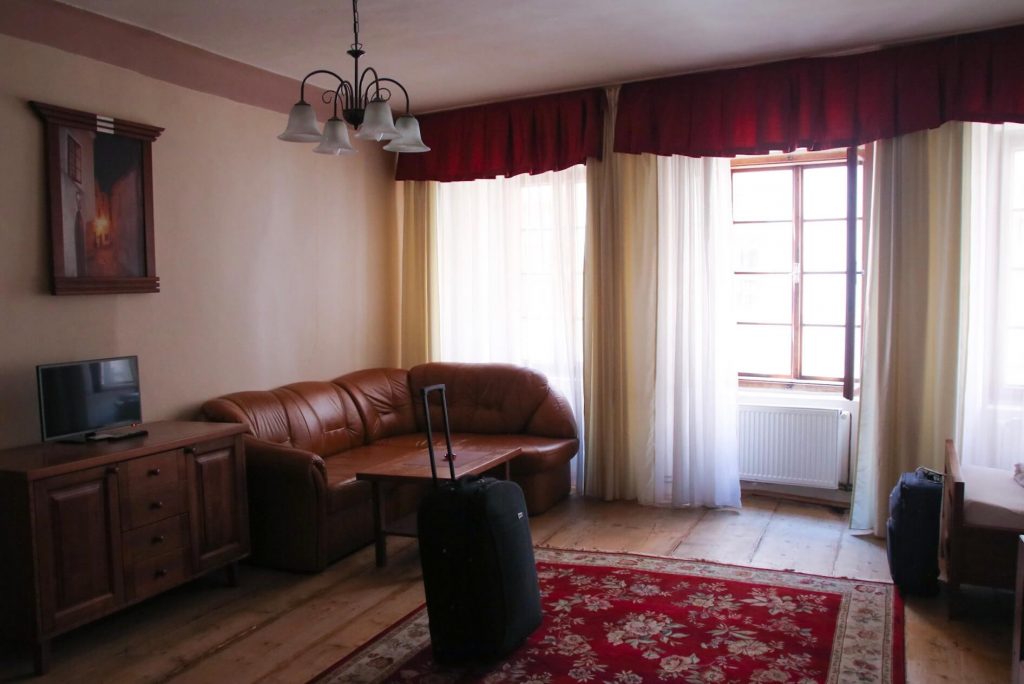 How to get to Cesky Krumlov
By car: Travelling through the Czech Republic is definitely easiest by car. Whether you're using a rental car that you can pick up near an airport, or using your own car, it gives you so much freedom. It also allows you to see more rural places in the Czech Republic after visiting Cesky Krumlov. From Prague, it takes about 2.5 hours to drive to Cesky Krumlov (175km). There is a car park outside the historic town where you can park your car. Usually, you are able to get a discounted parking ticket if you're staying in a hotel inside the historic town.
By train: From Prague, there are both a direct train service and one that requires you to transfer at Ceske Budejovice. It'll take approximately 3 hours. This is why I'd definitely recommend booking a hotel in Cesky Krumlov when taking the train – this will give you some more time to properly explore the town!
By bus: Taking the bus from Prague to Cesky Krumlov is probably the cheapest and most environmentally-friendly way to get to the village. The bus ride takes approximately 3 hours. If you're planning to travel by bus, I'd also recommend booking a hotel in Cesky Krumlov to make the most of your time there.
By shuttle: Another option to get to Cesky Krumlov is booking a shuttle bus. Shuttles can be booked from many nearby cities like Prague, Vienna, Budapest and more. It's an easy door-to-door service which will get you straight to Cesky Krumlov. You can find more information about these shuttles on the CK Shuttle website.
Cesky Krumlov Travel Tips
Now we've covered some of the best things to do in Cesky Krumlov, here are some handy tips to make your trip as easy as possible. Find out how to save some money by getting a Cesky Krumlov card, how much to tip and a few basic lines of Czech to learn before your arrival!
Cesky Krumlov Card
If you're planning on visiting most of the sights during your time in Cesky Krumlov and you'd like to do it as cheaply as possible, the Cesky Krumlov Card is a must! With this card, you get access to the Castle Museum and Castle Tower, Český Krumlov Regional Museum, Museum Fotoatelier Seidel, Egon Schiele Art Centrum and Monasteries Český Krumlov. Prices are Kč300 for an adult or Kč600 for a family pass which includes 2 adults and up to 3 children under the age of 15.
One of the best things about this pass is that you don't need to rush to see everything in just one day. The pass is valid for 12 months (!!!). Even if you're only there for a day, you are allowed to pass it on to someone else. You can buy one at any of the attractions or the information centre. Find more information about the Cesky Krumlov Card on the official website.
Best times to visit Cesky Krumlov
In spring: Spring is a perfect time to visit Cesky Krumlov. The temperatures will be picking up and the blooming Castle Gardens won't disappoint you. The crowds won't be as bad as during the summer and you'll be able to find some more affordable places to stay during this time of year as well.
In summer: Summers in the Czech Republic are pretty typical for a country located in central Europe. The temperature sits around 20-27°C and the weather is sunny and dry. Even though the weather is perfect for a trip to Cesky Krumlov, you won't be the only one with that idea. Especially during the months of July and August, Cesky Krumlov is very crowded and filled with tourists.
In autumn: Autumn is probably the best time to visit this fairytale-like village. The temperatures are still enjoyable at 10-18°C and the town will be much quieter. Add some beautiful autumn leaves to that and you've got yourself a lovely trip to Cesky Krumlov.
In winter: Winters in central Europe are pretty cold, but that also means you've got a chance to see this medieval town covered in a layer of snow. You can also find a lovely Christmas Market in the village during the weeks leading up to Christmas. There may be a little bit less to do in winter (no canoeing down the Vltava for example), but there will be hardly any crowds!
Money
Czech koruna is the currency in the Czech Republic (€1 = Kč25, $1 = Kč23, £1 = Kč28). In comparison to other countries, the Czech Republic is definitely one of the more affordable countries to visit. A 0.3-litre glass of beer will usually cost you around Kč25- Kč35! It's not necessary to tip at restaurants, but it's good custom to leave a 10% tip if the service was good.
I'd also like to mention that the Czech Republic is a very cash-based country. This means that a lot of shops, restaurants and hotels do not accept card payments. It's therefore recommended to always have some cash with you. Most touristy places also accept Euros. Please be careful when paying in Euros though, as sometimes the exchange rates don't line up with the exchange rate of certain restaurants/cafes. The same thing counts for ATMs. Always make sure you pay the correct exchange rate and don't lose money over it!
Language
Even though the generally spoken language in the Czech Republic is Czech, most people also speak English and German. You don't have to worry about not speaking the language as a tourist, as people who work in tourism almost always known enough English to help you. I always like learning a few basic words and sentences when travelling to a new country though. To show some respect and interest in their culture, it's always much appreciated! Here are a few to learn yourself:
Yes = Ano
No = Ne
Thanks = Dekuji
Hello = Dobry den
Do you speak English? = Mluvíš anglicky?
Save for later…