The United States of America is the perfect country for a roadtrip. Long highway routes that stretch out for miles and miles. Get in the car, roll the window down and drive! That's actually what we did! This Denver to LA roadtrip took us just over three weeks and allowed us to visit Colorado, Utah, Arizona, Nevada and California. I hope this itinerary helps you plan your own Denver to LA roadtrip, or gives you some inspiration for similar trips!
Day 1: Flight to Denver (CO)
We flew from Amsterdam to Denver with a little stop in London. After arriving in Denver, we picked up our rental car at the airport. A free bus took us to the rental place and we got our car within 20 minutes. At the end of our road trip, we dropped off the car in LA. After picking up the car, we drove to our motel and went straight to bed.
Where to stay: Denver
Day 2: Montrose and the Black Canyon (CO)
The first full day in the States was filled with a long drive. From Denver, we drove to Montrose. Even though most of our day was spent inside the car, the views made the drive much more interesting. Especially because it is the first day on the road, you'll have more than enough to see! After arriving in Montrose, we had a quick shower and made our way to the Black Canyon. Our first National Park.
Where to stay: We stayed at the Montrose Quality Inn
What to see: Black Canyon National Park
Extra: Before going on your USA road trip, make sure to buy a National Park Pass. This allows you to visit every National Park while you're in the US. It saves you so much money! Also, make sure to bring an empty notebook where you can collect stamps in – every National Park has a special stamp you can collect. A nice little keepsake of your trip.
Day 3: Drive through the Rocky Mountains – Train from Durango to Silverton (CO)
After breakfast, we drove through the Rocky Mountains to Durango. In Durango, we had booked a train ride to Silverton and back. Silverton is a former silver mining town feels like an old western movie. The train we booked was an old steam locomotive, adding that extra bit of "I am in a western movie" to the day. The train trip took about two hours but gave us an incredibly beautiful view all the way to Silverton. We then had a couple of hours to explore the town before we got back on the train, that took us back to Durango. We booked this train journey with Durango Trains.
Where to stay: We stayed at the Durango Quality Inn
Where to eat: Lunch in Silverton in "The Grand Restaurant and Saloon" – lovely food and an amazing atmosphere with pianist giving the real Saloon vibe.
What to see: There are tons of cute little souvenir shops in Silverton. Have a little wander around in your lunchtime.
Extra: Because the train is a steam locomotive, don't wear any white clothing! The black smoke will stain your clothes. It's also recommended to bring sunglasses, to avoid any smoke getting into your eyes.
Day 4: Utah's welcome sign, Moab, Canyonlands and Arches (UT)
The next morning we started our journey to Moab, Utah. On the road to Moab from Durango, you can stop at the Utah Welcome Sign for some photographic evidence that you've made it alive. After that, you can drive through Canyonlands National Park for a great first impression of what this gorgeous state has got to offer you.
We checked into our hotel and had a little rest before going for dinner. The hotel luckily had a pool in which we could cool down from Utah's heat. There are tons of different restaurants in Moab. We decided to go to Moab Diner, for a real American diner experience.
Just before sunset, we drove through Arches National Park to visit the Double Arch. We didn't stop anywhere along the way, as we would return the next day. But the Double Arch is located perfectly to enjoy the sunset.
Where to stay: We stayed at the Expedition Lodge in Moab – big rooms and very comfortable.
Where to eat: Moab Diner
What to see: Utah welcome sign, Canyonlands, Double Arch
Day 5: Dead Horse Point State Park, Arches National Park (UT)
Set your alarms for 5 AM. Wake up bright and early to drive to Dead Horse Point State Park. When we visited Dead Horse Point State Park, there was nobody but the five of us to watch the sun rise over this beautiful canyon. It was by far the most beautiful thing I have ever seen. The peace and quiet of it just being the five of us amplified that. If you're planning to visit Dead Horse State Park, please try to go as early as possible!
We drove on to see Mesa Arch (which is not too far from Dead Horse Point State Park) to enjoy the morning light there. Afterwards, we went back to the hotel for breakfast. We checked out and made our way to Arches National Park. This time, we made sure to visit all the viewpoints properly. The rest of the day was spent driving to Blanding, where we stayed the night.
Where to stay: Blanding (We stayed in an AirBnb but I wouldn't recommend staying in the same place…)
What to see: Death Horse Point State Park, Mesa Arch, Arches National Park
Extra: Utah is HOT – make sure to bring enough water!
Day 6: Monument Valley and Horseshoe Bend (UT/AZ)
We spent the first half of our day in Monument Valley. You can drive through the valley by car, stopping at the viewpoints to enjoy the beautiful sights and take some photos. Make sure to visit the visitor's centre for some extra information about how these Buttes came into existence and learn more about the Navajo.
After visiting Monument Valley, we drove on to the next part of our road trip: Arizona. The welcome sign for Arizona isn't as picturesque as Utah's welcome sign. It's located near Monument Valley, in case you want to take a photo with it.
We only stayed in Arizona for one night, in Page. After checking into the hotel, take some time to relax at the pool and grab some dinner somewhere. Right before sunset, we drove to Horseshoe Bend (which is a 10-minute drive). You'll need to walk to the viewpoint, which takes about 15-20 minutes. Even in the evening, it's so incredibly hot! We really needed water during that little walk. But the sunset over this gorgeous meander is absolutely worth the walk.
Where to stay: We stayed in the Quality Inn in Page
Where to eat: Dara Thai Express (636 Elm St, Page, AZ 86040)
What to see: Monument Valley, Arizona Welcome Sign, and Horseshoe Bend
Extra: Remember there is a one hour time difference between Utah and Arizona. Bring enough water when walking to Horseshoe Bend, you'll need it more than you realise! (Even during sunset it's still super warm!)
Day 7: Antelope Canyon, Grand Canyon (AZ/UT)
Early in the morning, we had our Antelope Canyon tour. This is an absolute must if you're going to stay in Page. Antelope Canyon is high on the list of highlights of this Denver to LA roadtrip. You can barely believe it's real. When booking a tour, you have to decide whether to visit the upper or lower canyon. We decided to go for the upper canyon.
After our tour, we headed back to the hotel for breakfast and packed our suitcases back into the car. On our way to Grand Canyon, we had a quick stop at Glen Canyon Dam near Page for some photos and a quick walk through the visitor's centre. We then continued our drive to the North Rim of the Grand Canyon.
Once we arrived, we took a hike up to a viewpoint to look over the beautiful Canyon. The Grand Canyon has always been one of those things I've wanted to tick off my bucket list and I'm very happy I got to do so. However, after seeing the beauty of Dead Horse Point State Park, I can't deny that I was a little disappointed with the Grand Canyon. Maybe the South Rim would've been a better pick for me, but I have no way of comparing that. Maybe for next time! After our visit to the Grand Canyon, we drove back to Utah.
That evening stayed in the lovely little town Kanab. Our Airbnb was amazing. I absolutely adored it. I'd 100% recommend it to anyone who's also staying in Kanab. Even though it's a little out of the town, it's a super comfortable little house with such a great atmosphere.
Where to stay: We stayed in an Airbnb house in Kanab. Get €28 off your first Airbnb booking using this link.
Where to eat: Houston's Trail's End in Kanab was a great restaurant for dinner.
What to see: Antelope Canyon (upper), Glen Canyon Dam and Grand Canyon
Extra: Book your trip to Antelope Canyon before you leave – you're not allowed to visit it without a guide. (Plus they give you great photography tips in the canyon).
Day 8: Kanab and Bryce National Park (UT)
Because we stayed in the Airbnb, we didn't have breakfast included. This is why we went out to Kanab Creek Bakery for breakfast – and oh man, what a great decision! Not only was the food and coffee amazing, but the atmosphere of the little bakery was also wonderful. The owners were super friendly and we ended up having a chat about Zero Waste – as their coffee cups were biodegradable and they were working on getting paper straws as well! Please give these guys a visit if you're ever around – they deserve it!
After breakfast, we drove to Bryce National Park. It's famous for its natural amphitheatres that are carved into Paunsaugunt Plateau. Erosion broke down and shaped the sandstone in unique sculptures. The Natural Bridge, Farview Point, Sunset and Sunset Point, Bryce Point and Inspiration point are some of the viewpoints you shouldn't miss!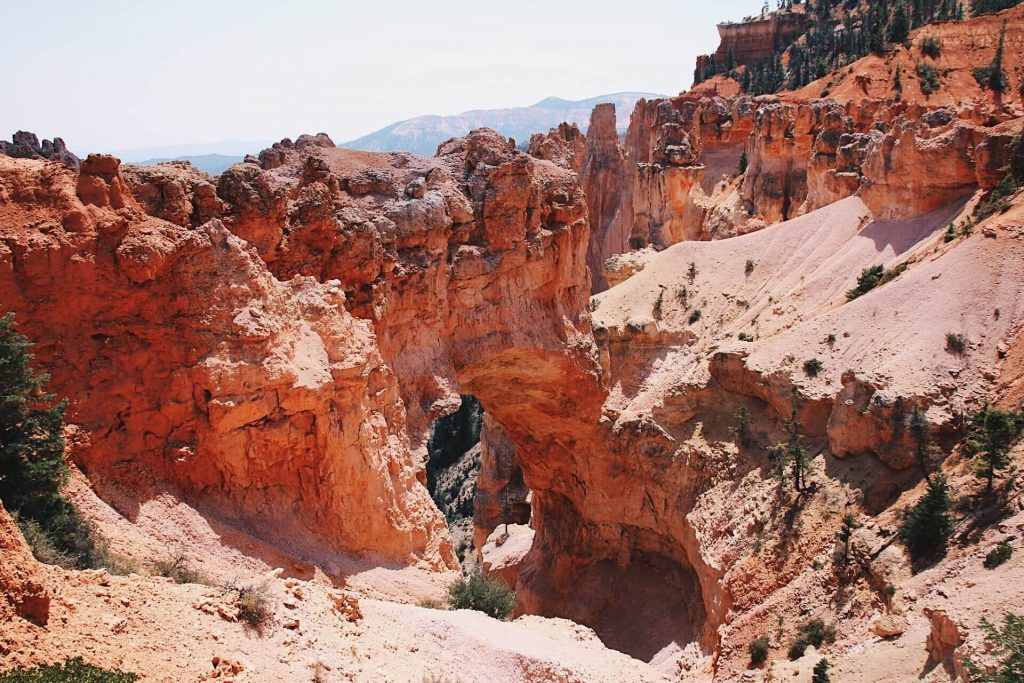 Where to stay: We stayed at the Best Western Hotel in Mount Carmel Junction.
Where to eat: Kanab Creek Bakery is a must-see for lunch and breakfast.
What to see: Bryce National Park
Day 9: Zion National Park and St. George (UT)
On day nine, we drove towards Zion National Park. On the way, we stopped at a couple of old antique shops to look for used USA license plates to take home as a souvenir. We were lucky to find some cheap ones in these shops! Souvenir shops in cities like LA and San Francisco sell them for $20 when we got them for as little as $5 from these independent souvenir shops!
Unfortunately, we didn't end up going to Zion National Park because of the limited parking places. If you do want to go, make sure you go early in the morning so there's still enough parking places left! Because we didn't go to Zion, we drove straight to the hotel in St. George and spent the afternoon in the pool!
Where to stay: We stayed in the Ramada Hotel in St. George. Close to the main street filled with restaurants and shops, good rooms and a big pool.
What to see: Zion National Park
Extra: If you want to buy a license plate as a souvenir, make sure to get one from an antique shop! Souvenir shops in bigger cities (LA, San Francisco, etc.) charge you three times the price! We ended up paying 5-7 dollars per plate when in the cities they easily ask 15-20.
Day 10: Hoover Dam and Las Vegas (UT/NV)
From St. George we drove to the next state: Nevada. Just like with Arizona, we would only be staying in the state for one day, trying to see as much as we could. First stop was the Hoover Dam. When it was constructed back in 1935, it was the highest dam in the world. After parking the car, we walked across the dam and enjoyed the view.
We then drove to Las Vegas. Firstly, we had a walk around the Strip and did a bit of shopping. We then checked into our hotel for a quick shower (which was very much needed after a walk through Las Vegas during the day, 40-45 degrees Celsius). After our shower, we went straight back into the city.
We walked through the famous Strip again, but this time the sun had gone down and made this famous street so much more enjoyable. It was still boiling hot outside, but the flashing lights made it all worth it. My dad and I spent some time playing roulette in one of the many casinos and ended up winning $28. After some more walking around we returned to the Fountains of Bellagio for the water show which starts every 15 minutes.
Where to stay: Las Vagas (The hotel we stayed at wasn't great, which is why I'm not recommending it).
What to see: Hooverdam, Las Vegas Strip, Fountains of Bellagio water show, The Venetian.
Extra: Either plan to have dinner somewhere in Las Vegas, or decide to grab some fast food during your walk through the Strip. We didn't play this and ended up walking for over an hour and a half until we decided to grab a quick McDonalds cause we were so hungry!
Day 11: Death Valley, Dante's View and Furnace Creek (NV/CA)
From Las Vegas, we drove on to the next and final state: California. To get to The Golden State, we decided to drive through the famous Death Valley. The name for this place is very well picked. With the highest temperatures on the planet, Death Valley reached over 120 degrees Fahrenheit (almost 50 degrees Celsius) and we didn't see much more than a lot of sand.
We made a stop at Dante's View over the valley, which was beautiful. The only thing I hated about travelling here was that the heat made me feel claustrophobic. There really is no escape from the heat. In Furnace Creek, we had a walk through the visitor's centre before making our way to the end of the valley.
Where to stay: We stayed the night in Lone Pine's Best Western Frontier. Large room and comfortable beds.
Where to eat: Bonanza Mexican Restaurant in Lone Pine
What to see: Area 51 Alien Centre (2711 E Highway 95, Amargosa Valley, NV 89020-1521), Death Valley, Dante's View, and Furnace Creek.
Extra: Bring enough water! While driving through Death Valley, make sure you drive carefully and don't put the aircon on too much (the car can overheat!).
Day 12: Mammoth Lakes (CA)
The next morning we drove to Lee Vining for lunch. After lunch, we had a walk near the Mono Lake. This lake is known to be saltier than the ocean. The high level of salt in the water creates stunning natural sculptures all around the lake.
After that, we drove to Mammoth Lakes, where we stayed the night. The town is visibly famous for its skiing and snowboarding season, but still lively during summer for mountain bikers and other travelers. We stayed in the most adorable cabin in the woods, one that I would recommend to anyone who ever visits the place.
Where to stay: We stayed at the Chaminox Mammoth Cabins. It was probably my favourite accommodation we stayed at during this Denver to LA road trip. It was a lovely, cosy cabin in the woods. Would 100% recommend staying here if you're in Mammoth Lakes.
Where to eat: For breakfast, you should definitely check out Schat's Bakery (3305 Main St, Mammoth Lakes, CA 93546), for dinner you can't go wrong at Giovanni's Pizzeria (437 Old Mammoth Rd, Mammoth Lakes, CA 93546).
What to see: Mono Lake near Lee Vining
Day 13: Rainbow Falls, Tioga Pass and Sonora (CA)
After breakfast at Schat's Bakery in Mammoth Lakes, we took a little bus down the mountain to take a hike to the Rainbow Falls. A beautiful walk through the forest that ends up at the gorgeous waterfall. The hike took around 3 hours.
Once we got back to the car, we drove through the Tioga Pass to Sonora. While driving through the Tioga Pass there are lots of opportunities to stop and take beautiful photos.
Where to stay: We stayed in a little town called Sonora
Where to eat: BE Wok & Sushi 764 Mono Way, off Greenly, Sonora, CA 95370-5233 (Best sushi I had in the US).
What to see: Rainbow Falls and Tioga Pass
Day 14: Yosemite (CA)
This day was completely dedicated to exploring Yosemite National Park. Unfortunately, Yosemite was closed when we were travelling around the US due to the crazy forest fires in 2018. Luckily, we still got a good impression of the park while we drove through the Tioga Pass and hiked to the Rainbow Falls.
Instead, we drove to Sequoia National Park to see the Sherman Tree.
San Francisco was next on our planning. Because San Francisco has so much to offer, I've dedicated a separate post to this city. You can find this post by clicking on San Francisco.
Day 16: San Francisco and Bakersfield (CA)
This day was a bit of a long one because the drive to Bakersfield from San Francisco is quite far. However, after arriving in Bakersfield, we simply enjoyed ourselves at the pool for the rest of the day. It's always good to plan in a couple of rest days in trips this big.
Where to stay: We stayed in Bakersfield
Where to eat: JIN sushi (1600 19th St, Bakersfield, CA 93301)
From Bakersfield, we drove to Los Angeles and spent the next two days there. I've dedicated a separate post to what you should do and see when you're in Los Angeles.
Day 20: Universal Studios Hollywood (CA)
Universal Studios Hollywood is a great day out for film lovers. While in LA, you might as well try to plan a one-day trip to Universal to learn more about films and enjoy some great rides.
What to see: The studio tour is a must-see in Universal Studios! As well as the Harry Potter part of the theme park.
Extra: If possible, book a ticket to Universal Studios on weekdays to avoid the busy crowds.
Day 21: Joshua Tree National Park (CA)
Joshua Tree National Park is known for its Yucca trees (also known as Joshua Trees), that are found everywhere in the park. It has a lot of cacti scattered around in the desert. When staying in a hotel in Twentynine Palms, you can access the park very easily by car. We stayed in TwentyNine Palms for one night when we visited Joshua Tree. It's a 2-3 hour drive from Los Angeles. If you'd rather spend another day in LA instead of visiting Joshua Tree, you'll save yourself a long drive back the next day.
Where to stay: We stayed at the Fairfield Inn & Suites in Twentynine Palms
Where to eat: 29 Palms Inn (73950 Inn Ave, Twentynine Palms), lovely atmosphere with live music and great food.
What to see: Cholla Cactus Garden and Joshua Tree National Park
Day 22-23: Fly back from LAX Airport (CA)
And with that, the end has finally arrived. We drove back to the airport in LA, dropped off the car at the car rentals and caught our flight back to Amsterdam. That concludes the Denver to LA roadtrip, driving over 4000 miles and seeing countless monuments, sights, and views, experiencing things I will never forget.
If you have any questions about my trip, please don't hesitate to contact me via a contact form on here or leave a comment below!
Check out my 10 day California itinerary.
Save for later…