Last Updated on July 20, 2021
You've done it! You finally booked those flights to Japan! EEEEKKK! Firstly, I'm super excited for you. Travelling to Japan was a huge dream come true for me and it definitely surpassed my – already very high – expectations. Secondly, there are some things that I wish I'd known before going to Japan. But don't worry! I'm saving you the trouble by writing it all out for you 😉 Here are my ultimate Japan travel tips, everything you need to know before going yourself!
Japan 101 – The Basics
Let's start with the basics: Japan 101. Just some useful general information that will hopefully put your mind at ease and helps you with your packing list. Some info about money (what kind of money? Do I exchange a lot before I go?), electricity (what plugs and adaptors do I need?), language (some basic Japanese) and what months are best to visit and to avoid!
Money
The currency used in Japan is the Japanese Yen (JPY, ¥, 円). There are coins of ¥1, ¥5, ¥10, ¥50, ¥100, ¥500 and notes are available in ¥1000, ¥2000, ¥5000, ¥10000. The current exchange rate currently sits around:
€1 = ¥119
$1 = ¥108
£1 = ¥135
Even though Japan is known to be a very cash-based country, I was surprised at how often I was able to use my card. It's always a good idea to keep a few thousand yen in your purse, but there are definitely enough options to either pay by card or take out some cash at an ATM. Yes, street food vendors and some shops may only accept cash, but a ton of hotels, restaurants and shops do accept card.
As for exchanging money before your trip – we didn't and we were completely fine. I'm sure it saved us quite a bit of money, too. Money exchange companies always put a big fat fee on top of the actual rate – that's how they make their money. Instead, I'd recommend getting an international currency card like Monzo or Transferwise and using the ATMs in Japan after arrival- more on that later!
Japanese Electricity
When travelling to Japan, you'd most likely need a plug adaptor to use your electronics. You do wanna charge your camera, power bank and phone, right? The voltage in Japan is 100 Volt, which is different than most other places in the world (230V in Europe, 120V in North America). The plugs and outlets resemble the ones in North America with a 2-pin ungrounded plug and a 3-pin grounded plug.
North American adaptors usually work fine. But to avoid any damage being done to your electronics, it's recommended to buy a proper adaptor made for Japan. Personally, I always use a world travel adaptor from IBlockCube as they are super easy to use and have 4 extra USB-slots.
Because Japanese hotel rooms are usually pretty small, they don't come with many plugs. We also took a plugboard with us to Japan, which made it very easy to charge all our electronics overnight. If you're travelling with a lot of electronics, I'd definitely recommend taking one as well!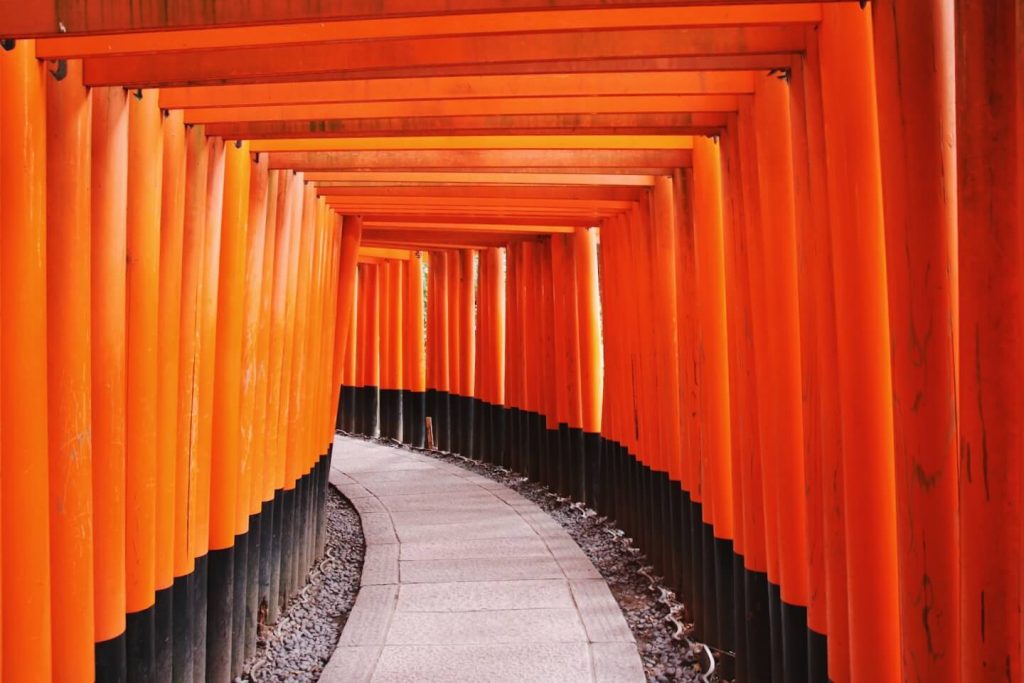 Language
Japanese is the official language spoken in Japan. But not to worry if you don't speak Japanese. It's not the easiest language to learn and most people who work in the tourism industry in Japan speak great English! One thing I love about travelling is surrounding yourself with new cultures and that includes the language. Learning a few basic phrases before your trip to Japan can help you and it also shows some extra respect. My knowledge of the Japanese language is very basic (even after a year of university classes in it!), but we were always met with a big while when I spoke a few words in Japanese! Here are a few basic words and phrases that will come in handy:
Konnichiwa = Hello
Ohayō gozaimasu = Good morning
Konbanwa = Good evening
Onegai shimasu = Please
Arigatou gozaimasu = Thank you
Sumimasen = Excuse me
Hai/Iie = Yes/No
Sumimasen, Nihongo-ga wakarimasen = Sorry, I don't understand Japanese
Eigo de hanasemasu ka? = Do you speak English?
Best times to visit
Deciding on when to go to Japan depends on various factors. When is it cheapest to go? What cities do you want to see? What things would you like to do? Every season has its own unique characteristics, and visiting during a specific time of the year definitely has a big influence on your trip.
Spring (March-May): Spring in Japan means Sakura (cherry blossoms). Seeing the country's official flower and walking through forests of pink does indeed sound like an absolute dream. The weather is mild, which makes it perfect to travel around. However, you won't be the only one with this idea. Spring in Japan, especially during sakura season, tend to get very busy. Expect queues outside cafes and crowds at most tourist sights. There is also a good chance that you'd miss the cherry blossoms, as they only bloom for a couple of weeks and it's hard to predict when they'll start blooming. Check out this guide on when to find cherry blossoms for more information.
Summer (June-August): Summer is tourist high season in Japan. Alongside with the hot and humid weather, rainy season and typhoon season (May – October), summers are usually best avoided. Although I'm sure you'll still have a lovely time, I'd definitely recommend going in Spring or Autumn instead.
Autumn (September-November): Autumn is the perfect time to visit Japan (in my opinion). A lot less busy compared to Spring and Summer, a lot cheaper and the beautifully coloured leaves make up for missing the sakura. The temperatures in Autumn area also perfect for exploring Japan (20ºC to 28ºC), not too hot and not too cold.
Winter (December-February): The temperature in Japan drops during the winter. It will definitely be a lot cheaper and less busy to visit Japan during this time, but be prepared to pack warm clothes! It does, however, make for a perfect time to go skiing in Sapporo or see the snow monkeys in Kanazawa!
Types of accommodation
Western-style hotel: During our two week trip to Japan, we stayed in western-styled hotels. These are usually pretty affordable and can be found in very accessible locations. I do have to say that they are usually very small (especially if you're not planning on splurging a ton of money on hotels), but they have everything you'd need. A bed, a private bathroom and usually it comes with a little desk. In our last hotel in Tokyo, the room was so small we could barely put our suitcases down haha! But it wasn't really an issue as you don't spend a lot of time in the hotel room anyway. For us, it was just for sleeping, showering and charging our electronics. Usually, you can find a room with a double bed for ¥5000 – ¥10.000 per night. We paid £636.18 per person for accommodation during our 16-day trip.
The hotels we stayed in were called:
– Tokyo Sunroute Higashi Shinjuku
– Kyoto Urban Hotel
– Osaka Sonezaki Luxe Hotel
– Tokyo Belken Hotel
Ryokan: If you're looking for a more Japanese-styled experience, staying in a Ryokan might be the perfect option for you. These traditional Japanese inns are more than just a place to sleep – they give you a better look into the Japanese lifestyle. They usually have tatami floors and futon beds. Ryokans are – as you may expect – a bit more expensive compared to a western-style hotel, but it's much more of an experience. The prices differ depending on the size, location and time of year, but usually staying in a Ryokan sits around ¥15.000 and ¥25.000 per night per person.
Capsule hotel: Japan is full of unique experiences and accommodation is no exception. If you're looking for something a little bit more adventurous and a bit sci-fi, you may want to try a capsule hotel. These tiny pods are pretty popular with budget travellers, as they usually go as cheaply as ¥3000- ¥4000 per night per person. You'll get your own little pod to sleep in and it comes with a shared bathroom and common areas.
Japanese customs to be aware of
Different countries have different cultures with different customs. Of course, you want to avoid looking stupid or offend anyone while visiting another country. Here are a few Japanese customs to be aware of when visiting Japan.
Avoid walking and eating at the same time
Even though it's not quite rude to eat and walk at the same time, in Japan it's seen as lousy and unmannered. Rather than eating while you walk, stand still when you want to snack. If you're buying something from a vending machine and want to drink/eat it right away, just wait around at the vending machine. As well as eating and walking, smoking and walking is another BIG no-go in Japan. In some places, it's even illegal! You can usually find specially designated spots for smokers in cities.
What about eating on public transport?
When using the metro in cities or take the train for a small journey, you should avoid eating. It's not really okay during smaller journeys (especially during rush hour), but when taking the Shinkansen for a longer journey, it's totally okay. You often see people buy a bento box at the station before going on a longer trip! Just make sure you keep your seating area tidy and clean up afterwards.
Avoid speaking on the phone whilst on public transport
To avoid judgemental looks on public transport, avoid any phone calls or loud conversations. A huge part of Japanese culture revolves around privacy and not invading other people's space. Many people use their time on the train to relax, think, or even sleep (especially longer journeys!). You wouldn't want to disturb them or make them listen to your conversations, right? It's better to put your phone on silent, read a book or simply enjoy the view of the Japanese landscape.
Don't tip at restaurants
One great thing about Japan is that you don't have to tip! Actually, you should not tip at all. Even if the service is outstanding and the food was amazing, do not leave a tip. This is seen as an insult! It's like saying "you probably don't get paid enough, so here's some extra". Sometimes, it can be very confusing for waiters/waitresses if you leave extra money as a tip. They may think you've accidentally left it there. It's better to avoid any confusion and just pay the amount on the receipt. If you really enjoyed your meal or the service, please tell the waiter/waitress instead.
Don't play with your chopsticks
Playing with your chopsticks is seen as childish and bad table etiquettes. And NEVER put them upright in a bowl of rice. Even though it may seem like a good place to put them when taking a little break from eating, this is something that is done as a funeral ritual. Therefore it's not something you'd want to do at the dinner table.
Carry a plastic bag around for trash
The Japanese are very tidy, and it's seen back in their incredibly clean cities. But even though all the streets are spotless, there are barely (dare I say, no) bins! Where do the locals put their trash? They keep it with them until they get home and throw it away there. (I know, what a crazy concept. If only everybody, everywhere would do that!). Make sure to pop a plastic bag into your travel bag, just in case you have some garbage that you more than likely will accumulate during the day. Then throw it in your hotel bin when you get back in the evening. Even if you don't have a bag with you, please keep it in your pockets until you find a bin, rather than littering!
Carry a handkerchief to dry your hands at public toilets
Most public bathrooms don't have any paper towels or a place to dry your hands. Which is why most Japanese people carry a handkerchief with them. They're also used during the hot, humid and sweaty summers to clean sweat off your face and neck. They're NOT used to blow your nose in though. Blowing your nose loudly in public is frowned upon in Japan.
Because handkerchiefs are used so much in Japan, you won't have trouble finding some with cute patterns and colours. This also makes for a lovely souvenir to take home with you!
Always wear clean socks (or bring an extra pair!)
It's never a bad idea to pop an extra clean pair of socks into your bag when exploring Japan. In many temples and places with tatami mats, it's custom to take off your shoes. You wouldn't want to show off dirty socks or socks with holes! Plus it's more comfortable compared to being barefooted.
When to wear a mouth mask?
You're probably familiar with the mouth masks you see people in Japan (and other Asian countries) wear. A common misconception is that they are only worn to avoid getting sick. And yes, they are used for that too! These masks are an easy and cheap way to keep out germs during flu season and allergy triggers. But they are mainly worn by people who are already sick. To avoid spreading bacteria and causing any inconvenience to others, the Japanese wear these when dealing with a cold or another contagious illness. Due to their popularity, some even wear them as a fashion accessory due to the fun colours and patterns.
If you happen to catch a cold when in Japan, or are suffering from allergies, simply pick up a mask at a convenience store. They're very inexpensive and it's an easy way to avoid spreading your cold and keeping out allergy triggers.
Things to do before going to Japan
Apart from planning your Japan itinerary, there are a few more things you should look at as preparation for your trip! Make sure to do these BEFORE you leave, as you cannot get these deals after arriving in Japan.
Book your JR passes
If you are planning to travel to more than one city in Japan, you might want to look into getting a JR Pass. The Japan Rail Pass is provided by the Japan Rail Group and only available for tourists. They allow you to freely travel on any JR Line for 7, 14 or 21 days. Because trains tend to get pretty expensive in Japan, this might be a huge money saver!
Of course, this pass isn't for everybody. They're expensive and they may not be right for your itinerary. But if you're planning to visit Tokyo, Kyoto and some other nearby cities, it's definitely worth doing the math! For more in-depth information and to find out if the JR pass if right for your trip, please check out my Japan Rail Pass Guide.
When arriving in Japan, you also want to get a Suica/Pasmo/Icoco card. You can buy one of these cards after arriving in Japan. There are machines at any train or metro station where you can buy them and top them up. This card can be topped up with money and automatically takes the correct fare when tapping in and out at public transport stations. It will save you so much hassle (and money) buying single metro tickets for every little trip.
Order your Pocket Wifi
I've mentioned this before and I will continue to mention it because our Pocket Wifi was the best thing I've ever had while travelling. Instead of having to buy a Japanese SIM for your phone, Pocket Wifi is the best, cheapest and most convenient way to stay connected wherever you are in Japan. This little device gives you access to the internet EVERYWHERE. Charge it overnight, pop it in your bag during the day and you're good to go! Access Google Maps, post your photos on Instagram and message friends and family whenever you please.
We ordered ours from Japan Wireless. Their customer service was amazing (their stand at the airport in Tokyo stayed open for an extra hour due to our delayed flight!) and they were very affordable. We paid just over £60 for 16 days. Make sure to order one before your trip. You can then pick it up at their stand at the airport and simply return it in a post box before flying back home.
Get an international currency card
When travelling to a country with a different currency, it's always worrying that you pay too much. Getting an international currency card before your trip can avoid all of that. I recommend getting a card with Monzo (for UK residents) or Transferwise. Rather than a credit card, these currency cards can be topped up from your bank account through an app. If you lose it, nobody has access to your full bank account, only to the money that's on the card. You also get the daily exchange rates when paying for something or taking out money. This saved us so much hassle and money!
Book all your hotels in advance
Even though some people like to book last-minute hotels/hostels on the go, that's not my travel style. I'd much rather be prepared and know that I'll have a good bed to sleep in at the end of the day. After planning out your itinerary, I'd highly recommend securing all your hotels ASAP. This makes sure that you get the hotels you want in a location that fits your itinerary perfectly.
If you're worried about the prices of hotels, here is a little indication of how much we spend. For 16 nights, we paid £636.18 per person in total. This is all for mid-range hotels. I'm sure you can cut that down to even cheaper if you look at lower-range hotels or hostels. Personally, I don't mind spending a little bit more on hotels because I'd rather make sure I have a good bed, a good place to shower and a place to securely leave my belongings during the day. But really, £40 per night per person really ain't that bad!
Handy apps/websites for your Japan trip
Technology is here to make our lives easier, right? Here are a few free apps that will make your trip to Japan even more smooth 😉
Hyperdia
When using the trains and metros in Japan, Hyperdia is an absolute lifesaver. Japanese public transport is top-notch: Japan really knows what they're doing. But when you don't speak (or read) Japanese, it can get a little confusing. Hyperdia is the perfect app/website to find out accurate train/metro times, which train/metro to get and where to change to get to your destination.
Google Translate
An oldie, but a goodie. Google Translate is a must for Japan. Even if you know some basic phrases, this app can help. Especially the camera feature on the app, which lets you translate written Japanese via your phone camera. This is really helpful because many menus in Japan don't come with an English translation. The translations in the app may not always be perfect, but it's definitely better than tons of kanji!
Google Maps
And of course, Google Maps. The great thing about Google Maps is that you can plan in your itinerary before going to Japan. Which means you got all the locations in your map already! Especially when you have your Pocket Wifi and the Hyperdia app, you will be able to navigate through Japan effortlessly.
I've got a full guide on how to plan a trip with Google Maps for more information on how to use this tool to your advantage.
Foods to try in Japan
Even though Japan gets a bad rep for being a very expensive country, the food turned out to be very affordable! (For the exception of one American hamburger place we tried in Osaka, which turned out to be the worst and most expensive dinner we had during our time in Japan!). As you can read in my "Is Japan Expensive?" budget breakdown, I only spent £253 on food and drinks. That equals to about £17 per day! We didn't have any breakfast included with our hotels and definitely didn't cheap out on all the amazing types of food Japan's got to offer. It just wasn't that expensive. Therefore, TRY EVERYTHING!
Sushi
The first thing that usually comes to mind when thinking about Japanese cuisine is sushi. Japanese sushi is different from the ones you can find in Europe and North America. No deep-fried rolls or California rolls in Japan! Sushi in Japan is an art. The most popular ones are nigiri (a slice of raw fish on top of sticky rice) and maki (little rolls of sushi with seaweed on the outside). Trying sushi in Japan is a really cool experience on its own and makes you appreciate the flavours and ingredients on a whole new level. Check out this guide to eating sushi in Japan.
Ramen
Then there are all the delicious types of ramen! Japanese ramen come in all sorts of sizes, colours and flavours – which is why you should try as many as you can! When in Japan, you're almost certain to come across a ramen vending machine. A big box outside a restaurant with pictures of types of ramen. These are very common in Japan and really fun to try out! You pay at the machine, give one of the tickets to the chef inside and wait for your dish to be prepared. Live Japan wrote a detailed guide on how to use these ramen vending machines. Also, don't forget to slurp your noodles! Slurping them allows for all the flavours and aromas to really do their job, which is why you're totally okay (even encouraged) to do so.
Japanese Curry
You cannot visit Japan and not try one of their curries! If you're not familiar with Japanese curries, they're nothing like Indian or Thai curries. They're much sweeter in a sense and one of the most popular dishes in the country. Usually served with some rice, vegetables and meat.
When in Japan, I'd highly recommend trying my personal favourite: Coco Ichibanya. This Japanese Curry chain with 1,100 stores all across Japan, making it easy to find in Tokyo, Kyoto, Osaka and other big cities.
Mochi
Moving on to some sweeter Japanese snacks: Mochi. This chewy rice cake is another tasty sweet treat. Especially when freshly made at Japanese markets, it's absolutely delicious. Even though the rice cake itself is pretty flavourless, it is usually flavoured with matcha, chocolate, strawberry or cherry blossom (during Spring). It often comes with a similar flavoured filling or ice cream.
Taiyaki
Another sweet snack to try: Taiyaki. These fish-shaped cakes come with a delicious filling (often red bean paste, custard or sweet potato). You can usually find some street food vendors making fresh Taiyaki in cities as Osaka and Tokyo.
Matcha flavoured… anything!
Japan is big on green tea. Their tea ceremonies are a huge part of their culture and the hype around matcha (green tea) is seen back in tons of other products. The matcha hype is definitely starting to move its way to Europe and North America, where green tea flavoured ice cream and matcha tea are getting more and more popular. But in Japan, you can find pretty much everything matcha-flavoured. Cold drinks, chocolate, Kit Kats, Oreos, anything! As well as trying tons of snacks, take some time to sit down and enjoy a proper cup of real matcha tea (especially in Kyoto!).
Convenience Store Food
Before you skip this convenience store food section – HOLD UP AND LISTEN! Japanese 7Elevens, FamilyMart (my personal favourite) and Lawson are nothing like American or European supermarkets. They are on another level! The food here isn't tasteless, poorly made and unhealthy – it's quite the opposite.
Fresh sushi, onigiri, hot snacks and even rice boxes with tasty Japanese curries that will be warmed up for you at check-out. Add that to some delicious cakes, sando (sandwiches) and sugary snacks and you're done for breakfast/lunch for less than a fiver. As well as buying delicious, fresh and healthy food, at these convenience stores, you can also find magazines, a post office and you can buy tickets for museums and other attractions.
More Japan content?
For more content about Japan, you can check out my Japan archive, filled with itineraries and other travel tips. If you're still planning your trip, you might want to check out my 2-week Japan itinerary, 6 day Tokyo itinerary, 2 day Kyoto itinerary, day trip to Nara and one day Osaka itinerary.