This one day Liverpool itinerary shows you an easy and efficient way to see the most of the city in under 24 hours.
*The spending money was gifted by Hotels.com, but all views are my own.
You may already know it, but I love the north of England. Manchester has been my home ever since I moved to the UK and I've always enjoyed going to other cities in the vicinity. Liverpool, only being a short train ride away, also falls under that category.
For this blog post, I'm collaborating with Hotels.com. Joining their reward program is a perfect way to save up for free hotel nights. For every 10 nights you book with them, you get one completely free of charge! If you're planning on staying in this beautiful city for a few days, I'd highly recommend checking out some hotels in Liverpool.
If you're planning to visit the city for the day, make sure to check out these best things to do in Liverpool.
One Day Liverpool Itinerary
Royal Albert Docks
This complex of warehouses and dock buildings was opened in 1846. It now houses different cafes, restaurants and shops – making it a perfect place to wander around. You can also find the famous "The Beatles Story" here, making it the number one tourist attraction in Liverpool.
As well as the restaurants and shops, there is much more to enjoy at the Albert Docks. From statues and the many love locks to looking out over the River Mersey. Because a lot of the main touristy bits are located in this area, it's a good place to start your day in Liverpool. Make sure to stop by for some delicious donuts as well 😉
Check out my guide to the best UK city breaks for more urban travel inspiration.
The Beatles Story
When you say Liverpool, you say Beatles. Coming from Liverpool, the Beatles have left their mark on the city and the music industry. It's only understandable that many references from Beatles' songs can be found in Liverpool. For £17, you can enter the Beatles Story (the museum) in which you can learn all about the history of this iconic band. Alternatively, you can enter the gift shop for free, or check out one of the Fab 4 Cafes that are scattered across the city.
And, of course, you cannot leave Liverpool without taking a quick snapshot of the Beatles' statue. If you have time, pass by The Cavern Club (located on 10 Mathew Street). This club is known for the many shows The Beatles played there in their early years.
Panoramic 34
I'm a sucker for a good photography spot. And what better than seeing most of Liverpool from high up in the sky? Going for a drink or afternoon tea at Panoramic 34 is the perfect spot for it. At 300 feet above sea level, Panoramic 34 is one of the highest restaurants in the UK. Whether you are visiting during the day or in the evening, you are sure to find a breathtaking view across the city.
I decided to go with their afternoon tea, which consisted of a lovely variety of sweet and savoury snacks. The afternoon tea came with either coffee or tea and alongside the view, it was completely worth it. If you're planning on visiting yourself, I'd recommend reserving a table to avoid disappointment.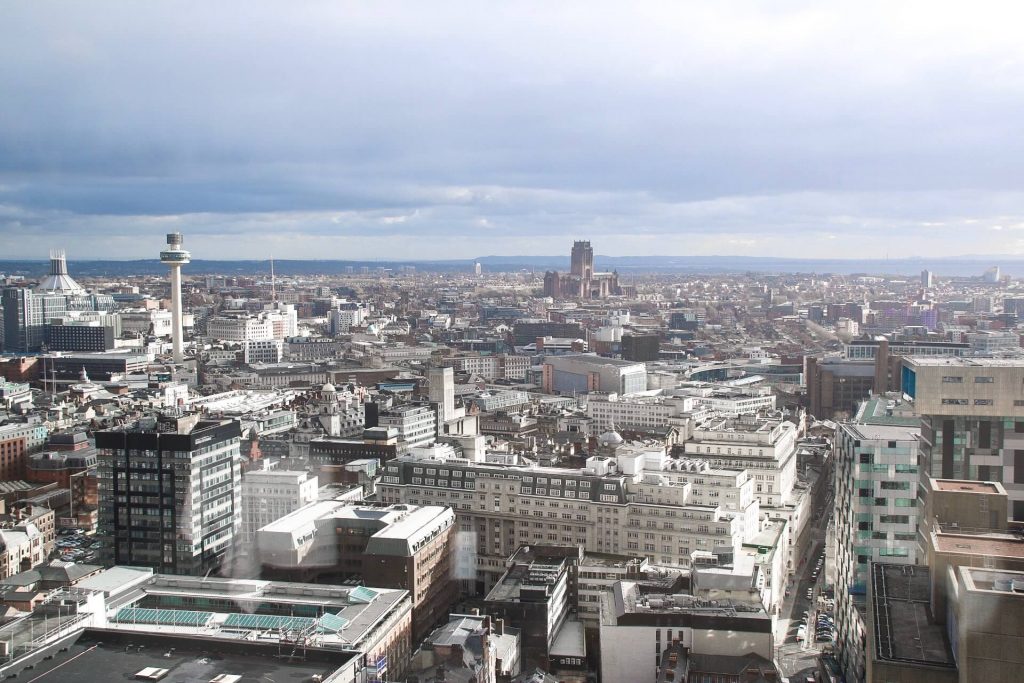 Central Library
The central library in Liverpool is one of the most beautiful buildings in the city. Even though libraries may not be your idea of an exciting thing to see – it is worth popping in for a quick look. Especially if you like photography. The glass interior and the stairs make up for a perfect photography shot.
It's located near Liverpool Lime Street train station – so if you're travelling by train, it's a great first stop of the day. Near the library, you can also find the World Museum. It is filled with five floors of interactive history. Perfect for a rainy day – which Liverpool gets quite often 😉
Liverpool Cathedral
If you don't have time to visit Panoramic34 but do want to look at the city from above, check out Liverpool Cathedral. Open every day from 8 AM till 6 PM, the cathedral welcomes people to climb the tower and enjoy the view. Entree is free.
Ropes and Twines (Bold Street)
Bold Street in Liverpool is filled with the cutest coffee shops, shops and restaurants. As you may know, I'm quite a sucker for a good independent coffee shop. One to check out is Ropes and Twines. Apart from serving a variety of speciality coffees, they have a great wine selection.
It's a perfect place to end your day in Liverpool after wandering around Bold Street. They serve sandwiches and do a brilliant cheese plate (perfect with a glass one wine!).
I had such a lovely time in Liverpool for the day! I'd love to go back sometime for a bit longer than just the day – but it just shows you how much fun you can have in a city nearby. You don't always have to travel thousands of miles to have a good time. There are so many good places just around the corner. I hope this Liverpool itinerary has helped you plan your next trip!