Last Updated on February 3, 2023
Planning to spend one day in Palma de Mallorca and not sure what to do? This easy-to-follow and efficient itinerary shows you all the best things to do in Palma in a timely manner.
When you think of Mallorca, you probably imagine sandy beaches and a swim in the ocean. And while that's definitely a great thing to do when visiting this island, Mallorca also has a fantastic city break destination: Palma de Mallorca.
I've been lucky enough to have visited Palma de Mallorca twice – the first time was for a short day trip during my very first holiday with Richard when we spend a week in Mallorca, and during the second visit, we spend a week in Palma for the Traverse Blogging Conference. This gave me a lot of time to explore the city and find all the best spots!
So if you're on a tight schedule when visiting Palma (maybe you're on a cruise, on a road trip through Mallorca or simply need some city vibes to break up the beach holiday), I've put together this Palma itinerary to show you the best way to see this beautiful city.
*The Navigatio uses affiliate links. If you make a purchase through these links, I will receive a small commission at no extra cost to you. Thank you!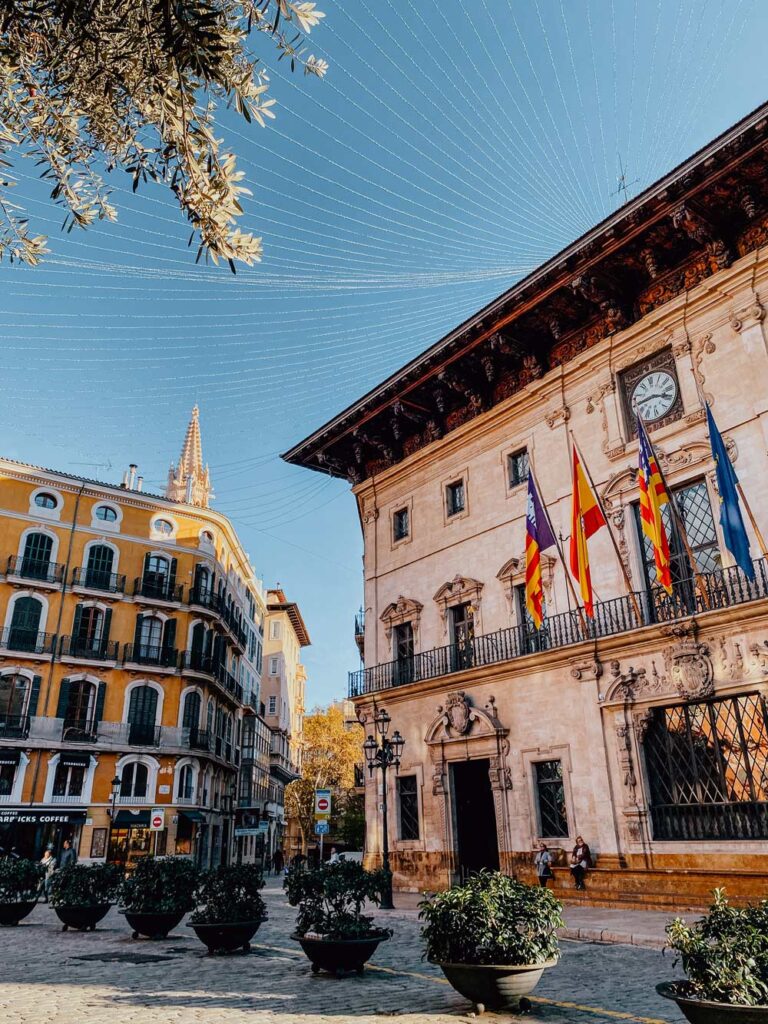 One Day in Palma Itinerary
With so many great things to do in Palma, you'll have to pick the best spots if you're only spending one day in the city. Here is my recommended itinerary to make the most of your 24 hours in Palma:
Hop on Hop off Bus
To see the most of Palma in a short time, you have to be efficient. That's why getting a Hop on Hop off Bus ticket is the perfect choice if you're only spending 24 hours in Palma.
I'm actually a huge fan of these busses and I've taken many of them in different cities. Even if I've already planned out my own itinerary, if I have some spare time, I love hopping on them. Not only are they a great way to get from A to B without having to figure out public transport or walk, but you also get a lot of extra information from the guide on the bus.
The Hop on Hop off Bus in Palma has 20 stops throughout the city, making it super easy to get to all the main highlights in the city in one day. If you've never used one of these busses before, this is how they work:
There are a few busses that drive a set route through Palma all day. If you have purchased a ticket, you can simply make your way to any of the 20 stops and get on the next bus. You can explore the city at your own pace and decide exactly what stops you want to include in your itinerary without having to worry about making your way there. Super easy!
Palma is quite a walkable city, but one of the main reasons why this bus service is such a great idea when spending one day in Palma is because it also takes you to Bellver Castle.
This 14th-century castle sits on the top of a hill three kilometres from the city of Palma, so having a bus that can take you there is a huge advantage when you're on a tight time schedule. Plus, the entree fee to the castle is included in your Hop on Hop off Bus ticket (make sure you select the right one if you want this!)
Visit Bellver Castle
While speaking of Bellver Castle, it's also a great start to your one day Palma itinerary. After hopping on the bus, you can get off at the top of the hill, right in from of the castle doors.
Since it's located on the top of the hill, the castle gives you a beautiful view of Palma Bay. The name "Castell de Bellver "even translates to "lovely view" in Catalan.
The castle dates back to the 14th century and has been very well preserved. Inside, you can find a two-tiered courtyard, a moat with a drawbridge, and a museum with artefacts from Roman, Arab and Spanish periods. It's a great place to learn more about Palma de Mallorca.
Note: As mentioned before, the entree tickets to Bellver Castle are included with the Hop on Hop off Bus ticket, which is why it's best to pre-book this before your trip. Pre-book your bus ticket here.
Visit the Cathedral
Palma's pride and joy, Catedral-Basílica de Santa María de Mallorca, cannot be missed when visiting the city. This impressive Catalan Gothic cathedral stands near the seaside and dates back to 1229 (it wasn't finished until 1601 though!).
In front of the cathedral, you can also find Parc de la Mar. This artificial lake shows beautiful reflections of the cathedral. Near it, there are some places to sit and soak up the view of this impressive piece of architecture.
Some of the cathedral's towers reach over 20 meters and the cathedral contains one of the largest stained glass windows in the world (with more than 1,200 pieces).
While the cathedral is very impressive to look at from the outside, going inside to see the beautifully decorated interior and the light pouring in through the stained glass windows.
Especially if you only have one day in Palma and you want to make the most of it, it's best to pre-book a ticket to skip the queue. Palma's Cathedral is one of the most famous and most popular landmarks in the city, so you can expect a queue. To save time (and have more time to explore the rest of the city), pre-book your tickets here.
Wander Through Palma's Old Town
Palma's picturesque Old Town is a must-visit, no matter how much time you have. Even if you're having a little wander through it, it's worth your time.
The streets are beautiful, with little squares and small but atmospheric alleyways. There are many cafes in the Old Town too, which give you a perfect excuse to sit down for a bit and enjoy some people watching.
One square in the Old Town that you should add to your Palma itinerary is Plaça de Cort. This charming square in the heart of the city is famous for its ancient olive tree here, as well as the beautiful town hall.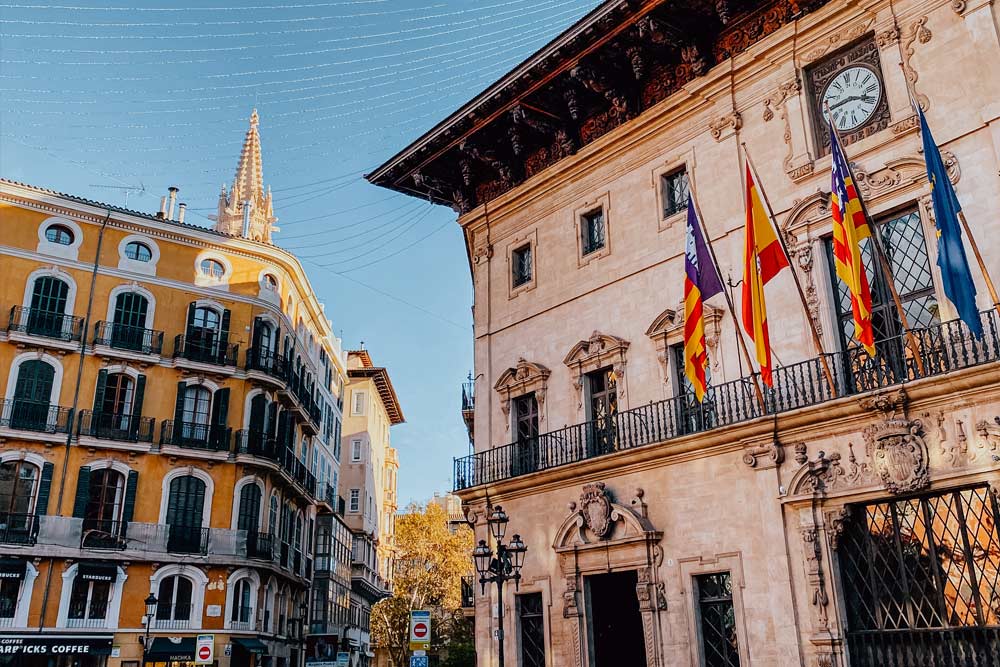 Find the Best Views at Castle Museum of San Carlos
Palma is home to quite a few museums. Although it may be tough to fit in a museum visit when you're only spending one day in Palma, stopping by the Castle Museum of San Carlos before dinner is a great idea because it has some fantastic views!
The museum is free to visit, so you can simply walk to the viewpoints to enjoy a lovely view of the cathedral and the oceanside. I didn't go into the museum itself so I can't tell you whether it's worth a visit, but some friends told me they enjoyed it a lot.
Either way, stopping by to enjoy the view is 100% worth it!
Try All the Tapas
No visit to Palma is complete without eating all. the. tapas. During my visit in November, I was lucky enough to be in Palma for their TaPalma Tapas Festival – which is basically a bar hop where you can get a special tapas dish at each bar. It was so much fun!
But even if you're not visiting during the festival, there are a lot of tapas places to choose from when visiting Palma. Cheese, bread and meat – sign me up.
Enjoy the View from Nakar Hotel's Rooftop Bar
And what better way to end your day in Palma de Mallorca than with a cocktail and a view?
Palma de Mallorca has some great views and there are quite a few rooftop bars to choose from (some even have an infinity pool!)
If you're already in the centre of Palma, make your way to Nakar Hotel's rooftop bar. While the 8th floor with the infinity pool is only for hotel guests during sun hours, the bar is open to the public between 7:30 PM and 1:00 AM.
Some evenings, they even host DJ sessions!

Best Time to Visit Palma
For a city break in Palma de Mallorca, it's best to visit in the spring or autumn. May and September are by far the best months, as you'll get nice temperatures but avoid the large summer crowds.
June, July and August are the hottest and busiest months, so it's best to avoid them. I spent a week in Palma in November, and while it was very quiet and the weather was definitely better than in the UK, it was still a bit rainy and cold. Next time, I'll make sure I'll visit in May or September instead.
Is Palma Worth Visiting?
Yes, Palma de Mallorca is definitely worth visiting. It's a surprisingly great city break destination, but even if you only have one day to visit it when you're spending some time in Mallorca, I highly recommend it. With great sights, beautiful architecture and some fantastic restaurants, Palma won't disappoint!
Palma de Mallorca Itinerary: Conclusion
While spending one day in Palma de Mallorca may seem short, you can definitely see a lot of the city's highlights in a short time. By efficiently planning your itinerary, you'll be sure to have a fantastic time in the city.
I absolutely loved visiting Palma again, even after having already visited it a few years ago. Just wondering through the old town is a real treat!
Latest posts by Nele van Hout
(see all)