Visiting the Netherlands? Make sure to try some of these 30 traditional Dutch foods.
Dutch cuisine isn't as well known as say, the Italian or French kitchen. Even though I – as a Dutchie – may be a little bias, The Netherands has quite a few great snacks and dishes. Travelling and trying out new foods go hand-in-hand, don't they? Are you're visiting The Netherlands any time soon, and you're wondering what should be on your food bucket list? I've made you a list of 30+ traditional Dutch foods you should try while visiting.
Living in the UK as a Dutch expat definitely made me appreciate these types of food a whole lot more. I'd never thought it miss them as much as I do. Whenever I visit home, I make sure to try most of these or fill up my suitcase to take them back to the UK. Let's not waste more time and look at all these tasty dishes and snacks…
The Best Traditional Dutch Foods
A quick walk through any Albert Heijn supermarket and you can get your hands on most of these. But also keep an eye out on bakeries and stands around towns that sell freshly made variations of the following:
Stroopwafels
A personal favourite. Two thin waffles held together by the thick caramel syrup inside. Possibly one of the most popular Dutch snacks.
TIP: Put it in the microwave for 10 seconds to slightly melt the caramel inside – godlike!
Dutch Licorice/Drop
Being the country that has the highest per capita consumption of liquorice in the world (who even keeps track of that?), the Netherlands has quite the relationship with liquorice. You can find different types of Drop in any supermarket in the Netherlands. From soft honey flavoured liquorice, to hard salmiak flavoured pieces.
Poffertjes
Tiny Dutch pancakes – what's not to love? These little fluffy pancakes have a spongy texture and are usually served with powdered sugar and butter. You can often find these on markets, funfairs or festivals, but sometimes you can also find them in restaurants.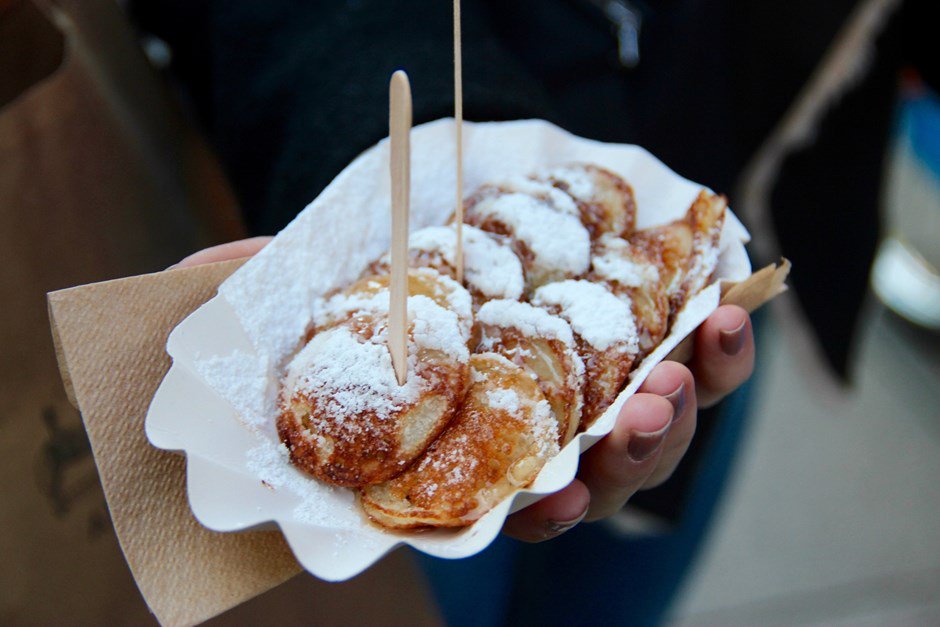 Eierkoek (Egg Cookie)
Even though they literally translate to "Egg Cookie", an Eierkoek is more cake-like with a hint of vanilla. Made from egg, milk, flour and butter, these cakes are 10-20 centimeters in diameter. Extra tasty with a little layer of butter and sugar.
Tompoes/Tompouce
A typical Dutch pastry made with puff pastry, pastry cream and icing. Usually served with a cup of tea or coffee. On King's Day, you can find them with orange icing to celebrate our national colour.
Speculaas
A spiced shortcrust biscuit which is traditionally eaten around Sinterklaas time (5th December). They taste a bit like cinnamon and caramel, are thin, crunchy and usually come in different shapes. Usually the shape is a windmill or something Sinterklaas-related.
Spekkoek
As a big part of Dutch cuisine is inspired by Indonesian cuisine (dating back to the colonial times), you can sometimes find some typical Indonesian dishes and snacks mixed with Dutch cuisine. Spekkoek is one of them. This thinly, multi-layer cake usually is spiced with cinnamon, clove and anise. It's perfect for after dinner.
Chocomel
We all know chocolate milk, but it is nothing compared to Chocomel. This Dutch brand of chocolate-flavoured milk is on another level. It's smooth as silk and doesn't even really taste like milk. It's more like drinking liquid chocolate!
Bitterballen
A Dutch classic, the bitterbal. It's kinda like the Dutch alternative of tapas, usually eaten as a little snack or with an alcoholic beverage. Especially while sitting outside a cafe, enjoying the sun (whenever the Dutch weather allows it). A round, deep-fried crispy ball with a savoury filling. The filling is usually made with beef, but it can vary depending on what type of bitterbal you're eating. An absolute must-try when in Holland.
Frikandel/Kroket
Even though we really don't eat that unhealthy in the Netherlands, we love a deep-fried snack. There are quite a few more snacks to eat alongside your bitterballen, including Kroket (basically a cylindrical shaped bitterbal), Frikendel (a spiced, skinless, deep-fried sausage), kaas souffle (a fried block of cheese) and many more. You can either get them at the Dutch chippy (snackbar) or the wonderful invention that is FEBO. FEBO is basically a vending machine for Dutch deep-fried snacks. You can usually find these on train stations or randomly inside city centres.
Kibbeling
Fried pieces of battered fish, served with a delicious garlic-mayonnaise or tartar sauce. Especially popular near the Dutch seaside but also often found at the fish vendor's cart on local markets. It always reminds me of the days at the beach with my family when I was younger.
Gouda Cheese
The Dutch do some of the best cheese in the world (definitely not a little bit bias). The history of cheese making in the Netherlands stretches back over 1600 years! Gouda is by bar the most famous type of Dutch cheese, but also try some Edam, Maasdam and Leidse cheese. You can usually find a cheese vendor at the local markets, or you can visit a traditional Dutch Cheese market!
Rookworst (HEMA)
Traditionally eaten with stamppot (more on that later), Rookworst is another must-try when in Holland. This sausage is made out of ground meat which is mixed with different types of spices. You can find some of the best rookworst at a store called HEMA.
Traditional Dutch Breakfast
Hagelslag
Wonder why Dutch children are some of the happiest on the planet? It's because the Dutch eat chocolate sprinkles on their toast in the morning. You heard it correctly: CHOCOLATE. SPRINKLES. And it's not just children that eat it on their sandwiches, adults like to put hagelslag on their toast too. There are many different types of sweet sandwich toppings in the Netherlands that you might want to try. Muisjes is another one of those, made out of anise seeds. They're usually eaten to celebrate a birth. Pink for girls, blue for boys.
Ontbijtkoek/Peperkoek
The breakfast item I miss most from my home country is by far ontbijtkoek. Directly translated into "breakfast cake", ontbijtkoek is sweet, moist and made with a lot of different spices. You can also eat it as a snack with a little layer of butter on it.
Krentenbol
The current bun (or Krentenbol) is a Dutch type of bread filled with raisins. They are especially popular for breakfast or brunch. You can either eat them plain or add some butter, sugar or cheese in them. But personally, I don't think you need any toppings!
Traditional Dutch Dinner Dishes
Stamppot
Probably one of the most famous traditional Dutch dishes, stamppot. This winter dish is made from potatoes mashed together with one or several vegetables. The most popular one is usually made with kale or endive. Put a rookworst on the top and, ta-da, the perfect winter dish!
Haring "Hollandse Nieuwe"
A raw herring served with chopped onions. Locals eat it by lifting up the herring by its tail and eating it from the bottom upwards. Usually not a huge hit with foreigners (my English boyfriend just looked at me in disgust when I told him about this dish), but it definitely is a real Dutch experience ;).
AVG
AVG (also known as Aardappelen, Vlees, Groenten) is one of the most popular – yet plain, dinners in Holland. Potatoes, meat and vegetables. This is what the average Dutch dinner exists of. In recent years, other cuisines have infiltrated the Dutch kitchen, but a nice AVG is never a bad shout.
Patatje Oorlog (War Fries)
A perfect example of Dutch Street Food; a Patatje Oorlog (War Fries). The Dutch like their fries, especially with mayonnaise. But fries come with many different kinds of toppings. War Fries come with mayonnaise, peanut satay sauce flavoured with spicy sambal topped with chopped onions. It may sound like a battlefield in a tub, but it's very tasty.
Hachee
Another traditional Dutch dish that deserves a spot on this list is Hachee. This Dutch stew made of meat (usually beef), onions, butter and vinegar. It's served with potatoes or rice and makes for a typical winter dish.
Dutch pancakes
Dutch pancakes are a real delicacy. We know how to do them right! Dutch pancakes are larger and a lot thinner compared to American pancakes, but thicker than French crepes. What makes them so special is its toppings. The Dutch put anything on a pancake – sweet, savoury or both. Some of my personal favourites include apple and cinnamon, bacon and maple syrup or a simple pancake with powdery sugar.
Snert
This thick, traditional split pea soup mixed together with pieces of pork belly, rookworst and other vegetables is a real winner every winter in the Netherlands. Maybe not the prettiest dish (nor the most attractive name), but definitely a tasty one!
Indonesian Rijsttafel
Some of the best Dutch food is a fusion between Dutch and Indonesian. The Dutch have a rich history with Indonesia, starting when the Dutch arrived there in the 16th century looking for spices. Indonesia became a colony until 1945, when Indonesia gained independence. Obviously, the Dutch were inspired by the delicious Indonesian cuisine and many Indonesian restaurants can still be found all across in the country. The Indonesian Rijsttafel (Rice Table) consists of many smaller dishes. Usually, they include egg rolls, sambals, satay, rice prepared in several different ways and many more. If you get the chance to visit an Indonesian restaurant during your time in the Netherlands, I'd highly recommend you to do so!
Indo-Dutch Satay
Even though satay sauce itself isn't typically Dutch, but the Indo-Dutch version of it does do things a bit differently. This spicy peanut sauce is irreplaceable in the Dutch kitchen and a real winner for BBQs. Often eaten with chicken, but any type of BBQ meat goes well with this sauce.
Traditional Dutch Food For Special Occasions
Muisjes
Even though this aniseed confectionery product is literally translated to "little mice", they are actually very tasty! They come in two combinations: pink/white and blue/white. They are traditionally used as a topping for beschuit (rusk) and shared when celebrating the birth of a baby girl of baby boy. I bet you can guess which colour is used for which gender.
Bossche Bol (Den Bosch)
Originated in Den Bosch, located in the South of the Netherlands, the Bossche Bol is a delicious Dutch pastry. This pastry is basically a huge creme puff (a little bit larger than a tennis ball). It's usually eaten with a cup of coffee or tea but can be quite messy due to its size. If you're visiting Den Bosch during your trip through the Netherlands, this is a must-try. The best ones can be found at Banketbakkerij Jan de Groot.
Pepernoten (Sinterklaas)
During the Dutch Sinterklaas holiday (early December), pepernoten can be found everywhere. They usually already appear in stores around September time but are traditionally eaten for Sinterklaas. These tiny biscuits are spiced similarly to speculaas biscuits. You can variations with a layer of chocolate (my personal favourite!).
Chocolate letters (Sinterklaas)
Another Sinterklaas-related snack is the Chocolate Letter. As a Dutch tradition, children put out their shoes for Sinterklaas to pop a chocolate letter in (the first letter of their first name). But they are also given to people we like (friends, family and colleagues). They come in dark chocolate, milk chocolate and white chocolate – sometimes with additional hazelnuts or dried fruits.
Oliebollen (New Year)
As part of a New Year's Eve/Day tradition, the Dutch eat Oliebollen. These deep-fried dough balls covered in powdery sugar can also be called Dutch Doughnuts or Dutchies. If you're visiting the Netherlands in December, there is a big chance that you'll find some food vendors selling freshly made oliebollen on markets. Alternatively, there is usually a stand with oliebollen at funfairs too!
I sure am hungry after writing up about all these delicious Dutch foods, what about you? Have you tried any of these before? If not, which one would you like to try?