Kyoto is one of the most recommended cities to visit in Japan. It's known for its more traditional districts where Geishas entertain people till this day, its beautiful shrines and temples and a stunning bamboo forest. Kyoto has countless things to offer, which makes it difficult to pick and choose when you're on a tight time schedule. This 2 day Kyoto itinerary takes you to the best of the city in under 48 hours.
About Kyoto
Kyoto is a perfect representation of Japan as a country: a busy high-tech metropolitan city filled with ancient shrines and temples. It's the relationship between old and new that Kyoto fully embraces. Kyoto shows the fine line between these two polar opposites like you can find in the rest of the country.
Once the capital of Japan, Kyoto is now the capital of Kyoto Prefecture. With a population of 1.5 million, Kyoto is also one of the 10 largest cities in the world.
2 Day Kyoto Itinerary
If you only have two days to visit this beautiful city, you have to pick and choose. You can't see everything Kyoto has to offer, but you can definitely see some of the most worthwhile highlights. This two-day itinerary helps you see the best of Kyoto in a timely manner.
Day 1: Fushimi Inari Taisha and Higashiyama/Gion
Are two days really too short to visit Kyoto? I don't think so! You just have to plan it properly. But don't worry, I've got your back. On the first day, we are exploring the 1000 gate shrine (Fushimi Inari), the ancient Geisha districts and Central Kyoto.
7 AM Fushimi Inari Taisha
In the south of Kyoto, you can find Fushimi Inari Taisha. The shrine is known for its thousands of vermilion torii gates that lead you through the magical forest of Mount Inari. Fushimi Inari's history dates back to 711 and is dedicated to the Shinto god of rice, named Inari.
Opening hours: Fushimi Inari Taisha is always open for visitors. 24 hours a day, 365 days a year.
Entrance fee: There is no entrance fee at Fushimi Inari.
Best times to visit: To avoid the crowds, it's better to visit early in the morning or later at night.
More information?: Find more in-depth information about this shrine in my Fushimi Inari Guide.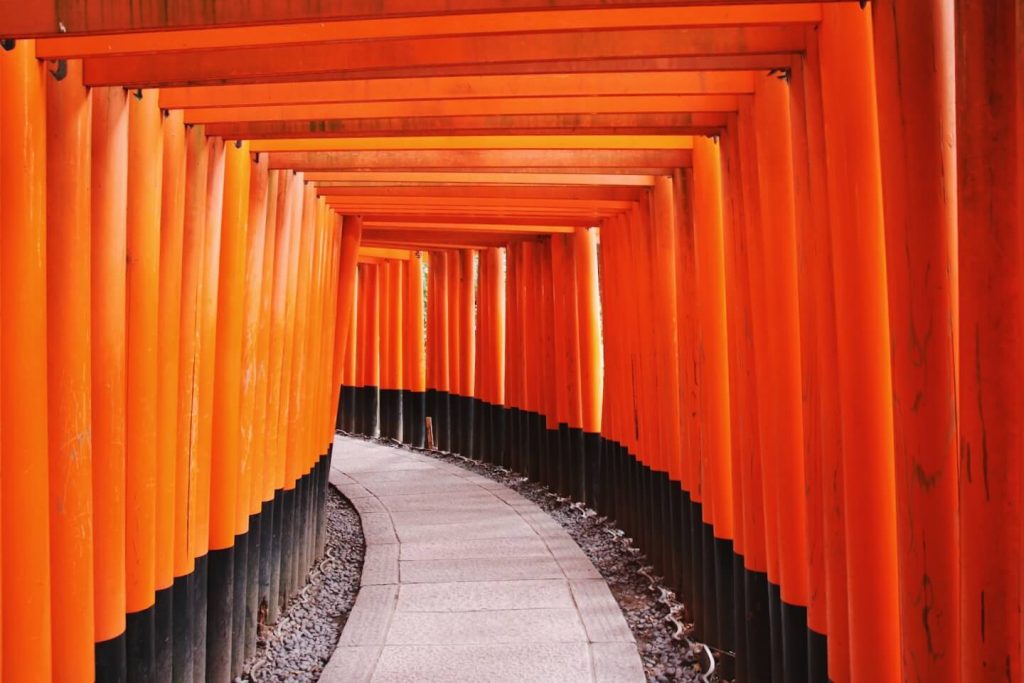 Due to the shrine's popularity, it does get very crowded. To avoid this, I'd recommend going either early in the morning or later at night. If you go early in the morning, try to get there before 8 AM. This gives you the chance to take some photos without being photobombed by tourists and hike up the mountain without having to queue.
The full 4km hike up Mount Inari takes about 2-3 hours. You can enjoy a beautiful view over Kyoto from Yotsutsuji Intersection, which you will reach 30-40 minutes into the climb. If you are visiting during the summer months, make sure to bring enough water! There are shops and vending machines along the way, but these get more expensive the higher you climb.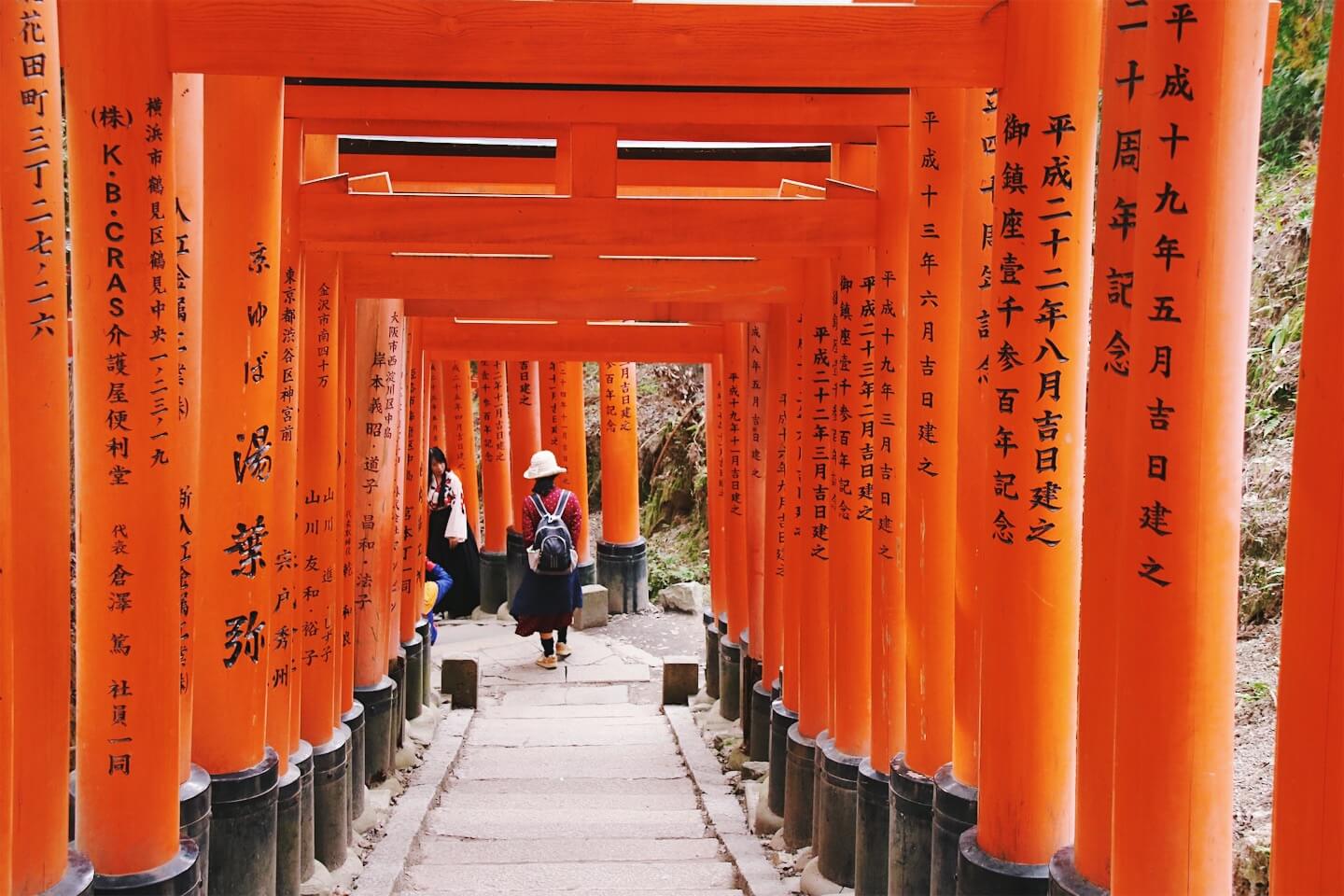 After returning from your hike, you can grab a snack or some lunch at the local market that's located right outside the entrance of Fushimi Inari. Local food vendors set up market stalls selling anything from freshly made mochi to yakitori sticks.
After visiting Fushimi Inari Taisha, you can take the train from Inari Station to Kiyomizu-Gojo Station. This will take approximately 15 minutes and will cost ¥270.
1 PM Walking Route Through Higashiyama and Gion
In the afternoon of the first day in Kyoto, we are going to explore Kyoto's best preserved historic districts: Higashiyama and Gion.
Walking through Higashiyama feels like you've been transported back in time. This is what I imagined ancient Kyoto to be like. Small wooden shops are lining the narrow streets, selling traditional sweets and souvenirs. Higashiyama is filled with beautiful shrines and temples to visit, too.
Gion is located next to Higashiyama and is mainly known for its Geishas. In Gion, you can find shops, restaurants and traditional ochayas (teahouses) where Geishas and Maiko entertain guests till this day.
Free Walking Tour Route
This walking tour takes you to the highlights in these two beautiful districts. Feel free to adjust the route to your wishes, or when you come across something that catches your attention. Here are some of the highlights of the walking route through Higashiyama and Gion.
Kiyomizu-Dera
The walking route starts at Kiyomizu-Dera. The most famous part of this temple is its wooden stage, which stands 13 meters above the hillside. You can find many other temples and shrines on the temple grounds of Kiyomizu-Dera. These include Koyasu Pagoda and Jishu Shrine.
Note: The main hall of Kiyomizu-Dera is currently under construction. From February 2017 until March 2020, the hall will be covered for renovations.
Opening hours: 6 AM till 6 PM
Entrance fee: ¥400
Kodaiji Temple
Kodaiji Temple was built in 1606 in memory of Toyotomi Hideyoshi. Visitors can enjoy the zen gardens, temple halls and a bamboo grove that are part of the temple.
Opening hours: 9 AM till 5:30 PM
Entrance fee: ¥600
Yasaka Pagoda (Hokanji Temple)
If you have seen photos of Higashiyama, you have most likely seen the Yasaka Pagoda. This iconic pagoda looks out over the district and adds so much character to the historic streets.
Opening hours: 10 AM till 4 PM (open irregularly)
Entrance fee: ¥400
Shirakawa
The walking route ends in the Shirakawa part of Gion's district. The street is located next to This scenic part of Gion is much quieter compared to the main Hanami-koji street. If you're lucky, you might get a glimpse of one of Gion's Geishas and Maikos.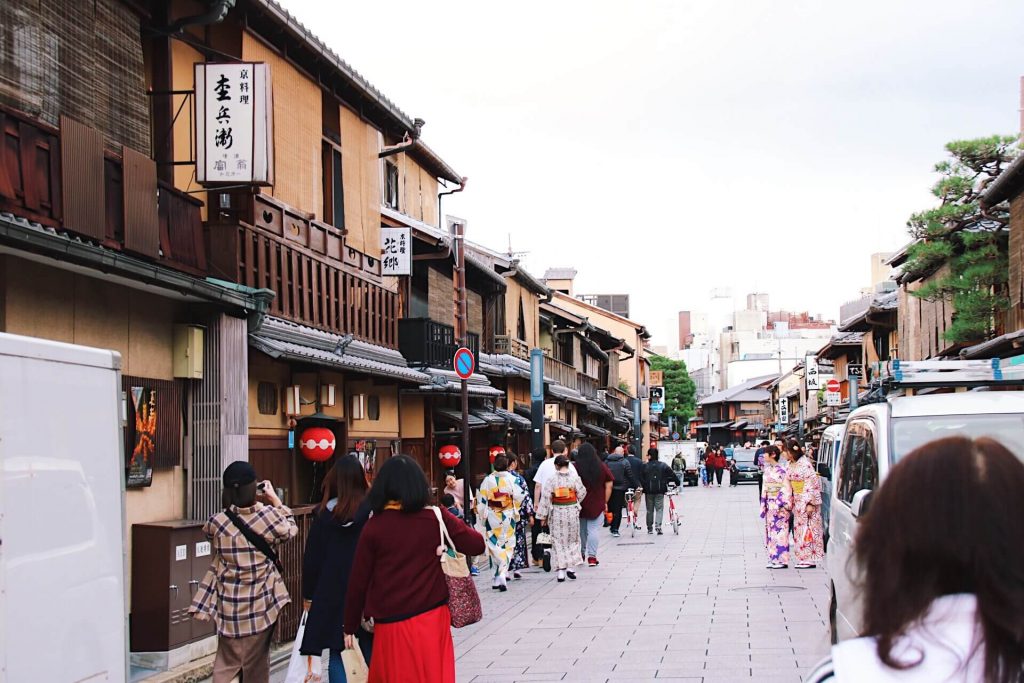 7 PM Dinner and drinks near Pontocho Alley
Near the end of the Higashiyama and Gion walking route, you can find Pontocho Alley. Crowned "the most beautiful street in Kyoto", this street is filled with elite restaurants and clubs. Unfortunately, it's pretty hard to get in without the right Japanese connections, but it's a perfect place to spot some Maiko and Geishas at night. I'd recommend grabbing some dinner near Pontocho Alley and then wander down the street yourself.
Day 2: Kinkaku-ji and Arashiyama (Bamboo Grove and Monkey Park)
On the second day of this two day Kyoto trip, we head over to the golden pavilion and Arashiyama. In Arashiyama, we will find the famous bamboo grove and Iwatayama Monkey Park alongside many temples, shrines and shops.
9 AM Kinkaku-ji temple
Kinkaku-ji (also known as the Golden Pavilion) is one of the 17 World Heritage Sights you can find in Kyoto. Famous for having its two top floors covered in real gold, this beautiful zen temple is one of Kyoto's must-sees.
Opening hours: Kinkaku-ji is open from 9 AM till 5 PM every day of the year.
Entrance fee: Kinkaku-ji has a small entree fee, which is used to keep everything look nice and tidy. It costs ¥400 for adults, ¥300 for children. If you are visiting with a larger group, you may be able to get a small discount.
Best times to visit: As this temple is a popular sight in Kyoto, it tends to get pretty busy. To avoid the crowd, it's best to visit as soon as it opens or later in the afternoon.
More information?: Find more in-depth information about the golden pavilion in my Kinkaku-ji guide.
From Kyoto Station, you can take bus number 101 or 205 for ¥230 which will get you to Kinkaku-Ji in about 45 minutes. Alternatively, you can take a taxi which will be a lot quicker, but also more expensive. You can also take the train to Kitanohakubaicho Station and walk to the golden pavilion from there.
After entering the temple grounds of Kinkaku-ji, you will find the golden temple looking out over the lake. Even if it's busy, you still get the opportunity to take the iconic shot of the temple if you move closer to the fence. The path then guides you around the pavilion, into the Japanese zen gardens that surround Kinkaku-ji. The entire visit takes around 1-2 hours.
12 PM Arashiyama Bamboo Grove
After visiting Kinkaku-ji, it's time to head over to Arashiyama. This district is pretty touristy but it's home to the famous Bamboo Grove. This bamboo grove is the first highlight we will visit in Arashiyama.
Opening hours: The Bamboo Grove is open 24 hours a day, 365 days a year.
Entrance fee: Arashiyama Bamboo Grove is free to visit.
Best times to visit: This is another popular tourist attraction in Kyoto, which means it gets pretty busy. If you want to avoid the crowds, I'd recommend going early in the morning. But for this itinerary, we only have 2 mornings, so we visited the Bamboo Grove in the afternoon.
Arashiyama bamboo grove is one of the most photographed places in Kyoto, alongside Fushimi Inari and Kinkaku-ji. From Arashiyama Station, it's a 15-minute walk before you stand amidst the tall bamboo shoots. Even though it might get a little busy, it still feels peaceful. The wind sways the large bamboo trees and it really feels like you're in a different world for a second.
2 PM Arashiyama Iwatayama Monkey Park
From the Bamboo Grove, you can walk through the main street of Arashiyama to get to Iwatayama Monkey Park. From the Bamboo Grove, it takes about 15 minutes to walk to the Monkey Park. Along the way, you will cross the famous Togetsukyo Bridge.
Opening hours: Iwatayama Monkey Park in Arashiyama is open from 9 AM till 4:30 PM.
Entrance fee: It cost ¥550 to visit Iwatayama Monkey Park. You can also buy some fruit and peanuts to feed to monkeys inside the park for ¥100 per bag.
Iwatayama Monkey Park is located on the top of a hill, so prepare for the climb. It takes about 20 minutes to get to the top. The path isn't too steep and it gives you some of the most beautiful views over the area, especially during cherry blossom season and during autumn.
Once you've reached the top, you can find the monkeys. Around 120 monkeys roam around the top of the hill, posing for peoples holiday photos and being well looked after. Yes, they are indeed the same breed of monkeys that you can find on the iconic photos, where the monkeys are bathing in hot springs during the winter.
Signs warn you to not look them in the eye, as they can get a bit aggressive. You can, however, feed the monkeys. And it's completely safe! Walk into the building, buy yourself a bag of apples, bananas or peanuts (¥100 per bag) and feed the monkeys through the fence. It's funny to see how in this park the humans are caged in while the monkeys walk around freely!
This park is completely animal-friendly. Even though the monkeys are fed by humans, they are still wild and are free to go wherever they please. The workers at the park make sure the monkeys are safe and well looked after.
4 PM Explore more of Arashiyama
Arashiyama is known to be a tourist magnet. You can definitely feel the crazy contrast between the peaceful bamboo grove and the main shopping street in Arashiyama. It's busy, very touristy and can get a little chaotic. Despite all that, it's fun to explore it a bit more! The main shopping street has many food stands and places to look at souvenirs.
Arashiyama is also home to many shrines and temples that are worth exploring. Temples as Tenryuji Temple, Daikakuji Temple and Nisonin Temple are found in this district and are definitely worth a visit if you have the time. Please note that most temples close around 4:30 PM / 5 PM, so if you want to have a look inside, make sure to plan it into your itinerary appropriately.
Then there is the Togetsukyo Bridge, a famous landmark in the Arashiyama district. Togetsukyo means "Moon Crossing" and the beautiful surroundings make the bridge seem even more magical. You have to cross this bridge to get to the Monkey Park – so make sure to take some photos!
7 PM Dinner in Central Kyoto and Kyoto Tower
In the evening, we take the train back to Central Kyoto for dinner. Kyoto is filled with the most amazing restaurants and eateries. We chose a little ramen restaurant located near the train station.
After dinner, you can check out Kyoto Tower. Even though this tower isn't as famous as Tokyo Tower, it still offers a beautiful view of the city – especially at night. A viewing platform is located at 100meters and gives you a 360 view of Kyoto. On clear days, you can see as far as Osaka.
Opening times Kyoto Tower: You can visit Kyoto Tower every day from 9 AM till 9 PM (the last entree is at 8:40 PM).
Entrance Fee Kyoto Tower: ¥770
How to get to Kyoto?
Being one of the biggest and most popular cities in Japan, Kyoto is easy to reach by using public transport. Don't worry if you don't speak Japanese, trains are very easy to navigate in Japan. When visiting Japan, you usually fly to either Tokyo or Osaka. From there, you can make your way to Kyoto…
Tokyo to Kyoto
If you start your Japan journey in Tokyo and want to visit Kyoto, you need to travel on the Shinkansen (bullet train). From Tokyo, it costs around £104 for a single ticket to Kyoto. The bullet train will get you to Kyoto in 2 hours and 20 minutes. One way to save money on train costs is to get a Japan Rail Pass. For more information about this pass and to find out whether if it will benefit your trip, check out my JR Pass Guide.
Osaka to Kyoto
Kyoto is located close to Osaka, which makes travelling there nice and easy. Use the JR Kyoto Line to get from Osaka to Kyoto in 23 minutes. This journey will cost you ¥560. Alternatively, you can use the bullet train from Shin-Osaka Station to reach Kyoto in as little as 13 minutes for ¥1420. Once again, getting a JR Pass may benefit your trip in order to save some money. For more information, check out my JR Pass Guide.
Where to stay in Kyoto
Ryokans vs Hotels
When travelling through Japan, you might want to stay in a more Japanese-styled hotel (also known as Ryokan). The main difference between a ryokan and a hotel is that you sleep on a Japanese futon in a tatami room rather than in a more western-styled bed and hotel room. Due to Kyoto's traditional atmosphere, it is probably the best city for staying in a ryokan. Ryokans are a bit more expensive compared to hotels, but the experience itself adds a lot of value to your holiday. It's something you might want to consider before booking any accommodation.
Note: If you book through booking.com, you can select a "ryokan" option in your search preferences.
If you'd rather stay in an Airbnb, check out my Kyoto Airbnb guide.
Central Kyoto
If you are visiting Kyoto for only two days, it's best to stay in a hotel close to the city centre. This allows you to get the train from Kyoto Station to any of Kyoto's districts and it avoids having to carry your suitcases on the local trains to different parts of the city.
South Kyoto
During our trip to Kyoto, we stayed in South Kyoto. Mainly because we planned on visiting Fushimi Inari early in the morning, which made us decide to book a hotel close to the shrine. We stayed in Urban Hotel Kyoto, a budget hotel in a quiet area of Kyoto. The hotel is within walking distance from Fushimi Inari Taisha and Inari Station. A bakery is located right outside the hotel, selling freshly baked buns for ¥100, saving you some money on breakfast. You can easily get to Kyoto Central Station from Inari Station in 5 minutes.
Best time to visit Kyoto
You can visit Kyoto any month and have a wonderful time, but some parts of the year that are better fitted for a city trip. Both spring (March-May) and autumn (October-November) are the best times to visit Kyoto. During these months, the weather is mild and temperatures are perfect for walking around. Summer in Kyoto is usually hot and humid, while Kyoto winters are very cold.
During spring, you are able to catch the famous Sakura cherry blossoms. Please note that Kyoto is usually very crowded during cherry blossom season, as many tourists and locals visit Kyoto to see them. This is why I would recommend visiting Kyoto during the autumn. The temperatures are perfect in autumn and the coloured leaves make up for missing the cherry blossoms.
More than 2 days?
If you have more than two days in Kyoto, you might want to add some attractions to this itinerary. Here are some ideas of other things to see and do in Kyoto.
Rent a kimono for a day
You may have seen other people walk around Kyoto wearing the traditional Japanese kimono. What if I tell you that you can wear one too! Many shops in Kyoto (and other cities in Japan) specialise in hiring out kimonos. For more information on how to rent a kimono in Kyoto, check out my "How to rent a kimono in Japan Guide".
Nishiki Market
This fresh food market is located in the centre of Kyoto. Also known as "Kyoto's Kitchen", this area is filled with over a hundred restaurants and food-related shops. Almost everything sold on this market is locally grown and produced.
Day Trips from Kyoto
Kyoto is located close to some other beautiful cities that act as a perfect day-trip. Osaka and Nara are both easily reachable from Kyoto and can be seen in one day. Here is why you should visit these cities if you have the time and how to get there from Kyoto.
Day trip to Osaka
Famous for its fresh fish, amazing street food and great nightlife, Osaka is another Japanese city that is high on many people's travel wish-list. Osaka Castle, Dotonbori, Osaka Aquarium and Universal Studios are some of the highlights that could make up for a perfect day out in Osaka. You can find a one-day itinerary for Osaka here.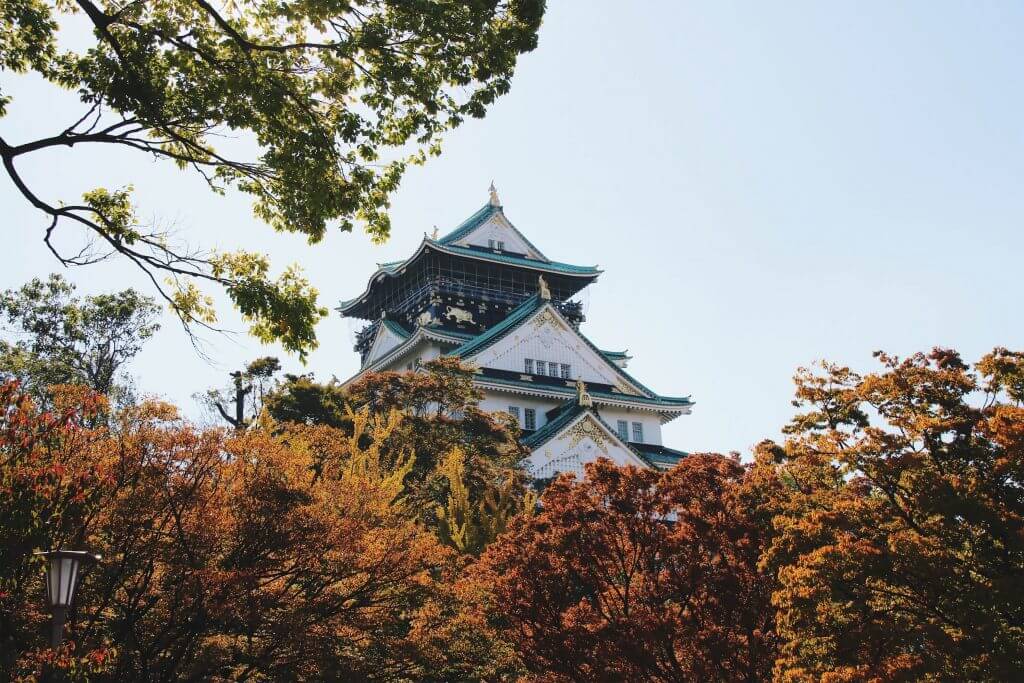 From Kyoto, it's easy and cheap to get to Osaka. For ¥1420, you can take the Shinkansen to get to Shin-Osaka in as little as 13 minutes. Alternatively, you can use the JR Kyoto Line to get to Osaka in 23 minutes for ¥560. I'd recommend taking the JR Kyoto Line, as it gets you to Osaka Station rather than Shin-Osaka. If you hold a JR Pass, you can use it for this train to save some money.
Day trip to Nara
Nara is probably one of Japan's most popular day-trips because it's located close to both Kyoto and Osaka. Famous for its deer park where 1200+ deer roam around freely and its many shrines, Nara is perfect for a day-trip from Kyoto. You can find a one-day itinerary for Nara.
From Kyoto, you can use the JR Nara Line or the private Kintetsu Line to visit Nara. If you are a Japan Rail Pass holder, you can use the JR Nara Line. It takes between 40-70 minutes to get to JR Nara Station. For those who do not hold a JR Pass, this journey will cost ¥710.
If you do not hold a JR Pass, I'd recommend getting the private Kintetsu Line to get to Nara. This journey will cost you ¥620 and will get you to Kintetsu-Nara station within 35 minutes. It's cheaper, faster and will get to you Kintetsu-Nara station instead of JR Nara Station, which is closer to the deer park.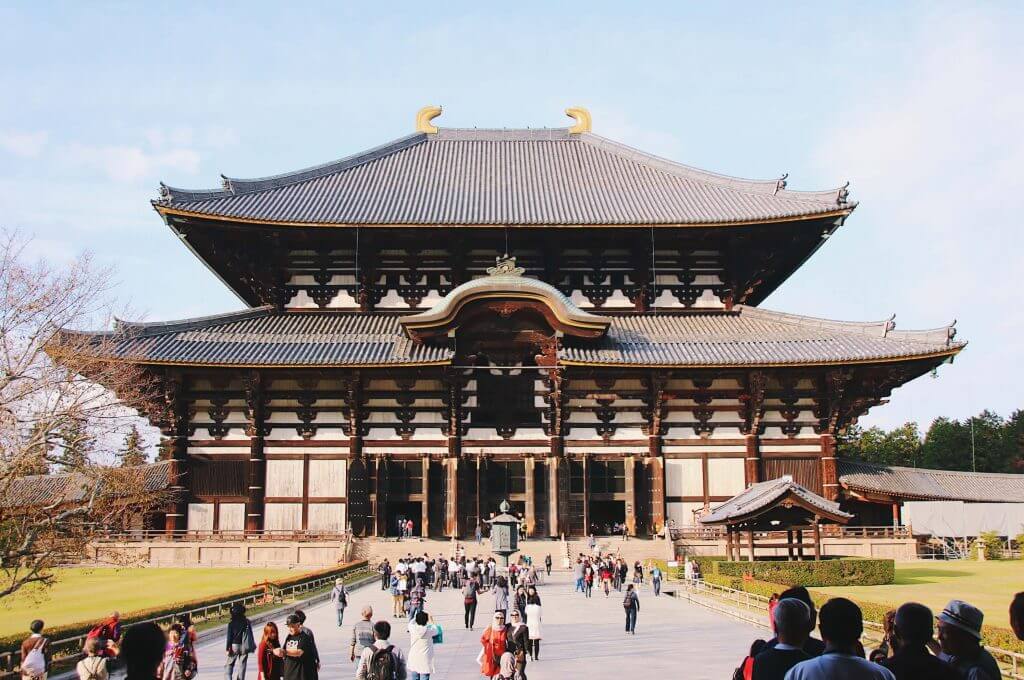 Kyoto Travel Essentials
To make your trip to Kyoto as easy as possible, here is a list with some travel essentials you cannot miss. Especially if you're travelling to Japan for the first time, it can be tricky to know what to bring and what to prepare for your trip. This list includes some items you should get before travelling to Kyoto.
JR Pass + Suica/Pasmo/Icoca card
Using public transport in Japan is a lot easier than I expected. If you are planning to visit more than one city in Japan, you might want to look at getting a JR Pass. This pass allows you to travel freely on any JR Line, which can save you a lot of money when travelling from city to city. Check out my JR Pass Guide to find out if getting one is worth it for your trip.
Travelling inside Kyoto can be made easier by using a Suica/Pasmo/Icoca card. These pre-paid smart cards are the best and easiest way to pay for public transport (and some other things like vending machines). Once loaded up, you can easily tap in and out at stations. The correct fee will be taken off automatically. You can buy one of these cards and top them up at the ticket machines at any station. For more information, check out Inside Kyoto's guide on these pre-paid cards.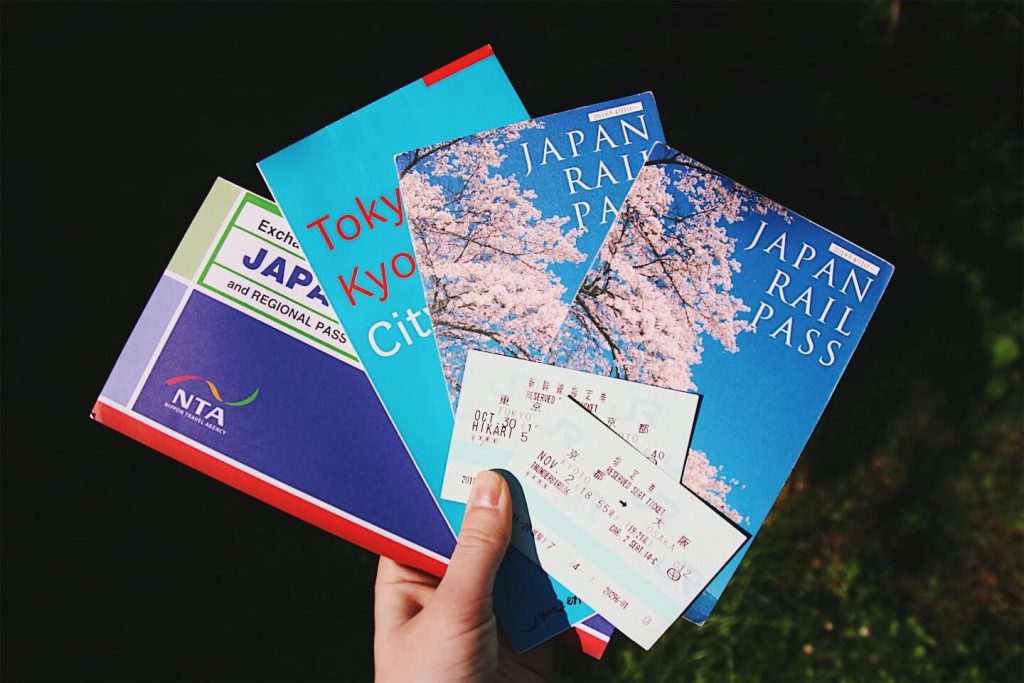 Pocket WiFi
Getting pocket WiFi for your trip to Japan is a must. This little WiFi box gives you access to the Internet everywhere you go. Being able to access Google Maps and websites as HyperDia at all times is an absolute lifesaver on trips like this. We got ours from Japan Wireless (16 full days for just over £60).
HyperDia App
Travelling on public transport in Japan is made a lot easier by HyperDia. Their app (or website) is an absolute lifesaver when travelling in Japan. After filling in your current station and prefered destination, the app gives you all the information needed to make your trip as smooth as possible. Accurate train times, platform numbers and duration of your train/bus/metro journey.
International currency card (Monzo)
Even though Japan is a cash-based travel destination, having an international currency card is something I'd highly recommend. Rather than having a credit card, cards like Monzo and Transferwise can be topped up whenever you want to. They are not linked to your bank account, which makes it a lot safer in case of losing it. Monzo also uses the daily exchange rate, meaning you will get the best currency rates wherever you are.
Plug Adaptor
If you are travelling from the UK or mainland Europe, please make sure to bring a plug adaptor. American plugs are compatible with Japanese plugs. Personally, I use a plug adaptor block whenever I travel somewhere. You can use this adapter wherever you go and use any type of plug (even comes with 4 USB hubs). I'd highly recommend getting one of these.
Save for later…