Tokyo, one of the most vibrant, lively and exciting cities in the world. A city filled with contrast, from robot bars to peaceful Shinto shrines, Tokyo has it all. With tons of districts to choose from, planning your trip may be a little overwhelming. That's why I've put together a 6 day Tokyo itinerary to guide you. Tokyo is one of my all-time favourite cities in the world and I hope that this travel guide helps you with your own trip.
When visiting Japan for the first time, six days may seem like a long time to spend in Tokyo. There is so much to see in Japan! But because Tokyo is such a special city, I do recommend spending enough time here. This 6 day Tokyo itinerary includes 5 days in Tokyo and one day trip. This way, you can see the best things Tokyo has to offer, but also enjoy some of the great places just outside of Japan's capital city. Let's not waste more time, and dive in…
6 Days in Tokyo Map
Tokyo Day 1: Pink
Tokyo Day 2: Yellow
Tokyo Day 3: Teal
Tokyo Day 4: Green
Tokyo Day 5: Dark Blue
Tokyo Day 6: Light Blue
Click here to view the map in Google Maps.
Planning your trip to Japan? Make sure to also check out my other articles about this beautiful country. Including:
6 Day Tokyo Itinerary
Day 1: Shibuya, Harajuku and Shinjuku
We start our six days in Tokyo in the Shinjuku district. This is where I also recommend booking a hotel. Shinjuku is a lively part of Tokyo and is known not only for being the commercial and entertainment centre of the city, but also for housing the busiest railroad station in the world: Shinjuku station. The reason I recommend staying in Shinjuku is that it's quite local to most things that are included in this itinerary and it's easy to navigate to other parts of Tokyo using the metro/trains from here. On top of that, Shinjuku is filled with exciting bars and restaurants that you can visit in the evening after a long day of exploring.
The hotel we stayed in is called Hotel Sunroute Higashi Shinjuku and is located right next to the Higashi-Shinjuku station. This station is a LOT smaller compared to Shinjuku station, making it much easier to use. More information about where to stay in Tokyo can be found at the end of this blog post.
Shibuya
We start our first day in Tokyo in Shibuya. From Shinjuku, you can use the metro to get here. It only takes a few minutes. Shibuya is the perfect place to start your Tokyo adventure because you immediately dive into the busy city life. It feels like Tokyo straight away – exactly what you'd expect. Shibuya is mainly known to be Tokyo's business centre. And of course, the world-famous Shibuya Crossing!
Hachiko Statue
Right outside Shibuya Station, you can find stop number one: the Hachiko Statue. You might have seen the movie or heard tales about this famous dog. If not, here is the tale of Hachiko:
Hachiko the dog came to meet his master every day at Shibuya station. Even after his master died, Hachiko would show up every single day until his own death. The statue is to commemorate his loyalty. Many people take pictures with the statue.
Shibuya Crossing
Then it's time for the famous Shibuya Crossing! This crossing is one of the most famous and busiest crossings on the planet. Up to around 3000 people can cross here at the same time. As soon as the traffic lights allow pedestrians to cross, a sea of people washes over the streets. It's quite remarkable – especially walking it yourself. One for the Tokyo bucket list for sure.
TOKYO TIP: Right across Shibuya Crossing, you can find a Starbucks Coffee. There is a seating area on the first floor, where you can find one of the best places to view the crossing from above. It's the perfect place for some photos or a timelapse while getting your morning caffeine.
Starbucks Shibuya Crossing address: 21-6 Udagawacho B1F Q Front Bldg., Shibuya 150-0042
Starbucks Shibuya Crossing Opening Hours: Mon-Sun 6:30 AM – 4 AM (next day)
Shopping in Shibuya
Combining the excitement of finally being in Tokyo and your Starbucks caffeine, we move over to some Shibuya Shopping. Shibuya is filled with some great shops. You can find some of the bigger main shops here, like Zara, H&M and Adidas, but there are also some unique Japanese gems here! Some shops to check out include:
Vanguard Village (Pop culture and souvenirs)
Opening hours: Mon-Sun 10 AM – 11 PM
Shibuya 109 (Many smaller boutiques)
Opening hours: Mon-Sun 10 AM – 9 PM
MODI (Fashion shops, restaurants, bookstores and karaoke bars)
Opening hours: Mon-Sun 11 AM – 9 PM
MARUI (Also known as OIOI -mainly fashion items)
Opening hours: Mon-Sat 11 AM – 9 PM
Sun 11 AM – 8:30 PM
MUJI (Wide variety of items)
Opening hours: Mon-Sun 10 AM – 9 PM
Disney Store
Opening hours: Mon-Sun 10 AM – 9:30 PM
Tokyu Hands (Crafts and DIY items)
Opening hours: Mon-Sun 10 AM – 9 PM
Harajuku
Our afternoon starts in Tokyo's Harajuku district. Harajuku refers to the area in Tokyo near Harajuku station (right between Shinjuku and Shibuya) – and is mainly known for its vibrant fashion and pop culture. You can take the metro from Shibuya Station to Harajuku Station, but it's only 10-15 minutes on foot. If you have enough time after your shopping spree, I'd recommend walking. It's a great way to see more of the city and enjoy the sights rather than looking at the metro walls. It also gives you a chance to grab some lunch at a 7-Eleven or Family Mart.
TOKYO TIP: Make sure to sit down somewhere to eat your lunch though – it's frowned upon in Japanese culture to eat and walk at the same time!
Shopping in Harajuku
Harajuku is filled with the cutest shops in Tokyo. Many Harajuku-styled outfits and accessories can be acquired here. It's really fun to just have a wander around, checking out the shops on Takeshita Street and Omotesando Avenue. In these areas, there are tons of cute cafes and trendy restaurants to try too. Wander around, get lost here, you will find something worth taking home without a doubt.
TOKYO TIP: There is a small souvenir shop at the end of Takeshita Street that sells engraved chopsticks for a very affordable price. You can leave your name with the owner and he'll engrave your name (+ your name in Japanese) on the chopsticks for you to take home.
If time allows it, wander around Ura-Harajuku. You'd be surprised how many amazing hidden gems you can find in the backstreets of Harajuku. Takeshita and Omotesando are great fun and are the main streets everybody recommends, but there are some lovely shops to discover in the streets surrounding the two main ones.
Enjoy a Harajuku Crepe
One thing you should definitely try whilst in Harajuku is the Harajuku crepe. The crepes sold in Harajuku are quite well known, and with good reason. There come with countless fillings to choose from and they are very, very tasty. There are a few shops selling them on Takeshita Street.
Try Purikura
Another thing on the Harajuku-bucket-list is Purikura. Purikura is quite popular among Japanese teenagers, and a fun must-try while visiting this district. It's kinda like a photo booth, but you can edit your photos afterwards. Edit them specifically to look more kawaii. Make your eyes bigger, add tons of sparkles and get a printed copy when you're done.
We did this in a Purikura parlour on Takeshita Street named Purikura Nora. It had many different booths to choose from and seemed to be quite popular among the locals! It's a nice little keepsake to take home with you for only 400-500 yen.
Opening hours: Mon-Sun, 9 AM – 11 PM
Shinjuku at night
After our afternoon strolling through Harajuku and picking up the necessary new outfit pieces and souvenirs, it's time to slowly head back to Shinjuku. Because we really enjoy exploring the smaller, less touristy streets, we decided to walk back to Shinjuku rather than to take the metro. It only took 10-15 minutes. I would recommend you to do the same. This way, you'll be able to find some of the best backstreets in Tokyo.
On your way back to Shinjuku, try to find a nice place for dinner. There are so many restaurants in Shinjuku, but I'd highly recommend finding a family-owned restaurant in one of the backstreets. We sat down somewhere and had some of the tastiest ramen I had all trip, for at little as ¥300. You can save so much money by avoiding the main streets where they know tourists will look for a quick bite to eat. Yay for yummy food and supporting local family-owned businesses!
Drinks & Pachinko
End your evening by trying out one of the SEGA arcades or Japanese Pachinko! The arcades are filled with fun games to play and prizes to win. Do make sure to check out more than one floor though. We made the mistakes of only checking out the bottom floor for the first few days in Tokyo and got bored of all the crane machines. The fun games sit on the first floor and up – where you can play rhythm games and other fun arcade games.
Shinjuku is also home to many pachinko parlours. Pachinko is the Japanese form of gambling (oops), but instead of winning money, you win prices. I'm not suggesting you should go and gamble away your money, but it's quite the experience to walk into a pachinko parlour and give it a go. Even just walking in and being overwhelmed by the sound of thousands of pachinko balls being won is an experience on its own.
Are six days too much? Check out this 5-day Tokyo itinerary instead!
Day 2: Ikebukuro and Meiji Shrine
On day two of this six day Tokyo itinerary, we are going to explore Ikebukuro in the morning and head back towards Harajuku in the afternoon to visit Meiji Shrine. Ikebukuro is another one of Tokyo's main city centres and is filled with shops and restaurants. It is also home to the Sunshine City Shopping centre, in which the Pokemon Mega Store is located. The Meiji Shrine, our afternoon plan, is located next to Harajuku. It is one of Japan's most popular shrines to visit. Dedicated to Emperor Meiji and his wife, the Meiji Shrine stands beautifully and peacefully in the busy heart of Tokyo.
Ikebukuro
As we planned to spend the morning in Ikebukuro, we took the metro there in the morning. You can find a Family Mart right outside of the hotel in Shinjuku, where you can find some cheap but tasty breakfast items. We picked up a couple of bits there every morning as breakfast. This is much cheaper than having breakfast in your hotel and supermarket food is surprisingly tasty in Japan! Supermarkets like 7Eleven, Lawsons and Family Mart are a great way to save money while in Tokyo and not compromise on taste.
Explore Ikebukuro
Once we got to Ikebukuro station, we started exploring! This upcoming part of Tokyo is also known as Sunshine City. Shopping and entertainment are at heart and it really gives you that Tokyo-vibe you experienced in Shibuya on day one. Some shops you should definitely check out when in Ikebukuro:
Bic Camera Ikebukuro (Electronics and tech)
Opening hours: Mon-Sun 10 AM – 10 PM
Loft (Cool household items and stationary)
Opening hours: Mon-Sat 10 AM – 9 PM, Sun 10 AM – 8 PM
Sun Drug (Japanese drugstore and cosmetics)
Opening hours: Mon-Sun 10 AM – 10:45 PM
Sunshine City Shopping Centre (Shopping centre filled with cool shops and restaurants)
Opening hours: Shops open Mon-Sun 10 AM – 8 PM, restaurants are open Mon-Sun 11 AM – 10 PM
Visit Japan's biggest Pokemon Centre
One of the main reasons we are spending the morning in Ikebukuro is the Pokemon Mega Store. This is the biggest Pokemon Centre in Japan! Once we arrived at Sunshine City shopping mall, we made our way to the second floor. This is where the Pokemon Mega Store is located. An absolute must-see for every fan of the gaming franchise!
Another fun thing to try when at the Pokemon Centre is to play the arcade game Ga-Olé. This arcade game that can be found at every Pokemon Centre and in a few arcades across Japan. In the game, you battle and catch Pokemon. Just like the regular Pokemon games. But if you do catch one, you get a physical cartridge with that exact Pokemon printed on it. You can then use that same cartridge to battle other Pokemon in the game. We had a lot of fun playing it! Especially because we visited the Pokemon Centre in Kyoto and Osaka, we were able to use the Pokemon we caught in our battles there.
TOKYO TIP: Make sure to walk to the back of the Pokemon Centre to find a wall filled with all the Pokemon in the franchise. A lot of people miss it because it is hidden a the back of the shop, but it's a great photo opportunity.
Grab lunch at CoCo Curry Ichibanya
You can find one of my favourite Japanese restaurant chains inside the Sunshine City shopping mall: CoCo Ichibanya. Obviously, Japanese cuisine has some of the most delicious dishes including sushi and ramen. But what most people don't realise is that Japan does the best curries. CoCo Ichibanya is a great place to try them! (We totally didn't end up eating at CoCo Curry four times during our first trip to Japan because we loved it so much…)
Ordering is super easy. You pick the amount of rice you'd like, the level of spice (personally, I'm very happy with a level 1) and add toppings. CoCo Curry only has one franchise store in Europe (London), and we went there just to relive the experience after returning from Japan. It's just SO good!
CoCo Curry Ichibanya Opening Hours: Mon-Sun 11 AM – 10 PM
Meiji Shrine
In the afternoon, we head back to Harajuku station. You might have seen the iconic torii gate entrance of the Meiji Shrine on day one when visiting Harajuku. But today, it's time to actually visit the famous shrine. From Harajuku Station, walking to the entrance only takes a couple of minutes.
This iconic shrine is dedicated to the spirits of Emperor Meiji and his wife. It was completed in 1920, eight years after his passing. After entering the temple grounds through the beautiful torii gate, you can enjoy a very serene walk through a beautiful forest which is made out of more than 100,000 trees. You almost forget you're in one of the world's busiest metropolitan cities! It's so peaceful and quiet.
The shrine is open to visitors from dawn till dusk – make sure to check what time they close when you want to visit. We had to rush our visit a little because we arrived a bit later than planned! Especially during the darker months (October-March), the shrine closes a bit earlier.
Arriving at the main building of the Meiji Shrine, you might see tons of wooden plaques hung close together. These are called Ema plaques and are part of a special Shinto activity. You can buy one for ¥500, write down a wish or prayer and hang it with the others. The profits are used to maintain the shrine and its gardens.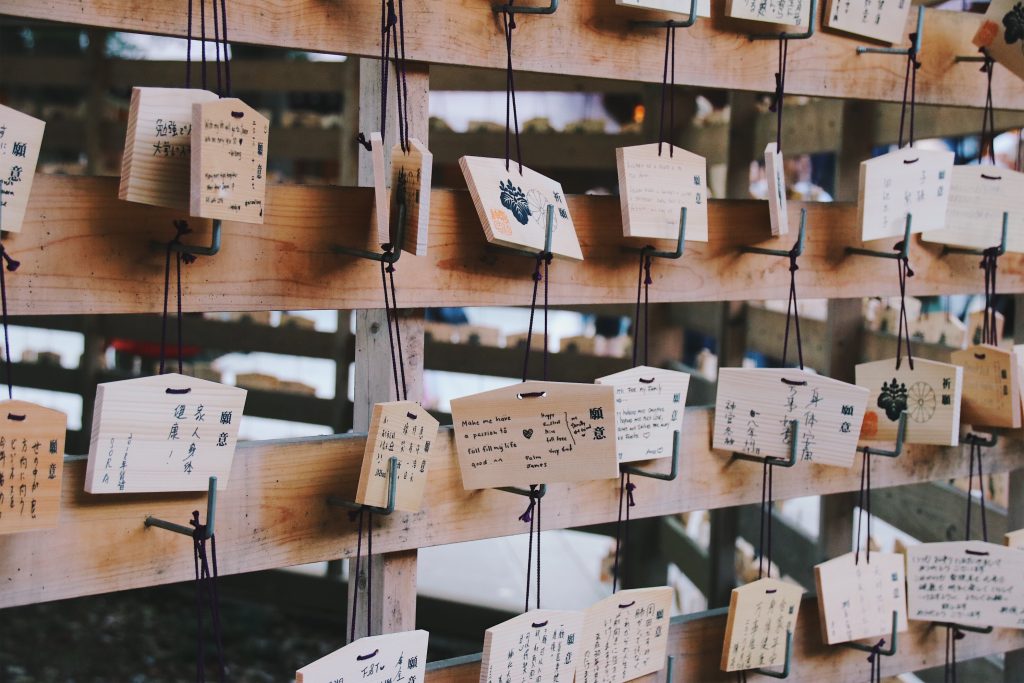 Dinner and Karaoke in Harajuku
After the Meiji Shrine closes, you can head back to Harajuku and grab some dinner. There are some great sushi and ramen places in Harajuku that are worth checking out. If you wanna avoid the pricy, more touristy places, it's better to have a look in some of the quieter backstreets.
If you still have enough energy, Karaoke is the perfect way to end day two of this Tokyo itinerary. In the Harajuku area, there are many karaoke bars to choose from and it's a really, really fun experience! You book a room for you and your travel company, order some drinks and snacks and sing your heart out. We were very lucky to have met up with a few friends that speak fluent Japanese, which made booking a karaoke room much easier.
Day 3: Asakusa and Akihabara
Day three of this six day Tokyo itinerary starts with a more traditional side of Tokyo. The Asakusa district lays in the north-east side of central Tokyo and is home to the popular Sensoji Temple. In the afternoon, we amplified Tokyo's great contrast of the old and the new by visiting Akihabara (also known as Electric Town). As a polar opposite of Asakusa, Akihabara is filled with skyscrapers and shops selling the latest electronics and merch to anime fans.
Asakusa
In the morning, we made our way to Asakusa to visit Sensoji Temple. From Asakusa station, you can walk to Sensoji Temple within 10-15 minutes. There are some little shops and eateries on the way to the shrine. If you haven't had your breakfast yet, this is a great place to quickly grab something to eat.
Visit Sensoji Temple
Sensoji Temple (also known as Asakusa Kannon) is the oldest Buddhist temple in the whole of Tokyo. It dates back to the year 645. Legend says that the temple has been build for the goddess of mercy, Kannon.
More than 30 million people visit the temple every year, so you can expect it to be a little busy. The temple grounds are gorgeous, you can easily enjoy walking around here for hours. Smaller temples and places to pray are spread across the map. Because the temple is popular by both tourists and locals, it's recommended to not go on a weekend day (like we did…). The earlier you go, the quieter it will be. You can also visit the temple in the evening, that's another way to avoid the huge crowds.
Opening hours: The temple grounds are open 24/7, whereas the main hall is open from 6 AM till 5 PM (from 6:30 AM in October to March). The temple is open every day of the year.
Entree fee: It's free to visit Sensoji Temple
Predict the future with O-mikuji
One thing we tried was O-mikuji (おみくじ). It's a form of Japanese fortune telling. You can get any kind of fortune from "very fortunate" to "a great curse". I bet you can guess how lucky I got….
Here is how it works. You pay ¥100 and shake the wooden box filled with sticks. After shaking, you remove one of the sticks. This stick has a number written on it. You then match the number with the drawers and receive your fortune. Even though I got the great curse, I'm still smiling 😉
If you also receive a bad fortune, you can follow the tradition of tying the paper to one of the poles provided or a tree. The idea behind it is that the bad luck will stick to the poles or the tree instead of the person who drew it. Fingers crossed that actually worked. (Update: looking back now, I think the curse has followed me nonetheless!).
After visiting the temple, you can walk through Nakamise Street. This 200-meter long shopping street is located right outside Sensoji Temple. It's the perfect place to find some souvenirs and snacks.
Akihabara
In the afternoon, it's time to travel forward in time and visit Akihabara. Akihabara is also known as Electric Town. In this district, you can find everything electronic, anime and video game-related. It's turned into a special kind of heaven for Japan's diehard fans of manga, anime and other pop culture references – and man, it's such a cool place to explore!
TIP: If possible, try to visit Akihabara on a Sunday. They close down the street for cars, which allows you to walk across the entire street and… you know… take some pictures for the gram 😉
Shopping and playing games in Akihabara
Akihabara turned into one of my favourite places in Tokyo. It's basically video-game, electronics, and anime heaven. Even though I'm not big on anime, I love a good video game and the vibes reminded me of all the games I played and shows I watched as a kid. Akihabara has everything: game shops, electronic shops, anime figures and manga shops. Even if you're not planning on spending any money, it's fun to look at all the crazy stuff they sell. There are endless lists of things I could recommend in Akihabara, but here are a few things you should definitely check out:
Retro game shopping in Retro Game Camp (and other retro game shops – for a full list, check out my full retro game shopping guide)
Play in one of the many arcades
Visit a Maid Cafe
Shop in Yodobashi (basically a mall that sells EVERYTHING!)
Shop in Don Quijote. There are many of these shops all across Japan, but the one in Akihabara is LARGE! A perfect place to find some affordable and weird souvenirs for friends and family.
Dinner in Akihabara
Akihabara lights up at night – so it's worth staying around until the evening. Some of the main restaurants in this part of Tokyo can get quite expensive, so we ended up grabbing some cheap ramen near the train station. Akihabara also has a few crepe shops, and they're just as tasty as the ones in Harajuku. If you missed out on trying one on the first day in Tokyo, I'd highly recommend giving it a go today. Also, make sure to try some of the arcades in Akihabara while you're there in the evening. There are some great games to play!
Day 4: Ginza and Koto City
On the fourth day in Tokyo, we travelled down to Ginza and Koto City. It's a little trip from Shinjuku, but because we've planned a full day on this side of the city, it's more than worth it. On this day, we also plan on visiting the Teamlab Planets art exhibition and the Gundam Base.
Ginza
Ginza is another famous shopping and entertainment hub in Tokyo. It's on the expensive side, hosting upmarket brands and restaurants. Nevertheless, it's a great place to wander around and (window)shop. Ginza is quite upmarket and it's not the cheapest place to shop. One square meter of land is worth over 10 million Japanese yen, making Ginza the most expensive part of Tokyo! Here are a few things to do and check out while in Ginza:
Visit the Alice in Labyrinth restaurant. Themed restaurants and cafes are very popular in Japan. Many can be found all across Tokyo. This one, in particular, is very popular because of its amazing interior and dishes that are inspired by Alice in Wonderland.
Shop until you drop in Chuo-dori, the most exclusive shopping paradise in Tokyo. (Or… window shop and save the oney for another trip to Japan).
Watch a play in Kabukiza. There are daily shows where you can enjoy the traditional Japanese theatre.
Escape the busy shopping street and relax in the Hamarikyu Gardens.
Koto City
After having spent our morning in Ginza, we head over to Koto City. Its name translates to "River East". It may not be as popular as Shinjuku, Ginza or Shibuya, but that doesn't mean it's not worth a place on your itinerary! Let me show you why.
Visit Teamlab Planets/Borderless
Teamlab Planets or Teamlab Borderless is an art exhibition where you are part of the art – sounds pretty cool right? You move through water, climb a waterfall, get lost in an infinity room and bounce off massive bouncy balls.
Teamlab Planets and Borderless will be welcoming visitors until Fall 2020. Make sure to buy tickets before you go. If you're unsure about which one to visit, check out this article. We chose Teamlab Planets and it was an amazing experience. I do think that either of them would make for a wonderful unique few hours.
I was really glad that nobody rushes us through the exhibition. Because you are given a specific time to enter the building, I expected it to be a timed experience. But luckily, we were able to walk through everything at our own pace. In total, we spent about 2 hours here.
Visit the Gundam Base
Next up: The Gundam Base! Gundam is an anime series that I was pretty unfamiliar with. Richard loved it as a kid, which is why we made sure to stop by. Even though I had never seen the show before, seeing the life-sized Gundam made it more than worth it.
TIP: Every hour, on the hour, the life-sized Gundam outside the shopping centre moves!
Inside the mall (hidden behind the massive robot), you can find the Gundam Base. Here you can pretty much any Gundam you want. Richard ended up buying four Gundams to put together after we arrived back home. It's really cool to see how much creativity people put into these figures.
Hello Kitty Store
After visiting the Gundam Base, you can have a wander through the rest of the mall. There are some great shops located there – like the Hello Kitty Store and tons of cute fashion shops.
Day 5: Shinjuku, Minato, and Roppongi
On our fifth day in Tokyo, we take some time to properly explore Shinjuku. Even though we've obviously stayed in this part of Tokyo, we've not taken the time to see some of the main highlights of this exciting part of the city. In the afternoon, we move over to Minato and Roppongi – two more lively parts of Tokyo (including Tokyo Tower).
Shinjuku
Home to the busiest train stations in the world, Shinjuku never sleeps. More than 2 million passengers use Shinjuku train station every single day. This Tokyo ward is home to many shops, offices and bars. From the skyscraper district, where you can find the Government Building, to Kabukicho – a popular part of Shinjuku for nightlife, nightclubs, love hotels and more…
Gyoen National Park
Even though Shinjuku is one of the busiest and most exciting parts of Tokyo, it also has a little green oasis where you can enjoy some peace and quiet. In this park, you can find a variety of French, English and Japanese gardens. As well as some beautiful pagodas, ponds, teahouses and little cafes where you can buy fresh ice cream and mochi. This park is a must visit when you are in Japan during cherry blossom season. But even in the other seasons, it's a lovely little break from the business that is Tokyo.
Gyoen National Park opening times: 9 AM – 4:30 PM (Closed on Mondays)
Entrance fee: 500 yen
Robot Cafe
You may have come across a few themes cafes/restaurants by now. Japan is FULL of them. Name a theme and there is probably some type of eatery out there that fits your wishes. Personally, I would recommend avoiding any animal cafes in Japan because there is a lot of evidence that shows these are very cruel to the animals that live there. Instead, why not try one of the other crazy themed restaurants. Need a recommendation? Check out the Robot Restaurant in Shinjuku.
This overload to your senses is one of the most unique Japanese experiences in this itinerary. It's crazy! But really fun! While enjoying your meal, you can enjoy humans take the stage with… robots. Have you ever heard anything more anime? Do make sure you have a reservation if you want to visit the Robot Restaurants, it's a very popular one!
Metropolitan Government Building
In the Skyscraper District of Shinjuku, you can find the Metropolitan Government Building. This 243 meter tall building with two large towers is a popular tourist attraction due to its observation decks. At 202 meters high, you can enjoy a stunning view of the city for FREE. On a clear day, you can even see Mount Fuji from here!
Minato
Visit Zojoji Temple
Because there's no station near Tokyo Tower, I'd recommend heading to Hamamatsuchō Station and walk from there. The walk to Tokyo Tower from Hamamatsuchō station has some pretty sights. My favourite has to be the Zojoji Temple. It feels so serene and peaceful at the temple and we really enjoyed feeling the calm after such a busy week in Japan's busiest city.
Tokyo Tower
Afterwards, head towards Tokyo Tower. This iconic piece of Tokyo stands 333 meters tall, making it the second tallest structure of Japan. The Tokyo Skytree takes the top spot on that list 😉 The Tokyo Tower was inspired by the Eifel Tower, but is 13 meters taller.
You can visit the main deck at 150 meters for a small fee. This can be reached with an elevator or the stairs – both are paid. You can go even higher to the top deck at 250 meters. On a clear day, you can even catch a glimpse of Mount Fuji from there! It is, quite expensive though (in my opinion). You can find up-do-date ticket prices here. Personally, I think you can get a better view of the Tokyo Skytree. (That way, you can also see the iconic Tokyo Tower in your view!).
If you want to avoid paying the fee, I'd still recommend going inside. You can explore the first few levels for free. There are shops and restaurants, including the One Piece Tower indoor amusement park and One Piece shop. Perfect for those who enjoy the anime!
Roppongi
Roppongi is the most high-class district of Tokyo. With a vibrant nightlife scene and some of the best art museums of the city, it's a pretty great spot to add to your itinerary. The name of this Tokyo ward literally translated to "six trees".
Roppongi Art Triangle
As well as being a business hub, Roppongi is known for its art museums. Three of the best art museums in Tokyo are located within walking distance from each other in the Roppongi Art Triangle.
Mori Art Museum
The National Art Museum
Suntory Museum of Art
Roppongi Hills Mori Tower
The luxury of Roppongi doesn't end at its art scene. You can also find one of the most stunning views across Tokyo in Roppongi Hills. The open-air observation deck on the Mori Tower allows you to see Tokyo from above (with the iconic Tokyo Tower right in the middle).
Go all the way to the top of the Mori Tower to find the "Tokyo City View". For an admission of 1800 yen, you can enjoy the view from even higher.
Back to Shinjuku
Omoide Yokocho (Memory Lane)
And we end our 5th day in Tokyo back in Shinjuku. Only a few minutes from the train station, you can find Omoide Yokocho (also known as Memory Lane). Make sure to check this before going back to your hotel.
Omoide Yokocho is a narrow but extremely atmospheric alleyway in Shinjuku. Decorated with lanterns and seasonal decorations (cherry blossoms, autumn leaves…), it really shows the contrast between old and new in Tokyo. Especially with the big neon advertising boards luring in the background.
You can find many traditional eateries on this street too. Small yakitori stands where smoke is being blown into the street from their grills. Sit down, enjoy some freshly grilled chicken skewers and a cup of delicious sake. What a way to end this day!
Omoide Yokocho is open every day from 5PM till midnight.
Day 6: Day Trip From Tokyo
Even though you could easily spend a month in Tokyo and still find new places, taking a day trip from Tokyo is something I'd highly recommend. It's a way to see more of the country and experience Japanese culture in a new way. Here are four options for day trips when spending six days in Tokyo.
Disney Sea Or Disneyland Tokyo
Make sure to buy tickets for Disney Sea or Disneyland Tokyo before you leave, this way you'll be able to save some money. It also avoids any waiting time in the queues when arriving at the parks. Just like any other Disney park, Disney Sea is filled with rides, shops and amazing decor. Our favourite rides were:
Journey to the centre of the Earth
Raging Spirits
Indiana Jones Adventure: Temple of the Skull
Sindbad's Storybook Voyage
Unfortunately, the day we visited Disney Sea was a rainy day! Make sure to keep an eye on when the shows and parades happen the day you're visiting. You can find this in the daily schedule you receive when entering the park. Japan knows how to do their shows and the Fantasmic! end show was absolutely amazing – totally made up for all the rain!
Day trip to Hakone
Hakone is one of the most popular day trips from Tokyo, because of its beautiful scenery. It takes about 1 to 1,5 hours to get to Hakone from Tokyo. Calming onsens (Japanese hot springs), one of the most beautiful views of Mount Fuji and the Hakone shrine that looks out over Lake Ashi. Visiting Hakone for the day makes for a little escape from all the Tokyo chaos. Here are a few things you should definitely do/see when in Hakone:
Hakone Shrine: Possibly the most famous attraction in Hakone is Hakone Shrine (pictured below). This large torii gate stands on the banks of Lake Ashi. Especially after having spent a few days in the busy metropolitan city of Tokyo, taking some time to enjoy the serene atmosphere of this shrine is a perfect way to unwind.
Visit an onsen: Known for its many onsens, Hakone is the place to visit one yourself. These hot springs are very popular in Japan – by both tourists and locals alike – and make for a unique experience. In more traditional onsens, you have to be completely naked and genders are separated. If that's not your thing, check out Yunessun Onsen. Here, you can keep on your bathing suit and they don't separate men and women.
Owakudani (Boiling Valley): If you want to see the remains of an erupted volcano, you can do that in Hakone. By taking up a gondola towards the mountain summit, you can walk around the volcanic zone. Even though it's been over 3000 years since this volcano erupted, you can still see the smoke. You can also buy a black egg here, which has been boiled in naturally boiling water. Legend says it will prolong your life.
You can find more information about how to get to Hakone from Tokyo, how to get around the city and what other things you can do there in this article by Japan Rail.
Day trip to Nikko
Another great options for a day trip from Tokyo is visiting Nikko. It takes about 2 hours to get there, but the beautiful scenery is more than worth it. This city is mainly known for its forests, waterfalls and nature hikes. If you want to visit Nikko, make sure to add these to do your to-do list:
Rinnoji Temple: This UNESCO world heritage site was originally founded by the Buddhist monk. This monk brought Buddhism to the city in the 8th century.
Toshogu Temple: This temple is most likely to be the most popular temple in Nikko. This resting place of Tokugawa Ieyasu is beautifully decorated and unlike any other temple in Japan.
Shinkyo Bridge: A sacred bridge that acts as a gateway to the temples (pictures below). It's an icon of Nikko.
Day trip to Mount Fuji
Mount Fuji isn't located too far from Tokyo, making this a great day trip when staying in Tokyo. Japan's most famous and iconic volcano is often pictured when portraying Japan and turned into a must-see when you have enough time. This 3776 meter high volcano is also the tallest mountain in the whole of Japan. During the months of July- September, you can also choose to climb the mountain. But because this takes a good chunk of time, I would recommend booking a hotel in the vicinity.
If you're not really the climbing kinda person (or you're not visiting during the climbing season), you can still enjoy some of the great views of this stunning mountain. Because there are no direct trains to most of these viewing spots, I recommend booking a tour with a travel company. They will drive you there and make sure you get to see the best spots for photos and viewing. The advantage of booking a tour is that you don't have to worry about finding the best spots yourself.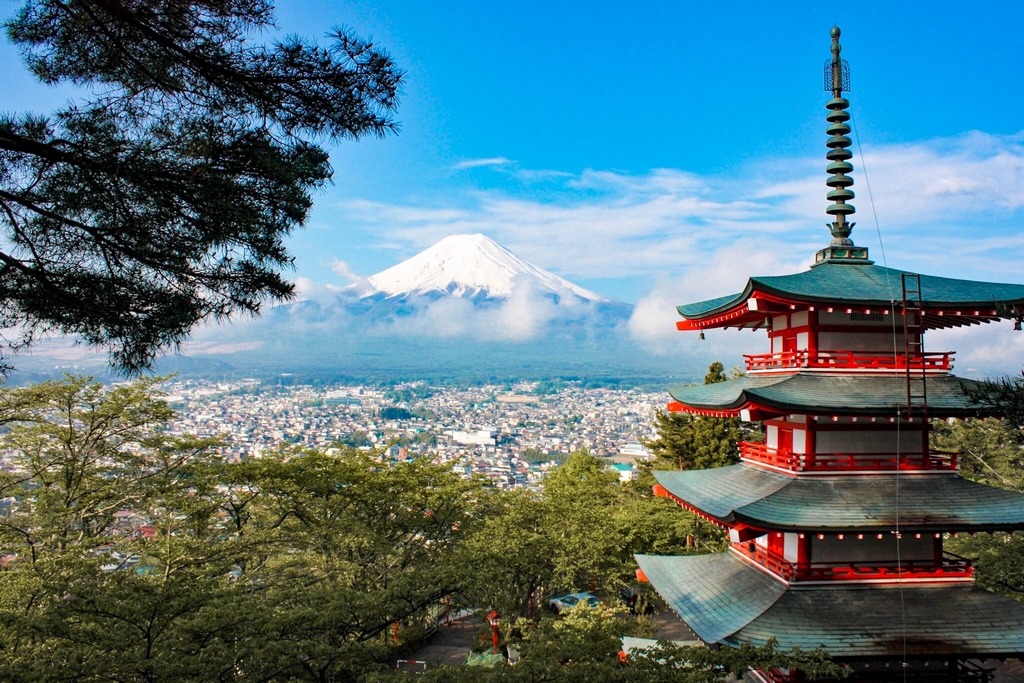 Tokyo Travel Tips
Now we've covered what to do when spending 6 days in Tokyo, let's cover some tips on how to make your trip to Tokyo without any hassle. Please find some extra information about Tokyo, where to stay, how to get there and some cultural differences to keep in mind.
Where to stay in Tokyo?
Picking a hotel in Tokyo can seem a little daunting. The city is enormous, so where is the best place to stay? I've written a full guide on where to stay in Tokyo with my favourite hotels and areas. Alternatively, you can check out my guide to the best Tokyo Airbnbs.
We stayed in Shinjuku, right next to one of the metro stations. Shinjuku is a very exciting part of Tokyo – tons to do and it has a great nightlife scene. Because the metro was literally right outside the door, we could easily go to other parts of Tokyo without any hassle. The hotel we stayed in is called Hotel Sunroute Higashi Shinjuku.
During our time in Japan, we also stayed in Central Tokyo for a few nights. We stayed in the Belken Hotel Tokyo. The location is perfect, only a short walk from Tokyo Central Station and the room was very affordable. The only downside was that the room was incredibly small. Most hotel rooms in Japan aren't huge, but the hotel in Shinjuku was a lot bigger and more comfortable – which makes sense when looking at the price difference. If you want to travel on a budget, I'd recommend the Belken Hotel Tokyo. The beds were perfectly fine, and so was the bathroom (even though it was on the small side). Plus, you probably won't spend a lot of time in the hotel anyway.
How to get to Tokyo?
If you are flying to Tokyo, you most likely will arrive at either Narita Airport or Haneda Airport. If you have the choice, please pick Haneda Airport. This airport is located much closer to Tokyo which makes getting to the city a lot easier. Flying to Haneda instead of Narita will save you a lot of time and money.
How to get to Tokyo from Haneda airport?
Haneda Airport is located only 15 kilometres from the city centre. To get to Tokyo, you can either take the train, bus or get a taxi. The cheapest and fastest way is by taking the train. Taxis might be a little faster but are a lot more expensive.
After arriving, I'd recommend buying a Suica Card at the airport's train station. This card is an electronic travel pass which can be topped up at any station in Japan. After buying it and putting some money on it, you are good to go!
The best way to get to Tokyo from Haneda Airport is by taking the Keikyu Line to Shinagawa Station, then change to the Yamanote Line to Tokyo Central. This takes about 30 minutes in total. If you are staying in a different part of the city, please download the Hyperdia app for your best route. Alternatively, you can check out this article that explains how to get to Tokyo from Haneda Airport via different routes.
How to get to Tokyo from Narita airport?
If your flight arrives at Narita Airport, it'll take a little longer to get to the city. This airport is located 60 kilometres away from Tokyo. Here are the two easiest ways to get to Tokyo from the airport:
Use the JR Narita Express to get from the airport to Tokyo Station. This journey will cost 3000 yen and takes one hour. This journey is covered by the JR Pass, in case you are planning to use it for your time in Japan. Otherwise, I'd recommend getting a Suica Card at the train station or buying a single ticket. If you are unsure what the JR Pass entails, please check out my Japan Rail Pass Guide.
On a budget and not using the JR pass? You can use the JR Sobu Line to get to Tokyo too. This will cost 1340 yen and will take an hour and a half.
How to get around Tokyo?
Tokyo is a large city and because this 6 day itinerary covers more than one district, you are going to use the public transport system available. It's impossible to explore the city entirely on foot! Luckily, Tokyo has an amazing metro system that is very easy to use – even if you don't speak Japanese. Here are a few tips to make travelling around Tokyo a bit easier:
Get a Suica card. This electronic travel pass allows you to scan in and out of any train station in Japan and automatically takes the correct fee. You can top them up at any train station. This way, you save a lot of time and hassle having to buy individual tickets. You also save money, as the card takes the exact fee from your card every time you tap out.
Download the HyperDia app or use their website. This English website allows you to put your current train station and your destination. It then shows you what platform your metro/train is, what time it leaves and how long it'll take to get there.
Culture tips for Tokyo
Japanese culture and customs may differ quite a bit from what you're used to at home. In order to avoid looking like a fool (or accidentally offending anybody), here are a few tips to keep in mind when in Tokyo.
Don't walk and eat at the same time: this is frowned upon in Japan. If you buy a snack, either stand still while eating or find a place to sit.
Don't eat on public transport (unless you're on the Shinkansen): Eating on the metro or on the bus is also something that's not done in Japan. The only exception is when you are travelling by bullet train.
Don't make phone calls on public transport: Another no-go is making phone calls while travelling on public transport. As many locals use this time to relax, think or sleep (especially on longer journeys), it's very rude to be loud.
Don't tip at restaurants: While tipping is seen as a nice gesture in most other countries, it's not something you should do in Japan. It's actually seen as an insult – "You must not make enough money, so here is some extra".
Don't play with your chopsticks: This is seen as bad table etiquettes. Also, stay clear from putting your chopsticks up straight in your bowl of rice – in Japanese culture, this is only done at funerals.
Do carry a plastic bag for trash: Even though Japanese streets are among the cleanest I have ever seen, there are NO trashcans anywhere. Most Japanese people keep their trash with them and throw it away at home. Make sure to pop a little plastic bag in your backpack to store trash if needed.
Tokyo Travel Essentials
Pocket Wifi
One of the best tips for Japan that I can give you is to get pocket wifi! This little device gives you access to the internet literally everywhere – it is an absolute lifesaver on a trip like this. We got ours from Japan Wireless (for 16 full days, we only paid £60).
Make sure to book your Japan Pocket Wifi before your trip. You can pick it up from the airport after arriving, and you drop it off at the airport again once you leave the country.
Plug adaptor
For those travelling from the UK, mainland Europe or North America, you will need an adaptor plug to charge any of your electronic devices. Personally, I use the one from Iblockcube. You can use this adapter wherever you go and use any type of plug (even comes with 4 USB hubs). I'd highly recommend getting one of these. Especially when travelling to Tokyo and you want to charge your camera, phone and pocket WiFi, you will need all the hubs you can get!
Suica Travel Card
Getting around Tokyo on public transport is a lot easier than I expected. All you need to do is get a Suica Card and you're good to go. This card can be bought and topped up at any train station. Once bought, you tap in and out of stations when using the metro, train or tram. It automatically takes the correct amount of yen off. Super easy and it saves you so much time and money. If you're travelling to other cities like Kyoto and Osaka, you might want to consider getting a Japan Rail Pass in order to save some money.
You can buy a Suica Card at the train station at the airport after arriving in Japan. Buying one is super easy and can be done at one of the ticket machines. There is an "English" button to guide you through the process without any hassle.
International Currency Card
Even though Japan is known to be a very cash-based society, having an international currency card is a must. Rather than a credit card, you can top up a currency card whenever you want to. If you lose it, you don't have to worry about it being linked to your bank account. I would recommend getting a card with Monzo (if you are a UK resident) or Transferwise. They use the daily exchange rate when taking out yen or paying in shops – meaning you get the best currency rates wherever you are.
Save for later…