A trip to Japan can turn out to be pretty expensive. Let's face it, it's not the cheapest country in Asia to visit… But you don't have to rely on re-mortgaging your house in order to make your dream-trip to Japan. As I've mentioned in my Japan Budget Breakdown, we spent about £2000 on 16 days in Japan without really watching our spending. One thing we did to reduce the cost is to get a Japan Rail Pass. Today, I'm going into a bit more detail about this pass and how you can plan your itinerary around getting this pass in order to save a lot of money.
What is the Japan Rail Pass?
First things first. What is this JP Pass? The Japan Rail Pass (JR Pass) is a railway pass that is available for tourists who are visiting Japan provided by the Japan Railways Group. Because trains can be quite expensive in Japan, this is a perfect solution for visitors who are planning on visiting multiple cities or want to cover longer distances on their trip. These railcards can be used on any JR Line in Japan and are only available for foreign tourists for one, two or three weeks.
NOTE #1: You have to buy the JR Pass BEFORE arriving in Japan. You will receive a letter in the post, which will be able to exchange that letter for your passes when you are in Japan. You can buy your passes here.
NOTE #2: To find out which train and bus lines you can use with your JR Pass, please check this article by Japan Guide. It has a complete list on which lines are included and which ones are excluded.
Do I really need one?
Yes, they're expensive. And no, they might not be the best thing to buy depending on your itinerary. But if you are planning to visit multiple cities during your trip, you will most likely need a JR Pass if you're looking to save some of those sweet dollah bills.
To find out whether it will be worth getting a JR Pass, you can check your itinerary on HyperDia. Find out how much individual tickets will cost for the trips between the major cities you are planning to visit. Add those prices up and compare it to the price of a JR Pass for one or two weeks. If it's cheaper, it's a no-brainer to order a Japan Rail Pass.
How to save more money using the JR Pass?
As you might have noticed while checking the prices on Hyperdia, a single ticket from Tokyo to Kyoto on the Shinkansen will cost you ¥13.000-¥14.000 (£95-£101). Add a return to that and you'll have the price of a 7-day JR pass. You can also use the JR Pass on any JR line (which there are quite a few of inside the larger cities like Tokyo and Kyoto). This can save you quite a bit of money too if you use it correctly. If you plan to even more cities (like Osaka, Nara, etc.), it's more than worth getting the JR Pass.
MONEY SAVING TIP #1: Adjust your itinerary to fit all the big train journeys in one week rather than two. Our 16-day itinerary looked like this:
Instead of spending 7 continuous days in Tokyo (+ two travel days), we broke it up into two smaller parts. One at the start of our trip, and one at the end. This also gave us the opportunity to stay in two different areas of Tokyo. It made it easier to explore different parts of the city!
Because we planned the big train journeys in the middle of our trip, we only had to buy a JR Pass for 7 days (rather than 14). This saved us over £100 per person! It took a little bit of planning, but it was definitely worth it. The trip didn't feel rushed at all, either. 4 days in Kyoto, 2 in Osaka and one in Nara was enough for us to explore the cities.
MONEY SAVING TIP #2: Once you have activated your JR Pass, keep it with you at all times and use it wherever possible. You can use it on ANY JR train line. That means you can use it for smaller journeys inside the cities, too. Check your journey on HyperDia to find out if you will be travelling on a JR line and use it instead of paying for a ticket.
How to use the JR Pass in Japan
When you want to start using your JR Pass, you have to active it. You do this by exchanging the letter you've received into the actual JR Pass. Find the nearest JR Exchange Office to receive your pass. You can find your nearest exchange point in this handy list on the JR Pass Website. You don't have to activate it on the exact day you start using it, you can go to one of these points and tell them you want to use it a few days from now.
Once you've received your JR Pass, you can start using it to travel on your chosen days. You can either just get on the next train on any JR line, or you can book a seat in the Shinkansen. I'd highly recommend reserving a seat! It is completely free of charge and gives you a seat for sure. Especially for longer journeys (like Tokyo to Kyoto) and during busier seasons (like cherry blossom season) it is much better to reserve a seat. You wouldn't want to stand the entire journey!
NOTE #3: You cannot use the automatic ticket gates when using the JR Pass. You have to show your JR Pass to one of the guards next to the automatic ticket gates. Sometimes, they ask you for your passport to make sure you are not using a false/stolen JR Pass.
To reserve a seat, you simply walk into one of the ticket offices you can find at any larger station. You then ask the person behind the counter to reserve a seat on your required train and you will get a little ticket stating the train time and your seats.
When it's time to get on the train, you walk to the ticket gate and show your JR pass and reservation ticket. You can then access the platform to find your seats once the Shinkansen arrives. There is usually an overhead space for backpacks. Plus, you can put your larger suitcases at the start/end of the cabin.
How to travel before/after using the JR Pass
If you've planned your itinerary around your JR Pass, you will need a different way of travelling through the cities before and after having used the JR Pass. Even if you are travelling with your JR Pass, you will sometimes not be able to use it. All you need is a Suica/Pasmo Card. (The name varies depending on which region you buy the card from, but you can use them all across Japan).
Suica/Pasmo Card: This smartcard can be used to travel on most public transport (trains, metros, buses, etc.) across Japan. You can buy one of these Suica Cards and load money onto them at any train station, using either cash or a debit/credit card. Besides using them to travel, the card also functions as a little electronic wallet. Use it to buy drinks or snacks in vending machines. And also to pay for taxis and locker storage at stations. For more information about these smart cards, please check out East Japan Railway's website.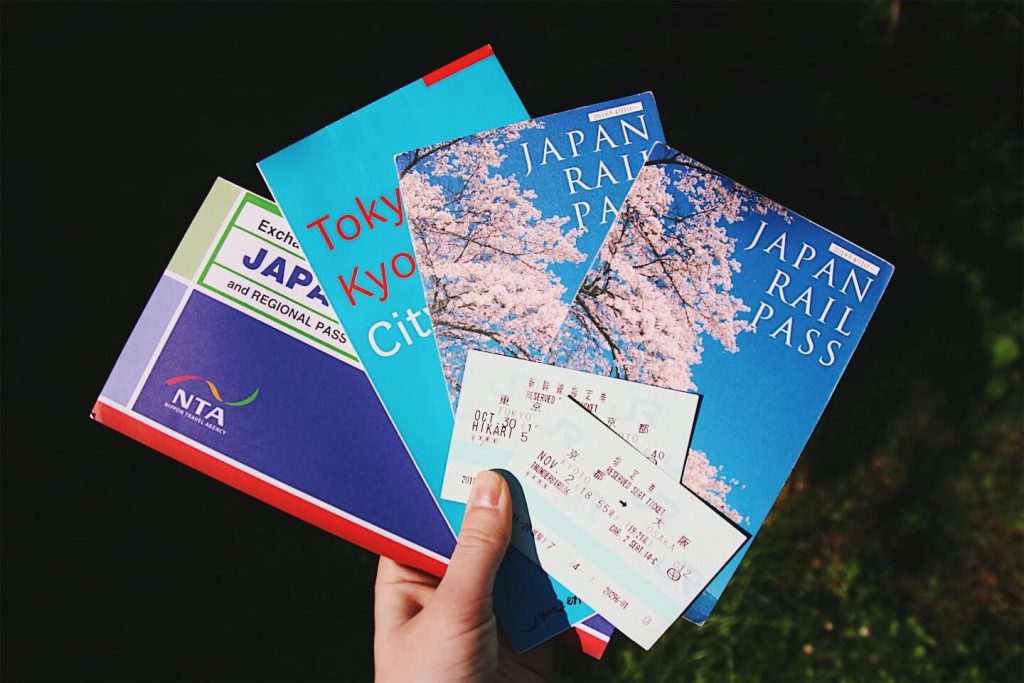 Where do I buy the JR Pass?
You can order the Japan Rail Pass online or you can buy it from a travel agency. If you want to buy the JR Pass, I'd really appreciate it if you could buy it through one of the links in this blog post (or the banner below). By buying it through any of these links, I will receive a small commission at no extra cost to you. This really helps me to continue posting free travel guides and tips. Thank you!
Save for later…