Wondering how to fill your Japan itinerary? Check out these 50+ best things to do in Japan to add to your bucket list.
Oh Japan, where do I even start to describe you. The sentence "country of many contrasts" has been more than overused, but fits Japan so very well. Ancient temples and peaceful bamboo groves stand next to skyscrapers with anime billboards taped onto all four sides. There is no country even quite like it, and I am utterly and completely in love with it.
If you're planning to visit Japan for the first time and you're unsure about where to even start or what to include into your itinerary, I've created a huge bucket list with more than 50 of the all-time best things to do in Japan!
1. Cross Shibuya Crossing
Possibly one of the most iconic places in Tokyo: the famous Shibuya crossing. Walking across it was actually one of the very first things I did when I arrived in Japan. I immediately got that "wow, I am really in Japan!" feeling.
According to the Guinness Book Of World Records, this is the busiest intersection in the world, even though other sources state differently. Busiest in the world or not, it is the busiest I've ever seen! Up to 3000 people cross the streets as soon as the light turns green. And despite the insane number of people, accidents rarely happen.
Shibuya Crossing is located right outside Shibuya Station and close to many of the other sights and shops in this vibrant part of Tokyo. Apart from being one of Tokyo's most iconic spots, the crossing has been featured in many animes, books and films such as Lost In Translation and The Fast and the Furious: Tokyo Drift.
TIP: For a great view across Shibuya Crossing, check out the Starbucks across the road. Order your drinks downstairs and then find a seat on the first floor. Perfect for photos or a time lapse of one of the world's the busiest intersection in the world.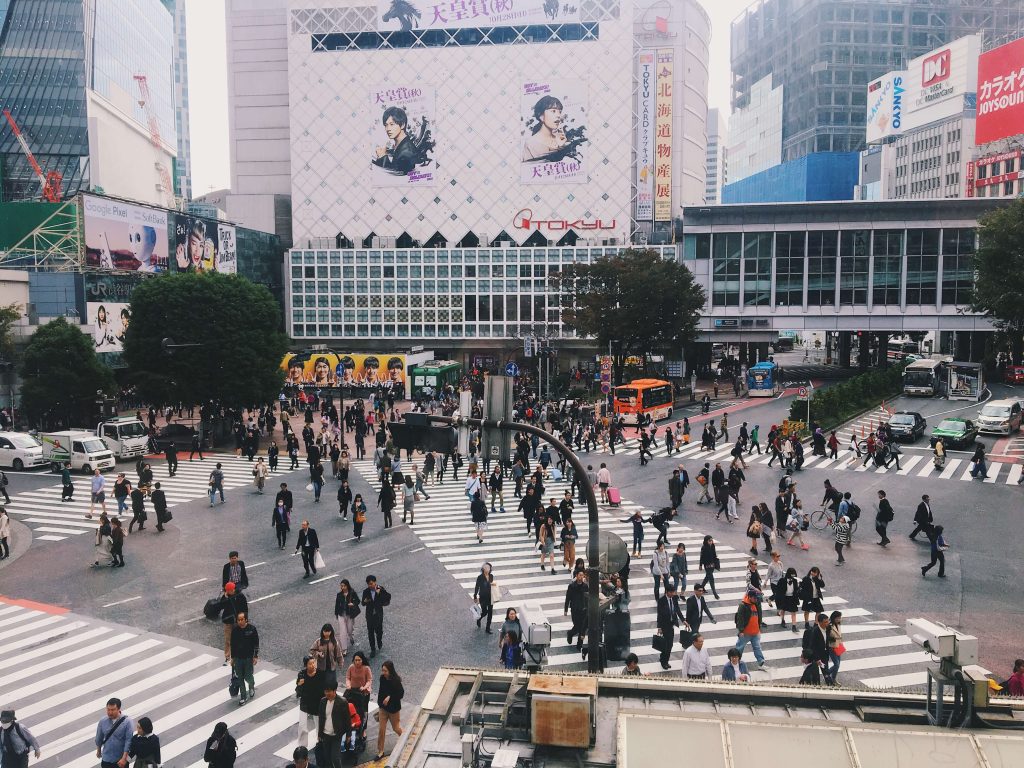 2. Wander Through Bamboo Forests
There is a huge variety of things you can do in Japan due to its incredible contrast. From the flashy new and modern skyscrapers to serene bamboo forests. Bamboo trees undoubtedly play a huge part of Japanese culture and visiting one is a big bucket list check for many visitors. It is a great way to step away from the overload of the busy cities and enjoy some peace and quiet – for both tourists and locals! Some of the best ones you can visit include:
Sagano Bamboo Forest in Arashiyama Kyoto
The Sagano bamboo forest in Arashiyama Kyoto is probably one of the most famous and most popular bamboo forests in the whole of Japan. Arashiyama is located in the western outskirts of Kyoto and can be reached by using the Sagano Train Line. The beauty of this forest makes it easy to understand why this is such a popular spot to visit. Arashiyama is known to be quite touristy and therefore quite busy. If you want to visit the bamboo grove here, do make sure to get here early in order to avoid huge crowds.
Suzume-no Oyado Ryokuchi Park in Tokyo
Tokyo has its fair share of Bamboo forests too. Suzume-no Oyado Ryokuchi is one of them. This small park is located just outside the city centre with a beautiful bamboo grove, about 20 minutes from Shibuya. The bamboo trees were planted over 200 years ago! The park itself definitely isn't the largest bamboo forest in Tokyo, but it is by far one of the prettiest. Compared to the bamboo forest in Arashiyama, it's also very quiet!
Higashikurume Shi Chikurin Park in Tokyo
A little bit further out of the city centre of Tokyo lays Higashikurume Shi Chikurin Park. Even though it takes a bit longer to get there, this is probably the most beautiful bamboo grove in the Tokyo area. With more than 2000 bamboo trees, this forest also has the highest density in bamboo trees in Tokyo. Apart from the beautiful bamboo trees, this quiet suburban neighbourhood has some shrines, temples and natural spring water streams that add to its charm.
3. Visit Peaceful Temples and Shrines
Japan is home to some of the most beautiful temples and shrines. When visiting Japan, you kinda have to visit at least one! (Preferably even more!).
Most shrines and temples in Japan are either part of the Buddhist or Shinto religion. Even though the two don't have much in common, a large part of the nation practices both religions peacefully next to each other. You can recognise Shinto shrines from their torii gate and their sanctuaries where the kami spirits) are enshrined.
With literally thousands of shrines and temples scattered across Japan, it's hard to pick which ones are worth a visit. To be honest, every shrine and temple has something special and they are all worth a visit. But with limited time, these are some of the most popular and famous temples and shrines in Japan:
Fushimi Inari Taisha in Kyoto
In the south of Kyoto lays my favourite shrine in Japan: Fushimi Inari Taisha. Also known as the temple with 1000 gates, Fushimi Inari is famous for its thousands of vermilion torii gates. These gates are donated by businesses or individuals. You can find their names engraved into the wood.
The shrine itself is dedicated to the Shinto God Inari. In Japan, there are more than 30.000 Inari shrines, but Fushimi Inari Taisha is the main one. Inari's messengers are often depicted as foxes, which is why you will find hundreds of fox statues scattered around the trail that leads up Mount Inari. They often hold something in their mouths, usually some rice or a ball. The hike itself takes around 2-3 hours, but it's something I would highly recommend!
Because this shrine is so popular due to its beauty and uniqueness, try to get there very early in the morning. We got there around 6:30 AM and had most of the trail to ourselves. It made a world of difference!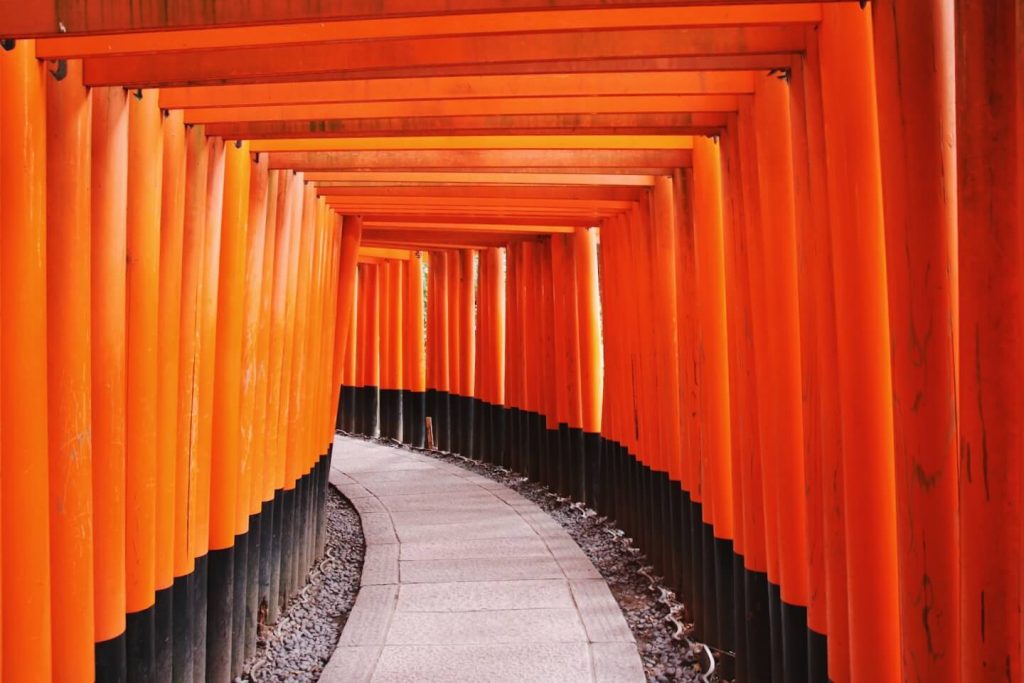 Kiyomizu-dera in Kyoto
Another must-visit in Kyoto when it comes to temples is the Kiyomizu-dera temple. Located in one of the old Geisha districts of Higashiyama, this temple is undoubtedly one of the most popular and famous ones in Kyoto. Its name translated to "Pure Water Shrine" and is most famous for its wooden stage which lifts the temple 13 meters from the hillside below. An interesting fact is that the building, including the stage, is built without any nails. The shrine inside the temple is visited a lot by singles, as the Jishu Shrine is dedicated to the god of matchmaking and love. Many single people visit it hoping to gain some favour in their love life.
Sensoji Temple in Tokyo
Even though Tokyo may be known for its high-tech, urban lifestyle and tall skyscrapers, there are hundreds of shrines and temples located in Japan's capital city. Sensoji Temple in Asakusa is probably one of the most photographed temples in Tokyo. With its large, red chochin lantern in the middle of the main hall and its beautiful five-storied pagoda, Sensoji temple is a true gem.
This temple, which is also known as Asakusa Kannon Temple, is the oldest Buddhist temple in Tokyo. On its temple grounds, you can find many little shrines alongside the main buildings. In front of the main temple, you can also find Nakamise shopping street. This is the biggest souvenir market in the city, where you can find lots of local souvenirs and snacks.
Meiji Shrine in Tokyo
Another famous shrine you should check out in Tokyo is the Meiji Shrine. You can find it hidden in a quiet and peaceful forest in between two of the busiest districts in Tokyo: Shibuya and Shinjuku. From Harajuku Station, it's only a few minutes by foot until you reach the entrance.
The Meiji Shrine is dedicated to the spirits of late emperor Meiji and his wife. The large wooden torii gate marks the entrance and starts your walk through a tranquil forest with more than 100.000 trees. And that in one of the world's busiest cities! You will walk passed the famous and colourful sake barrels, which are placed as a gift to the gods.
The Meiji Shrine is one of the most popular shrines in Japan, both for tourists and locals alike. Many weddings are also held at this shrine, so keep your eyes open for brides and grooms walking down the aisle together. We were very lucky to witness a wedding when we visited the shrine.
Itsukushima Shrine in Miyajima
From Hiroshima, you can take a day trip to the Itsukushima Island. The island's most popular attraction is its shrine, which is why the island is often refereed to as Miyajima Island (which literally translates to "Shrine Island"). The giant torii gate and the shrine itself seem to be floating on the water during high tide. The shrine and the island have a long history with the Shinto religion and the official name of the island translates to "Island Of Worship".
Todaiji Temple in Nara
Inside the peaceful Nara Deer Park, the world's largest wooden structure can be found. The size is not the only impressive thing thing about Todaiji Temple. Inside the temple, you can find the world's largest Daibutsu-san (bronze Buddha statue).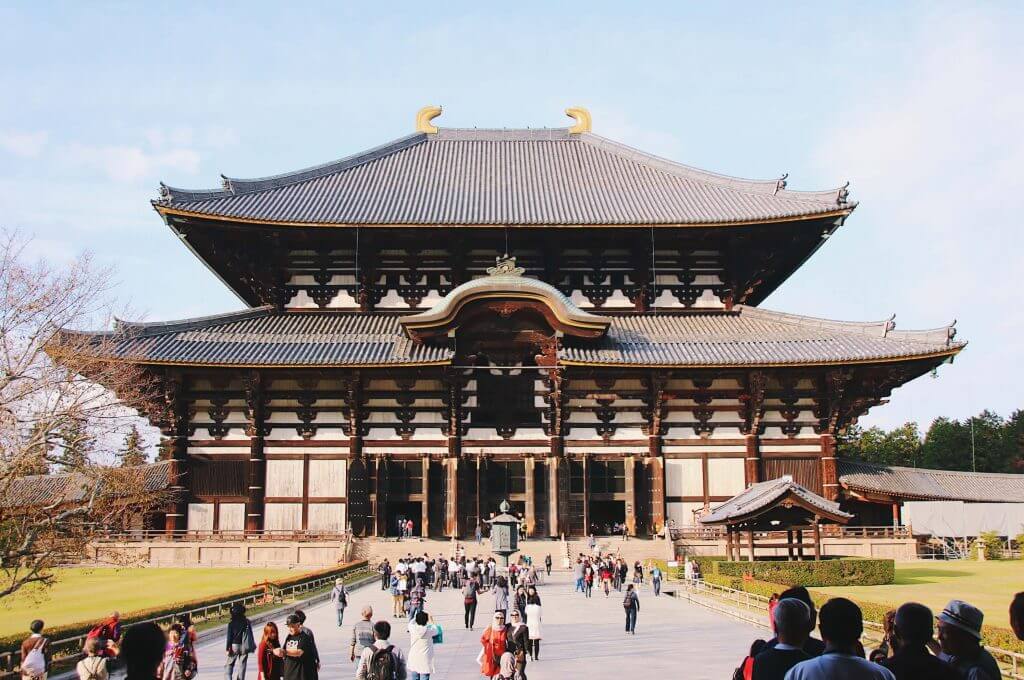 4. Shop until you drop in Harajuku
The colourful and eccentric Harajuku fashion style is one of those Japanese terms that is widely known across the globe. This street fashion is named after the area around Harajuku Station, in between Shinjuku and Shibuya. In Harajuku (especially in Takeshita Street), you can find tons of colourful shops selling the Harajuku styled clothing and other kawaii items. It's a treat to just walk around and window shop!
Make sure to explore more than just Takeshita Street though. Omotesando Avenue is another great place to shop and it includes some more mainstream shopping brands. You can also get some delicious Harajuku crepes here, which come with a wide variety of fillings. Or opt for the rainbow cotton candy – a popular one on Instagram ;).
5. Take Kawaii Purikura Pictures
Kawaii photo booths (purikura) are a huge hit in Japan and can be found all across the country. In Tokyo, your best bet is Harajuku or Akihabara. These photo booths are unlike the boring ID photos you can take in Europe and America. These photo booths 2.0.
It's more than simply taking a photo and printing them. In these Purikura booths, you can edit your photos. Add filters, stickers, text balloons with funny sayings, cartoon characters and emotions to kawaii-up your pictures. They only cost a few hundred yen, making them very popular among the local youth. Even though they seem to be aimed mainly at teenage girls and young women, everybody can take part in it and they make for a very cute souvenir to take home with you. Richard and I took our fair share and they are still displayed on our fridge.
6. Visit the Pokemon Centre(s)
When thinking of Japanese pop-culture, one gaming franchise comes out on top. Pokemon! As a child, I was a huge fan of the TV show, the collectable cards and the video games. Oh man, the hours I spent training my Charizard to beat the Elite Four! Good ol' times.
Lucky for me, Japan has more than enough places to rekindle that love for the Pokemon Franchise. It's impossible to visit Japan and not see at least one Pikachu reference. The country is full of them. But the best place? The Official Pokemon Centre!
You can find the Pokemon Centre in 14 locations across Japan: Sapporo, Tohoku (Sendai), Skytree Town, Tokyo (3 locations), Tokyo Bay, Yokohama, Nagoya, Kyoto, Osaka (2 locations), Hiroshima and Fukuoka. Every Pokemon Centre has its own mascot and they sell plushies, games and other merchandise.
The largest Pokemon Centre is located in Ikebukuro Tokyo. This Pokemon Mega Centre is probably one of the best ones to visit! Alternatively, you can also visit the Pokemon Cafe, which is located next to one of the other Pokemon Centre locations in Central Tokyo.
7. Ride The Bullet Train (Shinkansen)
When going to Japan and you want to visit more than one city, you will ride the Shinkansen (bullet train). They are the fastest and easiest way to see the country. The nine Skinkansen lines can take you all across Japan and can reach up to 320 km/h (199mp/h)! Even though individual tickets may be a little expensive, tourists can purchase a Japan Rail Pass to gain unlimited access to the train lines for a certain length of time. If you're planning on visiting more than two cities, this is by far the best and most budget-friendly way to do so!
When riding on the Skinkansen, make sure to also try an Ekiben. Eki means station and Ben(to) means lunch box. You may have seen some photos of elegantly put together lunch boxes with sesame seeds sprinkled on top of spring onions and cooked rice. Some of these are works of art! Even though the Skinkansen is very fast, the long distances it has to cover still make most journeys a few hours long. That's why it's very popular to get yourself a Ekiben on the train or before boarding the train. If you're travelling from Tokyo Station, check out a little shop called Matsuri, they specialise in Ekiben.
8. See (or climb) Mount Fuji
There are a few things that are so typically Japanese, everybody knows about them. Think of sushi, ramen, anime characters with big eyes and bright blue hair and… Mount Fuji. This sacred volcano is not only the highest mountain in Japan (at 3667 meters), it has also been an inspiration for many artists over the centuries. And who can blame them? It's stunning! When in Japan, you will without a doubt find hundreds of souvenirs with Mount Fuji pictured on them. But why not take a look at the actual mountain yourself? There are many great places to see Mount Fuji and you can even climb the volcano during the climbing season!
Best places to see Mount Fuji
The famous Mount Fuji can be admired from many different spots, and when you're in Japan, you may as well go take a look yourself! You do have to be lucky though, as the mountain likes to hide in the mist and clouds… Some of the best spots to see the volcano are:
Even though Mount Fuji is located over 100 km southwest of Tokyo, on a clear day, you can see Mount Fuji from one of the many observation decks around the city.
When riding the Shinkansen from Tokyo to Kyoto, we also spotted Mount Fuji! The train driver even made a little announcement telling everybody we were about to pass the famous mountain.
Hakone also has many great viewing spots for the sacred mountain of Japan.
If you are familiar with pictures of Fuji-san, you may have come across one pretty iconic photograph. Mount Fuji with a beautiful red pagoda covering up the right side of the image, branches filled with pink cherry blossoms filling up the other side of the photograph. Can it get any more Japan? You can let your inner photographer shine at the Chureito Pagoda, which is the exact one on those famous pictures!
And last but not least, the northern shore of Lake Kawaguchiko is another popular spot to witness this picturesque mountain with breathtaking surroundings.
Climb Mount Fuji
I'm personally not much of an adventure traveller (and probably not really in shape to do so, let's be honest!) so I haven't tamed Mount Fuji myself, but there are some great opportunities to climb Japan's most famous, sacred mountain. During the climbing season (July-September), you can give it a go yourself! Taking the hiking trial usually takes a full day, so be prepared to book a nearby hotel/hostel.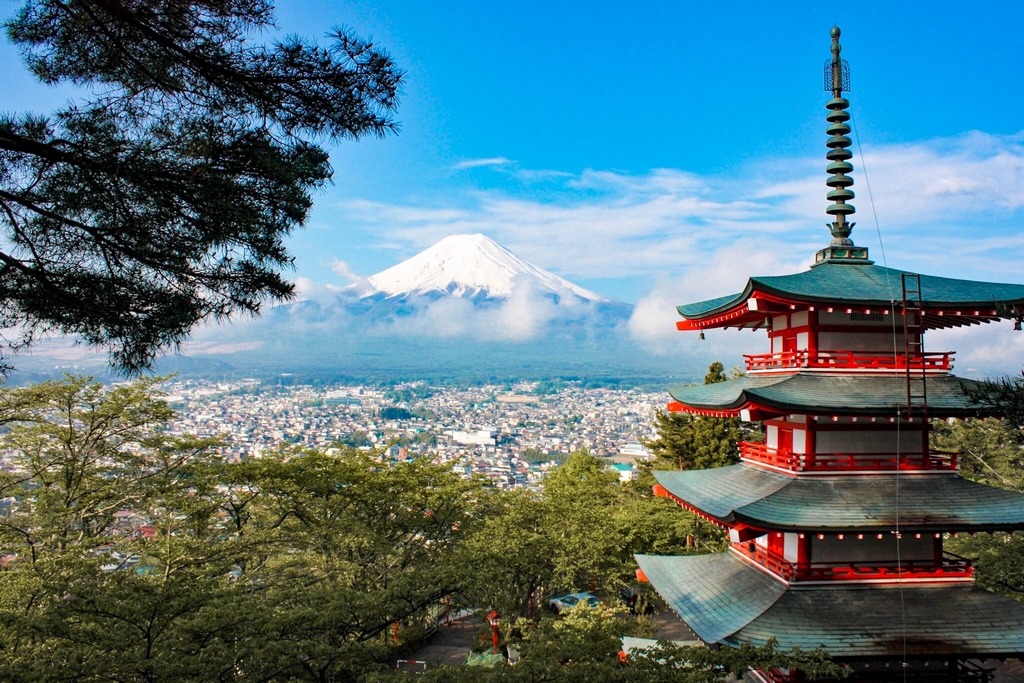 9. Feed the Deer of Nara
Japan loves its cute fictional characters, but there are tons of adorable living creators roaming around the Japanese soil. Some of those can be found in a little city called Nara. Located in between Kyoto and Osaka, Nara is known for its 1200 deer. These deer walk around Nara Park (and around Nara's temples) freely and aren't shy of any visitors.
And they love tourists! You can buy some special deer crackers to feed them. And with so many tourists feeding them delicious crackers, they have learned how to please them. If you bow to them, they will bow back!
10. See A Life-sized Gundam
Anime and manga are big parts of the Japanese culture and that can be seen back pretty much everywhere. Even though I'm not a mega-fan (I wish I was, learning Japanese would be so much easier!), I love all the references. Outside of the Gundam Base in Tokyo, you can find one of these spots. In fact, it's hard to miss 😉
The life-sized Gundam stands proudly in front of the huge shopping mall in which the Gundam Base is located. You can take pictures in front of it and every hour, on the hour, the Gundam comes to life.
11. Predict The Future With Japanese Fortune-telling
Getting a little insight into what the future holds never hurts, right? Lucky for us, at many shrines and temples across Japan you can take part in a Japanese fortune-telling ritual. It usually costs around 100 yen and it's quite fun to try, even if you don't believe in it.
This type of fortune telling is called O-mikuji (おみくじ). You shake a box filled with little wooden sticks. After shaking it, you take one of the sticks out. On those sticks, you will find a number. That number corresponds with a drawer that can be found next to the boxes (or you have to hand it to one of the stands near the boxes, it depends on where you do this). You will then be handed a little paper with your fortune written on it.
Fortunes with o-mikuji start at "very fortunate" and go all the way to "a great curse". I guess you can all guess how lucky I got when I tried this at Sensoji Temple in Tokyo… Even if you get as un-lucky as yours truly, you can tie up the paper on one of the poles or a nearby tree. Legend says that by doing so, you will leave the curse behind.
12. Eat Unlimited Sushi Of The Belt
Sushi and Japan go hand-in-hand. It's probably one of the most popular dishes in the country, so you can't leave without trying some yourself. There are uncountable different sushi restaurants to try, but one that should be on your list is a sushi belt restaurant.
Even though you may have tried these types of restaurants in your home country, they are nothing compared to the ones you will find in Japan. Very often, you can order your desired sushi and a little "train" will come to deliver them to your table. While waiting for your order, you can also pick up a few random pieces of sushi from the conveyor belt that constantly moves around. We ate at a sushi belt restaurant in Kyoto where the "train" was made in the shape of a little bullet train – very cute!
Every table also comes with unlimited green tea and pickled ginger. You can use the pickled ginger to cleanse your pallet before eating a different type of sushi. This way, you can get the full taste experience!
13. Dress in Kimono
The kimono is the traditional dress of Japan. The word kimono literally translates to "something to wear". They are dyed in beautiful colours and come in tons of different patterns, usually reflecting the personality of the person who wears them. Even though the Japanese have been wearing more western clothing since the Meiji Era, kimono is still widely celebrated during special events and festivals.
But when you're visiting Japan, you can also try on a kimono yourself. Many places in bigger cities like Tokyo, Kyoto and Osaka have kimono rental places. You can pick your own kimono and get it fitted by a professional kimono fitter. For me personally, this was one of the most amazing experiences I had when I visited Kyoto.
If you're thinking "But Nele, isn't it cultural appropriation to wear a kimono as a foreigner?". And I was worried about the same thing before I booked my appointment. I obviously can't speak for everybody and especially not for those of a culture I am not a part of, but from having watched many videos and read articles about it, it seems like most Japanese don't have any problems with it. They like seeing others engage in their culture. As long as you do it respectfully, there are no issues.
14. Sing your heart out at Karaoke
Is there anything more Japanese than karaoke (カラオケ)? Even though karaoke originated in Japan, it has travelled across the world. I've personally enjoyed my fair share of karaoke nights in my old student pub. But taking part in a karaoke night in Japan is quite a bit different from screaming the lyrics of Avril Lavigne's Skater Boy though the mic to a pub filled with drunk students…
Karaoke in Japan usually happens in special karaoke booths. These private rooms are equipt with a karaoke machine and microphones, ready to display the lyrics for you to sing along. When in the booth, you can order drinks and snacks that will be delivered to your room as well! This makes it very popular among locals.
There are usually quite a few English songs as well as songs in other languages on top of a big repertoire of Japanese songs. Usually, you pay per person per half-hour. On top of that come the drinks and dishes you ordered during your karaoke session. It's a really fun experience and I'd highly recommend adding it to your Japan bucket list!
15. Watch A Sumo Wrestling Basho
The unique culture in Japan has many aspects that are incredibly fun to experience. We've already covered quite a few so far, but sumo wrestling deserves a spot on this list as well. This authentic and well-known Japanese sport is one of a kind. When in Japan, you can attend a sumo basho (tournament), but you'd have to be quite flexible as these only happen a few times per year.
Alternatively, you can attend the sumo practices. Often, you can view the morning training sessions, also known as asageiko. More and more training facilities are allowing toursits to come take a look into the fascinating world of sumo. There are ways to organize visiting these viewings yourself, or you can take part of a tour which usually includes a lot more information to teach you everything you need to know about this unique sport.
16. Retro Games & Anime in Akihabara
I'm pretty sure my love for Japan started back in my childhood, when I'd watch Japanese animes on TV and played loads of video games that were created in Japan too. Japan's pop culture has made a big impact on the world, and it's something they're very proud of! It's no surprise that you can still find thousands of retro games in Japan today.
The best place to get your game on is the Akihabara district in Tokyo. It also carries the nickname: Electric Town. Akihabara is filled with the coolest technology, manga, anime and video game shops. If you're a bit of a nerd, like me, you'll have a blast here!
TIP: Every Sunday, the main road in Akihabara is closed for cars. This means you can freely walk around the neighbourhood and take some great pictures!
17. Meet The Whale Shark Of Osaka Aquarium
One of the most popular attractions in the seaside city of Osaka is its aquarium. The Osaka Aquarium Kaiyukan is the largest public aquarium in the world, housing over 30,000 sea creatures in 15 stunning tanks. Each tank respresents a specific part of the Pacific Rim.
The aquarium's crown piece is the central tank, which is home to the whale shark. The tank itself represents the Pacific Ocean and is 9 meters deep, 34 meters long and contains more than 5400 tons of water. Around the aquarium, you can find 620 different species!
18. Play In The Arcades
While wandering around Japan's cities, you will without a doubt come across many different arcades. If you see big signs displaying "Namco", "Taito" or "Sega", you're on the right track. Video games are a huge part of Japanese culture and the arcades play a big role in that.
When visiting one of the many arcades in Japan, make sure to look beyond the ground floor! Usually, the money-grabbing claw machines are taking up most space on these floors. But the fun games can be found from the first floor up. Here, you will find tons of rhythm games, shooting games and other cool arcade games which can make for a great evening of fun. But even if you just want to have a go at the crane machines, it's a fun little thing to do in Japan. And who knows, you may even take a price home!
19. Give Pachinko A Go
Pachinko may not be as well known to foreigners as arcade machines, mainly because the hype hasn't really left Japan, but it's a fun and unique thing to do in Japan. Pachinko is a mixture of arcade machines and gambling. It's quite a complex game in which you need to land balls in specific places to trigger cutscenes and mini-games. It's quite overwhelming, but a lot of fun to try!
Even though gambling is against the law in Japan, Pachinko parlours have found a loophole. During the Pachinko games, you win points/vouchers which you can redeem in another building for (cash) prices. Because it is not in the same building, the government simply looks the other way 😉
Simply walking into a Pachinko parlour is an experience on its own. The loud noise of thousands of tiny metal balls being thrown around and the arcade-like sounds are quite something else. Richard gave it a go when we were in Tokyo and we had a blast! One of the employees in the parlour helped him to adjust his grip to correctly shoot the balls into the right direction, but most of it was a complete mystery to us. He did surprisingly well though!
20. Eat With The Locals In The "Yokocho"
Yokocho literally translates to an "alleyway". But these narrow streets are much more exciting than that! Yokocho's are packed with small bars and eateries. It's where the locals come to unwind after a long day of work, to drink sake and eat yakitori fresh from the barbeque. For us visitors, it's also a great place to eat some delicious street food for a very affordable price. Do keep in mind that most of these restaurants are teeny tiny with only 6-10 seats!
21. Visit One Of Japan's Best Theme Parks
Entertainment is top notch in Japan if you haven't already noticed. So surely, they do a great job at their theme parks! There are quite a few to choose from, but if you have any spare days in your itinerary, I'd highly recommend checking out any of the following.
Tokyo Disneyland & Disney Sea
Tokyo is home to two Disney parks: Tokyo Disneyland and Tokyo Disney Sea. They are located next to each other, just outside the city. Disneyland Tokyo is similar to other Disneylands around the world. Modelled after the one in California, the park is made up out of seven areas. Inside the park, you can find tons of Disney themed rides, restaurants and shops.
Disney Sea is a separate theme park that is unique to Japan. It is the only one in the world, making it extra special. That's the reason we chose to visit Disney Sea over Tokyo Disneyland. The park is completely water-inspired and is divided into seven ports. It even has a huge volcano that lights up at night! A VOLANO! WITH SMOKE! Beat that Disneyland ;). Disney Sea is aimed at a slightly older audience, serving alcoholic beverages at their restaurants. It has a really cool and unique feel to it with some awesome attractions to enjoy. My personal favourites were the Indiana Jones ride and the Journey To The Center Of The Earth.
You can either buy your tickets in advance or get them at a convenient shop when in Japan. We bought our tickets at a 7Eleven next to our hotel haha!
Osaka Universal Studios
Osaka Universal Studios takes the second place on the "most visited theme park in Japan" list, after the Disney parks. Spreading over 36 hectares of land, you won't be bored when spending the day here. The park is divided into nine sections: Hollywood, Universal Wonderland, The Wizarding World of Harry Potter, Amity Village, Waterworld, Jurassic Park, San Francisco, Minion Park and New York City. In 2021, a new area will be opened: Super Mario World. And oh boy am I excited to visit a real-life Super Mario World!
Fuji Q Highland
Love a good rollercoaster? Add some record-breaking rollercoasters to a backdrop of the magnificent Mount Fuji and you've got yourself Fuji Q Highland! The park has 4 main rollercoasters (some of which actually hold Guinness Book Of World Record records!) and many other attractions which are based around popular animes. You can also stay at their resort/spa, where you can fully relax after a day of thrill rides and have some of the best views of Mount Fuji in Japan.
22. View Tokyo From Above
A city as unique and vibrant as Tokyo looks even better from above. With the red Tokyo Tower, the countless skyscrapers and… Mount Fuji on a clear day. (Yes, you can see Fuji from Tokyo!!). So were do you get the best views of my favourite city in the world?
Tokyo Skytree: It being the tallest building in Japan, it's only natural that you can find some of the best views in Tokyo here. With two viewing decks (one at 350 meters and one at 450 meters), you can enjoy the Tokyo skyline with Mount Fuji on a clear day.
Roppongi Hills Mori Art Tower: Possibly the most beautiful view you can get of Tokyo (in my opinion) is from the Mori Art Tower in Roppongi Hills. On the 53rd floor, you will find a panoramic viewing deck with a stunning view across Tokyo with the Tokyo Tower standing proudly in the middle of the city.
Tokyo Tower: Even though Tokyo Tower is no longer the tallest building in Tokyo, you can still find amazing views from here. It's very central and easy to get to, but you'll obviously won't find the iconic red tower on your photos.
Tokyo Government Building: The government building also has a free observation deck from which you can find some beautiful views of the city.
Odaiba Island: Not exactly a skyline view but from the artificial island Odaiba, you can find a great view of the rainbow bridge.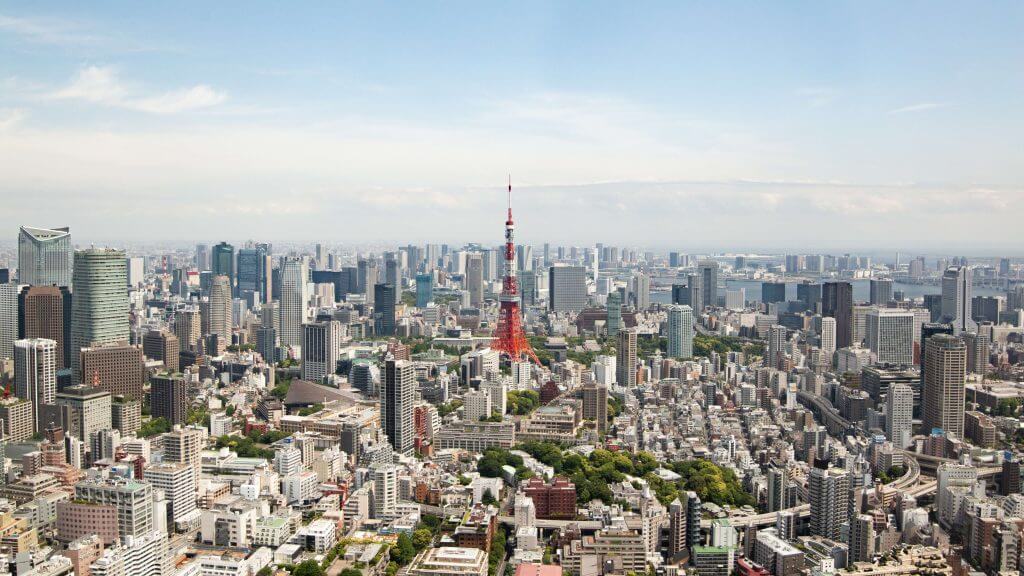 23. Buy a Daruma Doll (& Other Japanese Souvenirs)
Bringing home a little piece of Japan after your trip is the perfect way to commemorate your holiday. Especially because Japan has so many unique souvenirs! And they also make a great gift for friends and family 😉
One of my favourite souvenirs is the Daruma Doll. These little, round dolls can be bought at many temples and is used as a type of talisman for good luck. The Daruma Doll comes with two white eyes, missing its pupils. It's up to the owner of the doll to draw these. The first pupil is drawn when you make a wish. The second pupil is drawn after that wish comes true. Richard has his daruma doll on his desk, reminding him daily of his wish/goal. I just think it's a really nice present for someone (or.. for yourself haha!).
Aother cool and unique Japanese souvenirs are:
Engraved chopsticks: In Harajuku, there is a little shop that sells chopsticks and the owner will engrave your name (English and Japanese spelling) into the chopsticks.
A torii gate from Fushimi Inari Taisha: As it is my favourite shrine in Japan, I had to get one of the little vermillion torii gates to take home and display in my bookshelf. You can use them as a prayer by writing a wish on it and leaving it at Fushimi Inari's temple, or you can buy one to take home with you.
Tenugui: The Japanese hand towels/handkerchieves are very popular among locals. Almost everyone in Japan carries one around. With its many stunning designs, they also make for a wonderful gift.
Matcha: Take home the taste of Japan with some match. Matcha tea, matcha powder, matcha flavoured snacks like KitKats, you name it!
Omamori: These little Japanese charms come in little pouches. Each of them has a special meaning: love, business, health, etc. They are often sold at shrines and temples. What better present than giving somebody some extra luck?
24. Fully Relax In An Onsen
The Japanese natural hot springs are the ultimate way to relax. The natural water is heated underground by the volcanic activity of the island, which creates more than 27.000 hot springs across Japan. The onsens (Japanese hot springs) have quite a long history in Japan and date back hundreds of years.
The etiquettes of visiting an onsen may be a little different from what you're used to. When visiting a traditional onsen, you have to go fully nude. You have to fully wash before entering because these baths are not for cleaning, they're purely for relaxation. There is also a separation between male and female visitors.
But luckily, for those who don't particularly feel comfortable with that, there are a few onsens out there that deviate from those rules. Here, you can keep on a swimming suit and they don't separate sexes. Those are the ones that are often more popular with tourists and a great way to enjoy the beauty of an onsen.
25. Sleep in a Capsule Hotel
Certain things in Japan are simply put… quite unique. The capsule hotels are no exception to that rule. These sci-fi-like accommodation capsules are unlike anything I've ever visited.
These individual pods (with dozens in the same room) come with a bed, a light and sometimes a TV. It's taking a hotel room and compressing it down to its absolute necessities. Especially in cities like Tokyo, where space is a luxury, these pods provide an affordable place to stay. With communal bathrooms and lounges, they really are like the hostel from the future.
Some capsule hotels even offer bigger capsules for couples. They aren't always much cheaper compared to a cheap hotel room, but it's definitely a once in a lifetime experience when you're visiting Japan.
26. Celebrate Hanami Under The Cherry Blossoms
The cherry blossoms are one of the main reasons people want to visit Japan during the spring. They were my screensaver on my laptop all the way through college and university, motivating me to finish my essays because visiting Japan would be my treat to myself for finishing my degree. (Sometimes you gotta treat yourself, right?).
The sakura, or cherry blossoms, are an important symbol in Japan. Not only are they a real treat to look at, but they also symbolise how life is beautiful but fleeting. Nothing lasts forever… But apart from that bittersweet meaning, they also welcome the spring and celebrates new life. The cherry blossoms only bloom for about 2 weeks, so planning your trip around it can be a bit tricky. There are cherry blossom predictions but the dates differ every year and per region.
But how do the Japanese celebrate these gorgeous little flowers? With hanami! Hanami literally translated to "flower viewing", which dates back many centuries, and is the name of the cherry blossom festival. Nowadays, people go and enjoy the blossoms in a park with a picnic, sakura flavoured snacks and sake.
27. Get Tipsy On Sake
The Japanese like their sake, so it's only natural for tourists wanting to try some themselves. This special Japanese rice wine is also referred to as nihonshu, to distinguish it from the word sake that means alcohol in Japanese.
Whether you refer to it as nihonshu or sake, trying some on your trip is a must (unless you don't drink alcohol, of course!). Like wine, sake comes in a variety of flavours and temperatures. Some are sweet, some are dry. Some come cold, some at room temperature and some are enjoyed hot. It all depends on the type and quality of the sake.
Your best bet is to go to a bar or izakaya to try some tasty Japanese rice wine recommended by the waiter/bartender. Kanpai! (Cheers! in Japanese).
28. Walk Through Shibuya's Center-Gai
After walking across Shibuya crossing, make sure to head towards Shibuya's Center-Gai. This long and narrow pedestrian street has been named the Heart Of Shibuya by many locals. Especially at night, this is the place to be.
Uncountable neon signs, filled with shops selling the latest fashion, music, bars and nightclubs. I'd recommend going here during the evening because the neon lights look so much better lit up. Go for dinner at one of the many ramen places and get some drinks afterwards. You'll never experience a boring evening here!
29. Visit one of the many castles
Apart from the countless temples and shrines that Japan has to offer, it also has its fair share of castles (over 100 actually!). And do look quite a bit different from the fairytale castles we're used to seeing in Europe. This is where Japan's authority and samurai lived. And they are simply beautiful!
Osaka Castle
The beautiful Osaka Castle is one of the main attractions in Osaka. Heck, it's one of Japan's main attractions. This stunning castle was built 450 years ago and played a huge role in unifying Japan in the 16th century. Inside the castle, you can find a museum that tells the stories of its history, and you can find a lovely view of the city on the top floor.
Outside the castle lays Nishinomaru garden. A Japanese garden with over 600 cherry trees and a tea house. Just imagine how beautiful it looks in springtime!
Okayama Castle
In Okayama, which is nicknamed "Land of Sunshine", stands a castle that goes by the name "Black Crow". The black exterior is quite unique and the six stories stand tall over the city of Okayama.
Himeji Castle
Himeji's white and elegant appearance makes it one of the most beautiful castles in Japan. But apart from its aesthetics, Himeji Castle is one of the 12 original castles that remain in Japan. Many of the Japanese castles were destroyed in wars or by the force of nature, but not this one! It's the OG of Japanese castles.
30. Eat At A Themed Cafe/Restaurant
Japan has quite the obsession with weirdly themed restaurants and cafes. Visiting one of these bizarre cafe experiences is definitely something you could add to our list of things to do in Japan. Honestly, the list of different cafes with strange themes is miles long. Think of a theme and there is probably a cafe in Japan related to it.
If you're looking for some of the more popular ones, here are a few for you to check out:
Robot Restaurant: Enjoy a meal while watching people perform and dance on stage with… robots. It's an absurd overload to your senses but by far one of the most popular restaurants in Tokyo.
Kawaii Monster Cafe: Possibly one of the most trippy cafes in Tokyo, this cafe is filled with neon lights, colours and crazy statues. The idea behind the cafe is that Tokyo is a monster, swallowing every trend it comes across. The cafe is located in its stomach!
Maid Cafes: Inspired by manga and anime, maid cafes can be found all over Akihabara in Tokyo. The women who work here are all dressed up as anime maids and seem to be the anime-dream-come-true for many of its visitors. But there's nothing sketchy about it! You can't touch the waitresses or ask for their phone numbers. Heck, businessmen even come here for lunch!
NOTE: Even though there are many different types of animal cafes in Japan, not all of these are ethical. I would personally never recommend any owl cafes or cafes that host animals that are not domesticated. Please do your research before going to any of these to make sure we keep our animal friends safe! You can read more about this and find ethical alternatives in my Animal Cafes In Japan post.
31. Take Part In A Tea Ceremony
Tea ceremonies are deeply rooted in Japanese culture. Even though it was only drunk by the upper class when tea first made its way to Japan, it slowly became a drink that anyone would enjoy. It became so popular that people started hosting tea parties, showing off their tea knowledge. And thus started the tradition of tea ceremonies.
Because this is something that is so widely enjoyed in Japan, there are many companies who host tea ceremonies. They are enjoyed by locals and tourists alike, so we can take part in one without feeling any of that tourist-shame. Usually, the host will make the tea in front of you. Showing you how they use the special whisk to make the matcha powder dissolve into the water.
32. Take A Japanese Food Tour
The Japanese kitchen is one of the best in the world. With so many unique and tasty dishes to try, it's hard to know where to start. Especially if you don't speak the language and you're not very familiar with the different types of food you could be stuffing into your face.
That's why it's such a great idea to take a food tour when in Japan. These tours are hosted by locals who know all the ins and outs of the food scene in the city. Apart from learning what to actually order (do I get tonkotsu or shio ramen?), they can also show you the best places for them. Arigato Japan host amazing food tours that are definitely worth checking out!
It's a great way to see some hidden gems of the city that you would most probably miss if you'd be exploring on your own. Plus, the local hosts can teach you lots of fun facts about the city and the dishes you're trying.
33. Spend The Night In A Traditional Ryokan
Apart from hotels, hostels and the crazy capsule pods, there is another type of accommodation that you should consider staying in: the Ryokan. These traditional Japanese guesthouses are usually fitted with tatami rooms. It's a way to really take a peek into the traditional Japanese lifestyle.
Many Ryokans can be found in hot spring villages, and come with an onsen for you to try as well. Even though staying at a Ryokan every night during your trip to Japan may be a little too pricey, one day makes for an unforgettable experience.
34. Eat Delicious & Cheap Convenient Store Food
Japan wouldn't be the same without its many convenient stores (conbini). They've turned into a huge part of its culture and they are an absolute lifesaver for us travellers. Not only can you get tons of handy goodies in these corner shops, but they are also filled with foodie treasures.
These are not like English or American shops where the food is… almost inedible. These Japanese supermarkets serve some high-quality stuff for a super affordable price. From sushi to curries (which they will actually heat up for you at the till), there is tons of amazing stuff to choose from.
When we're travelling in Japan, we make use of these every single day. Hotel breakfasts aren't that great in Japan, so instead, we would grab a few bits from the nearest convenient store and we'd be good to go. Usually, this wouldn't be more than a few hundred yen. The perfect place for a healthy and budget-friendly meal.
35. Feed The Snow Monkeys In Iwatayama Park
In Kyoto, only a short walk from the Arashiyama bamboo grove, you can find the Iwatayama Monkey Park. On top of a hill (yes, you have to climb it, sorry not sorry!), 120 monkeys roam around. They pose for photos and you can feed them some bananas or nuts, which are sold in the park.
The park is completely animal-friendly. The monkeys are free to do what they please and when you want to feed them, you are the one that has to go behind a fence. And in case you're wondering: yes, they are indeed the same monkeys you may have seen on photos bathing in the onsens during winter.
36. Explore Japan By Bike
Because I grew up in the Netherlands, the bike capital of the world (in my oh so humble opinion), seeing the bike culture in Japan kinda excited me! It's a huge hit! With infrastructure as amazing as they have in Japan, so many people use bikes to get around. Unlike here in the UK, it's very safe to do so.
Seeing Japan by bike is such a peaceful thing to do, especially in the more rural areas. But even in big cities like Tokyo, you can rent a bike and explore. In Yoyogi Park, you can rent a bike for only a few hundred yen per hour, and there are cycling tours around the Imperial Palace too!
But the most famous (and arguably the most beautiful) place to cycle in Japan is the Shimanami Kaido route. This route takes you island hopping, covering 5-6 islands and many bridges connecting them. Even though it's quite a long route to cycle, the scenic views make it worth your while! With tranquil beaches and a view across the inland sea of Japan, it's definitely one of the best things to do in Japan.
37. Visit The Studio Ghibli Museum
Even if you're not really into manga or anime, chances are that you have seen at least one Studio Ghibli movie growing up. The Japanese animation studio even won an Academy Award in 2003. Spirited Away is my personal favourite! What about you?
The Studio Ghibli museum, which is located in a city called Mitaka just outside of Tokyo, is pretty popular! But because tickets are limited, it can be tricky to secure for yourself and your travelling companions. Because of this popularity, tickets are usually released 3 months in advance. Make sure to get on it as soon as possible if this is something you want to visit in Japan!
38. Buy Literally Anything From A Vending Machine
If you're looking for something (anything!), there's a big chance Japan will be selling it in a vending machine. These colourful boxes can be found on every single street corner. Heck, you can even find them on mountain trails!
They are perfect for when you need a drink. The machine keeps them cool (or hot!) and are quite affordable. You can even pay for them with your public transport pass (Suica/Pasmo). My fav? The hot coffee in a can. I'm still not sure whether I liked the taste or if I was just pleasantly surprised at the fact that the can came out HOT!
But Japan wouldn't be Japan if it didn't have some crazy vending machines as well. Drink machines are boring (even if they serve hot coffee)! Even if they come in cute Pikachu designs. Japan has more than just drinks in their vending machines. Think umbrella, Buddhist amulets, underwear (yes, really), facemasks, sake and more. It's a fun game to spot as many crazy ones as you can when you're in Japan!
39. Learn About Ninja History
We all know about ninjas, right? The mysterious fighters, throwing metal stars towards their opponent, masters in espionage, assassination and ninjitsu. But even though the time of the ninjas in Japan has long gone, we can still learn about these fascinating characters.
Possibly the best place to learn about Ninja history is the Iga-ryu Ninja Village. Not only can you dress up as a ninja here, but you can also learn all about the ninja's history and their secrets in the exhibitions.
If you don't want to make the trip towards this Ninja Village, you can also opt for one of the many Ninja experiences that are hosted throughout Japan's bigger cities. Places like Ninja Trick House in Tokyo and Ninja Samurai Dojo give you a chance to taste some of those Ninja adventures.
40. Eat A Volcanic Black Egg
Yes, Japan has some crazy foods and snacks to try. But if Hakone is on your itinerary, you have the chance to try a volcanic black egg.
And I hear you think, "excuse me Nele, a volcanic what now?". Let me explain. From Hakone, you can take a gondola up to Owakudani (the Boiling Valley). This ominous landscape shows you the remains of the volcano eruption that happened over 3000 years ago.
In the hot spring water that comes up, locals boil their chicken eggs. The sulfur in the natural water makes the shell turn black. Legend says that eating one of these eggs can prolong your life, so that's worth a shot in my opinion ;).
41. Shop in Don Quijote
Don Quijote is a discount store in Japan with over 160 locations inside the country. Before I went to Japan for the first time, my friend Becky told me – nay, URGED me – to go shopping there. The term discount store didn't quite excite me too much, but boy was I wrong.
I don't really know where to begin describing Don Quijote. Their shops are quite large and are filled to the roof with… stuff. So much stuff! From rice cookers and socks with kawaii pigeons on them to sheet makes in the shape of an octopus and matcha flavoured kitkats. It quite the experience.
But because it is a discount store, you can get some real gems here for very cheap! Especially if you're looking for some cool and unique souvenirs for friends and family, Don Quijote is perfect. Most places that sell souvenirs are quite tacky and they all sell the same kind of magnets and items that will probably end up in a storage box in the attic. Buying usable items from Don Quijote may make for a better gift! We brought back tons of skincare products, teacups and matcha flavoured snacks for our pals.
42. Wander Through The Old Geisha Districts
Step back in time in Gion, the geisha district of Kyoto. Small, wooden machiya houses lined up between the old ochaya (teahouses) while Geiko (Kyoto dialect for Geisha) and Maiko entertain their guests. Geishas have been a huge part of Japans cultural history. This is personally one of my favourite places in Japan. One of my favourite novels about Japan is Geisha Of Gion. Walking through these streets was absolutely surreal! Even though it was quite busy, I could totally imagine what it had a looked like many years ago.
Gion is the entertainment centre of Kyoto and has been for many decades. It's where you can find many of the traditional arts, including some famous kabuki theatres. Even in the teahouses, Geiko and Maiko still entertain guests here till this day. Geishas/Geikos are female entertainers. They wear beautiful kimonos and paint their faces with white powder. As part of their performances, they specialise in Japanese traditional art forms and entertain their guests during tea ceremonies.
If you see one of Gion's Geisha or Maiko, please do act respectfully. Don't just take their photos without asking if it's okay.
43. Order Ramen From A Ticket Machine
Like many typical Japanese dishes, it's a shame to leave Japan without trying them. Ramen included! But when visiting one of these ramen restaurants, often you will be greeted by a ticket machine. This may put you off ordering if you don't know how to use it, but that would be such a shame! It's a fun experience and missing out on a tasty dish of ramen is never fun. This is how you use the ticket machine:
Insert money into the machine.
Pick the dish you want. Often these are listed in Japanese only, but they come with handy pictures.
Take your ticket inside & give it to a member of staff or the chef.
Wait for your ramen to be made!
See? Not too bad! Alongside your ramen, you will most likely find a little tray of sauces and condiments. They're all free to use, so go wild ;)!
44. Try Japanese Curry At CoCo Curry
The fact that the Japanese cuisine is… *chef's kiss* is not a secret. There is one Japanese dish that is often forgotten about, though. And that happens to be my personal favourite: Japanese curry. This isn't anything like Indian or Thai curry, it's something completely different and delicious!
You can get Japanese curry in quite a few places, but the best place to get this is CoCo Ichibanya. With over 1200 restaurants across Japan, I'm not the only one that's slightly obsessed with their curries.
The thing that makes this restaurant so perfect is that it's super accessible for those who want to try Japanese curry for the first time. You simply choose the amount of rice and the level of spice (level 1 is more than enough for me…) and you're good to go. On top of that, the dishes here are very affordable. For about 800 yen, you get yourself a plate of steaming hot curry.
(I loved it so much that I went to the only European CoCo Curry in London during the World Travel Market. And it was worth the long queue!).
45. Get a Gachapon
We've already talked about the popularity of vending machines all across Japan, but there is one that needs some special attention. The gacha machines. These capsule vending machines may look a bit familiar. In the US and Europe, I'm sure you've come across similar machines. You pay a dollar or a quid and get some gumballs or a cheap toy. But Japan – as per usual – has taken it up to another level.
Gachapon (or gacha) are incredibly popular in Japan. There are entire stores dedicated to these little vending machines. Put in some coins, turn the crank and get a little capsule with a toy inside. The toys here are usually made of a much higher quality than those in Europe and the US. And due to the popularity of collectables and figurines in Japan, these little toys are a huge hit!
People collect tons of gacha toys from their favourite characters or simply get some cute ones that would look good on their desk. I got very lucky trying to get a chikorita toy from a gacha in the Pokemon Centre and got the exact one I was hoping for!
46. Walk By Nintendo HQ
Slightly hidden away in the south of Kyoto lays the Nintendo headquarters. Nintendo has made quite a mark in the video gaming industry. I don't know many people who have never played a Mario, Animal Crossing or Zelda game. And this is where all of those games become reality!
It's definitely not a touristy place and you can't go inside the building. But for fans of the company (like my boyfriend and I), it was amazing simply walking passed it. Seeing the place where most of my favourite games were created was awesome!
47. See Godzilla's Head
The reason why Godzilla is the mascot of Shinjuku in his hometown of Tokyo is quite simple: There is a life-sized Godzilla head on top of the Hotel Gracery. This massive monster head looks out over Shinjuku and can be spotted while walking around the neighbourhood.
If you're there and you start hearing the Godzilla theme song, look up! The head comes to life 8 times a day. With smoke and roars, the total package! If you want to get an even more Godzilla-like Tokyo experience, you can stay in the Godzilla themed room inside the hotel. It's not cheap, but who wouldn't want to wake up looking at a giant Godzilla claw above your bed?
Credits to the lovely Becky!
48. Take A Picture With Tokyo's Most Famous Dog
Just as Godzilla is the mascot of Shinjuku, Hachiko is the mascot of Shibuya. This famous dog has its own statue next to Shibuya Crossing outside of Shibuya Station. The real dog named Hachiko used to come to Shibuya Station with his master. His master was a professor at Tokyo University and took the train there every day. Hachiko would wait for him to come back and they would walk home together.
After his master passed away, Hachiko continued to wait for him until his own death. It gives me chills thinking about it! There are many books and even a film dedicated to this loyal furry friend. So make sure to pay his statue a visit when you're in Shibuya.
49. Walk Through Japanese Gardens
The peace and quiet you can find in mystical Japanese zen gardens are out of this world. The perfectly pruned trees, moss overgrowing perfectly placed rocks and sand that looks like the ripples of water. They are beautiful!
When you're visiting Japan, make sure to visit at least one of these wonderful gardens. There are countless to choose from, and there are especially many in Kyoto. Some of the most popular include Kenrokuen, Katsura Imperial Villa and Ryoanji.
50. Dive Into The Neon Lights Of Dotonbori
Osaka is also known as the food capital of Japan. Don't leave the city without trying some of their famous dishes such as takoyaki and okonomiyaki.
One of the best places to do this (and to visit in general) is Dotonbori. This is the bright heart of Osaka. Filled with flashy neon lights, delicious street food and extragavant restaurant signs. This is the place to eat and drink in Osaka!
Also make sure to see the famous Glico man sign, which is located near the canal. This brightly lit sign is one of the main landmarks in the city, having been there since 1935. Even though the sign got replaced a few times, the running man has looked over Dotonbori cannel for many years.
Plan your trip to Japan
Feeling inspired? There are so many things to do in Japan, it's almost impossible not wanting to go. You can find tons of articles on my website that will help you put together a solid Japan itinerary, but you can also simply copy mine.
My 2 week Japan itinerary takes you to Tokyo, Hakone, Kyoto, Osaka, Kobe and Nara. This is a great first timers itinerary as it shows you all the main highlights and gives you a chance to really fall in love with Japan.
If you have more time, I recommend checking out my 3 week Japan itinerary. This one takes you to all the cities mentioned in the two week itinerary on top of Nikko, Mount Fuji, Himeji Castle, Okayama, Hiroshima and the Miyajima islands. It allows you to see all the main highlights of Japan on top of some amazing extras.
Save for later…