Last Updated on December 2, 2021
Japan is an absolute dream destination. From traditional temples, beautiful nature reserves and high-tech cities – it has something for everybody. It's a world on its own and spending three weeks in Japan is a perfect amount to get a good impression of what this country is all about.
This 3 week Japan itinerary will hopefully help you plan a trip to Japan – or inspire you to finally book those flights 😉 From Tokyo to Miyajima Island, let's dive in!
*The Navigatio uses affiliate links. If you make a purchase through these links, I will receive a small commission at no extra cost to you. Thank you!
3 Week Japan Itinerary
From Tokyo, all the way to Miyajima Island, stopping at some of the best highlights of Japan. In three weeks, you're able to see so much of what Japan has to offer. Feel free to adjust the itinerary to your needs and wishes – this is just an idea/inspiration for you!
Tokyo (5 days)
We start these 3 weeks in Japan in Tokyo. If you have the choice, try to fly to Haneda airport rather than Narita airport. Haneda is much closer to the city which makes it much easier to get to Tokyo after your flights.
I'd recommend booking a hotel for 8 nights in Tokyo. Even though you will only spend 5 days in Tokyo itself, the three days afterwards will be day trips from Tokyo. To avoid problems with carrying your suitcases from hotel to hotel, it's much easier to just stay at the same hotel.
Wondering where to stay in Tokyo? We stayed at Hotel Sunroute Higashi Shinjuku. Shinjuku is located in the heart of Tokyo, which makes it easy to get to any other part of the city by metro (which is literally located next to the hotel). I really enjoyed staying here and would definitely recommend it.
When you have three weeks to explore Japan, you want to take some time to explore its capital city. Tokyo is BIG. You can literally spend a month here and still find new and exciting hotspots. Five days may seem like a long time, but it's barely enough to scrape the surface. We divide these five days in Tokyo in some of the most popular wards of the city.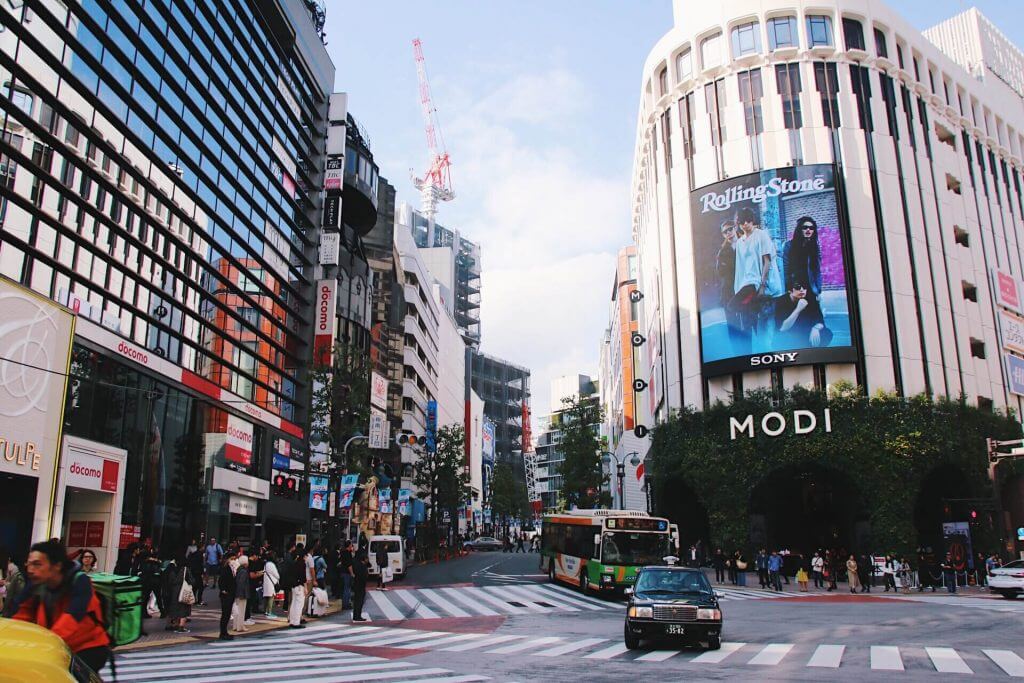 Day 1 in Tokyo – Shibuya and Harajuku
On the very first day of your trip to Japan, we dive right into the busy streets of Tokyo. There are so many things to do in Tokyo! But we'll start by making our way to Shibuya in the morning to see:
Shibuya crossing: The busiest crossing of the planet can be found in the middle of Shibuya. It's quite an experience to walk across the street yourself, alongside the sea of others. Head over to the Starbucks across the road for a coffee and an amazing view over the crossing. Perfect for a timelapse or some photos 😉
Hachiko statue: A statue to commemorate Tokyo's favourite and most famous dog, Hachiko. You can find the statue right outside of Shibuya station.
Shopping in Shibuya: Shibuya is known to be one of the business and shopping wards of Tokyo, so it makes sense to have a little look around for some souvenirs. Some of the best shops include: Vanguard Village, MODI, Shibuya109, Disney Store and Tokyo Hands.
In the afternoon, you can walk from Shibuya to Harajuku. You can take the metro but it's only a 15-minute walk from Shibuya and it gives you the chance to walk through this beautiful Japanese neighbourhood. Harajuku is known for its vibrant fashion style and pop culture. Here are some things to check out when in Harajuku:
Shopping in Harajuku: Harajuku is filled with the cutest little fashion boutiques and fun shops that sell the craziest items. The two main streets for the best shops in Harajuku are Takeshita Street and Omotesando Avenue.
Harajuku crepe: When in Harajuku, try one of the popular Harajuku Crepes. They have multiple shops all over the area and literally hundreds of fillings (from sweet to savoury).
Purikura: Japanese photo booths are very popular among teens and a must-try when in Tokyo. After taking some photos, you can edit them to look more kawaii and get a little print to remember your time in Harajuku.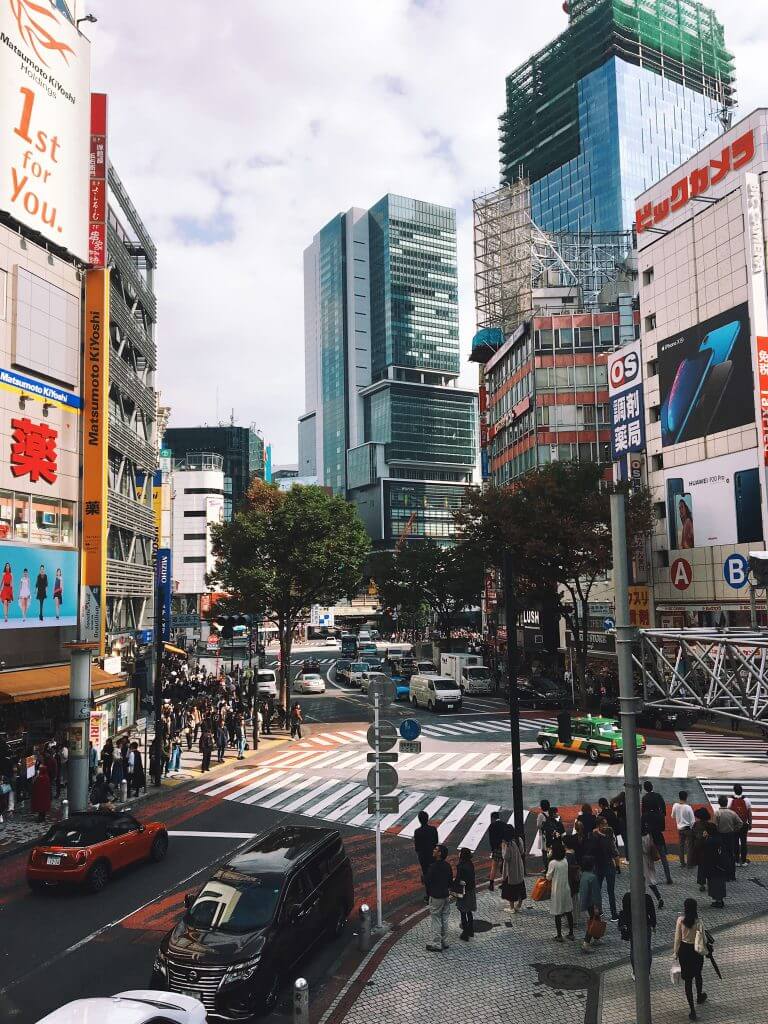 Day 2 in Tokyo – Ikebukuro and Meiji Shrine
Start the second day in Japan with some shopping in the upcoming Ikebukuro, then heading over to one of the main shrines in the city, Meiji Shrine.
Shopping in Ikebukuro: This Tokyo ward is huge on shopping, filled with high street stores and restaurants. Some fun ones to check out are Bic Camera, Loft and Sun Drug.
Tokyo Pokemon Mega Store: One of the main highlights in Ikebukuro is the biggest Pokemon Centre in Japan, Tokyo Pokemon Mega Store. You can find this shop on the second floor of the Sunshine City shopping centre.
Coco curry: Japan is filled with the most amazing dishes, but one you should really try is Japanese curries. CoCo Curry Ichibanya is a chain in Japan that can be found in quite a few places, but also in the Sunshine City shopping mall. A perfect spot to grab some lunch before continuing your day in Tokyo.
In the afternoon, head back to Harajuku Station. The entrance of Meiji shrine
Because Meiji Shrine is so close to Harajuku, it makes sense to grab some dinner in this part of Tokyo. Harajuku is also home to many karaoke bars, where you can experience another piece of Japanese culture.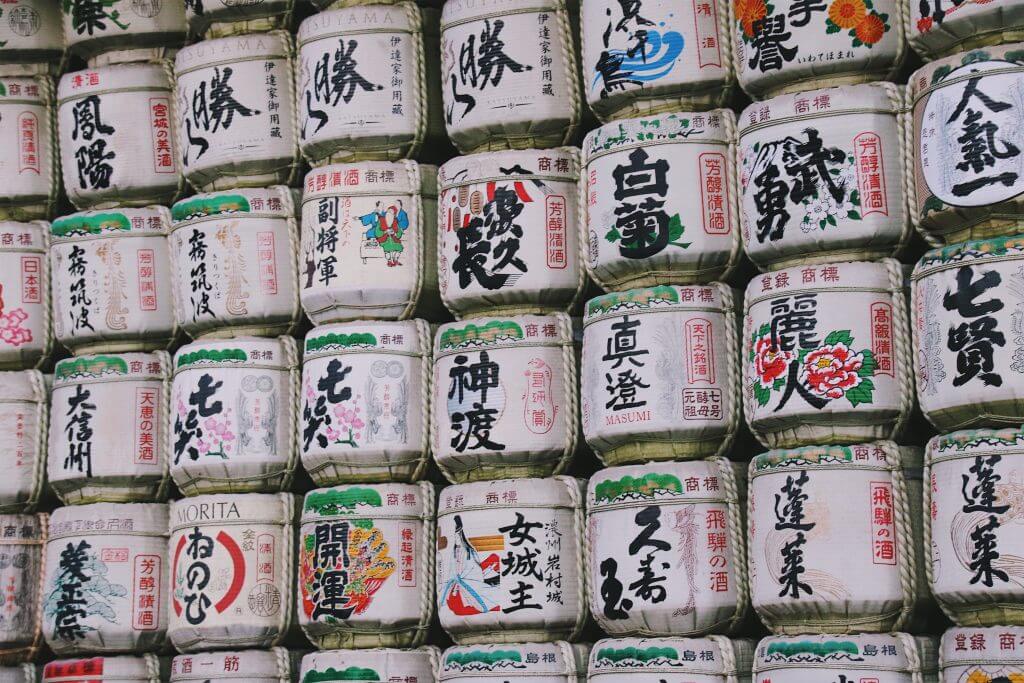 Day 3 in Tokyo – Asakusa and Akihabara
Day three in Tokyo is a day filled with contrasts. Starting at the traditional Sensoji temple and heading towards the hyper-modern Akihabara (also known as electronic town) in the afternoon.
Sensoji is located in Asakusa. After arriving at Asakusa station, you can find Tokyo's oldest temple just a few minutes away. The temple dates back to the year 645. On the temple grounds, you can find many smaller shrines alongside the big attraction. A fun thing to do at Senso-ji is O-mikuji: a Japanese form of fortune-telling. It only costs ¥100 and – if you happen to get bad fortune – you can leave your bad fortune at the temple for a better future.
From Asakusa, make your way to Akihabara by metro. Akihabara is literal heaven for those who like electronics, anime, video games and other pop-culture references. It's got that real high-tech Japan feel to it and it's a really cool place to explore. Some highlights to check out include:
Shop at retro game camp: Akihabara has some amazing retro-game stores which really kick in the nostalgia. Retro Game Camp is by far the best one in Tokyo – all games come with newly fitted batteries and you can barely see any scratches on them!
Visit a maid cafe: Japan has some crazy cafes. One of the most popular and well-known is the maid cafe – and there's quite a few in Akihabara. Even though it may be a bit strange, it definitely makes for an amazing experience.
Play in one of the many arcades: As you may expect, Akihabara is also filled with the most amazing arcades. Make sure to explore more than just the first floor (where you can find mainly claw machines). There are some awesome games to play from the second floor up.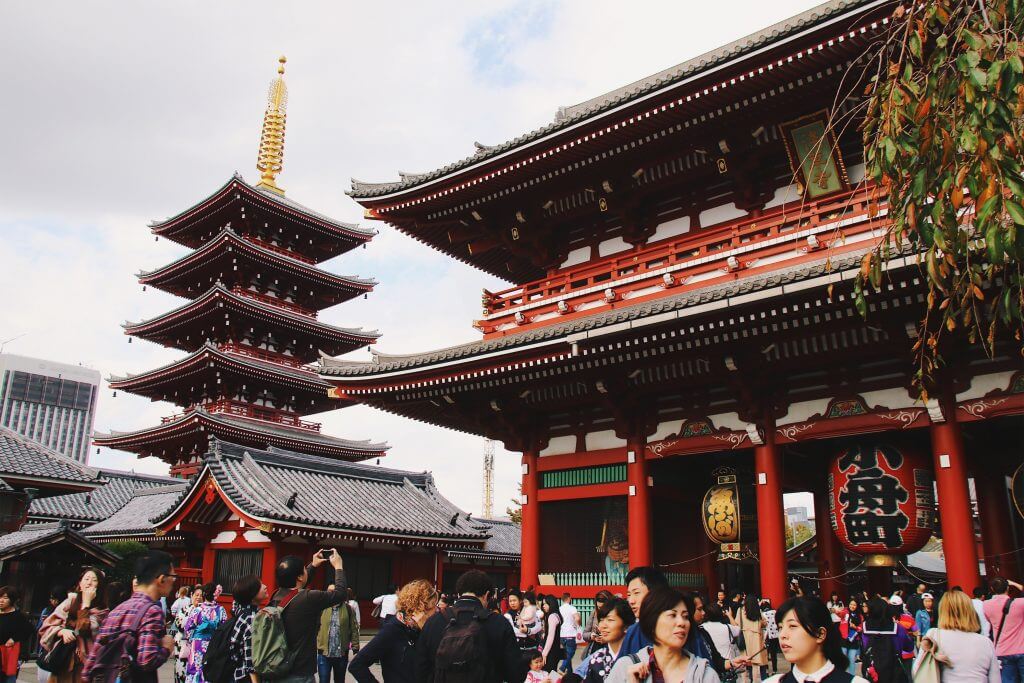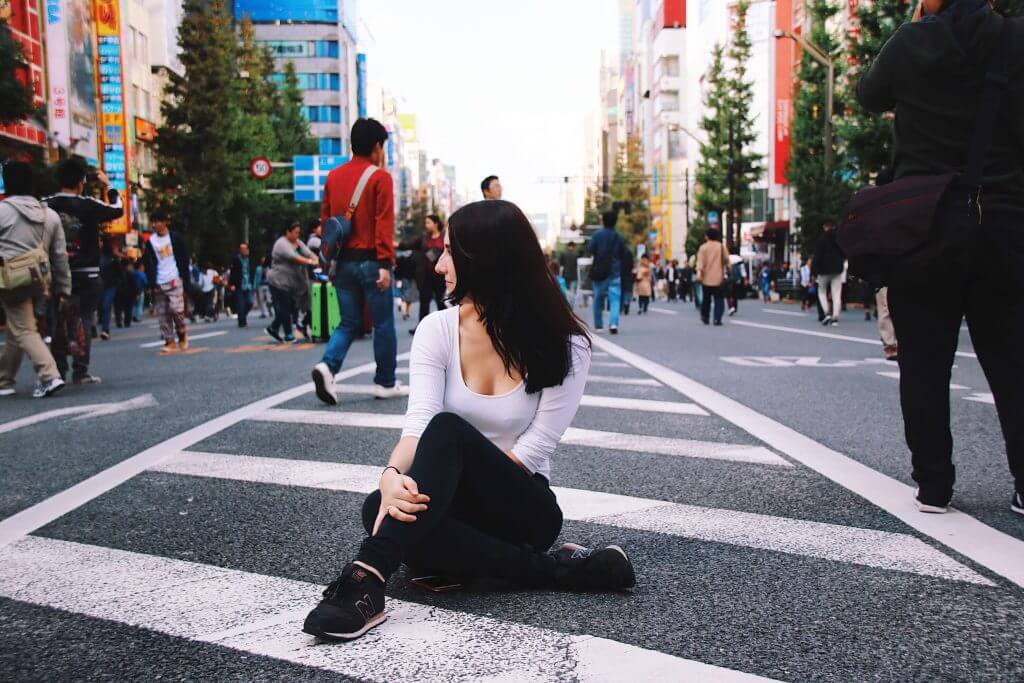 Day 4 in Tokyo – Koto City
The interactive art exhibitions Teamlab Planets and Teamlab Borderless will welcome visitors until the fall of 2020. We decided to go to Teamlab Planets and absolutely loved it. It's such a unique experience (walking up a waterfall, through an infinity room and more) that you really shouldn't miss when you're in Japan before they end it.
Just a couple of metro stops from the Teamlabs exhibitions, you can find the Gundam base. Even though I wasn't very familiar with the anime, my boyfriend absolutely loved it. And to be honest, it was pretty cool 😉 They have a life-sized Gundam outside the shopping mall that moves every hour on the hour.
If your hotel is located in Shinjuku (would highly recommend this!), you're in for a bit of fun! Shinjuku has a lively night scene, which is perfect for an evening to unwind. Whether you want to drink some sake in one of the many bars or play the famous pachinko game – definitely spend a few hours here before heading to bed.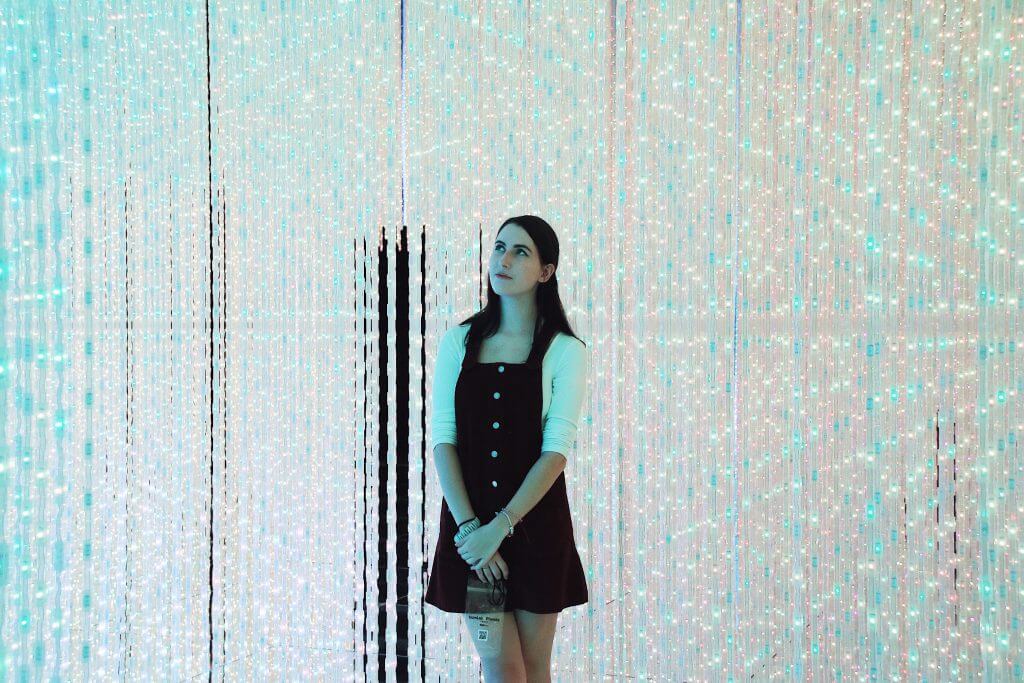 Day 5 in Tokyo – Tokyo Tower and Roppongi
The fifth and last day to explore Tokyo will be spent at the famous Tokyo Tower and the Roppongi ward. Make your way to Hamamatsuchō station first. From there you can stop by the beautiful Zojoji Temple before heading to Tokyo Tower.
Tokyo Tower itself is obviously one of the most iconic sights of Japan's capital, and therefore deserves a little visit. You can head all the way to the top for a little fee, but you can also nose around the many shops on the first few floors for free.
In the late afternoon, keep walking towards Roppongi. This part of Tokyo is one of the dazzling nightlife for both locals and tourists. Some things to do before heading to the nearest bar:
Mori Art Museum: The largest contemporary art museum in Tokyo. It's located at the top of the central Mori Tower where you can take some amazing photos of Tokyo.
Nogi Shrine: A beautiful samurai shrine.
Tokyo City View: If you missed the view at Mori Art Museum, definitely check out Tokyo City View in the Roppongi Hills – another opportunity to take some stunning photos of Tokyo.
For a more detailed Tokyo guide, check out my 6 day Tokyo itinerary. This is basically the same 5 days as described in this itinerary, but with an additional day at Tokyo Disney Sea or Tokyo Disney Land.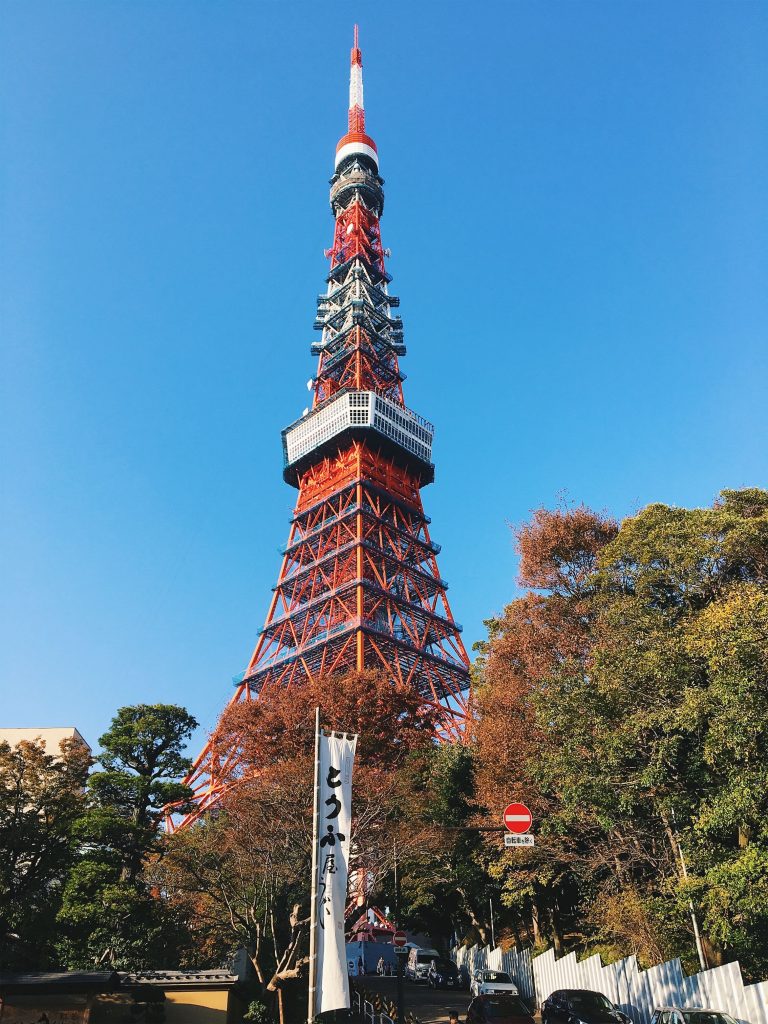 Nikko (1 day)
While staying in the same hotel in Tokyo, we're going to make a few day trips from the city. Rather than having to move all your luggage with you to a new hotel for one night, staying at the same hotel makes life just a little easier 😉 On the sixth day of our Japan itinerary, we take a day trip to Nikko.
Nikko lays north of Tokyo in the Tochigi Prefecture. It takes about 2 hours each way to get there and back from Tokyo. Nikko is known for its forests, waterfalls and natural hot springs – a perfect and peaceful day away from the busyness of Tokyo.
Shinkyo Bridge: Not far from the train station, the Shinkyo bridge is our first stop of the day. This sacred bridge is the gateway to the shrines and temples that can be found inside the city.
Rinnoji Temple: This UNESCO world heritage site was originally founded by the Buddist monk who brought Buddism to the city in the 8th century.
Toshogu Temple: Nikko's most notable temple, Toshogu Temple, is the last resting place of Tokugawa Ieyasu. The beautifully decorated temple is unlike any other temple in Japan. It's absolutely stunning.
Kegon Falls: In the afternoon, head over to Nikko National Park for an afternoon in Nikko's beautiful nature reserve. There are many hiking trails inside the park, but when you only have a short time, I'd recommend going to Kegon Falls. At 100 meters in height, this is one of the most beautiful waterfalls in Japan.
Ryuzu Falls: Add Ryuzu Falls (translated: Dragon Head Falls) to your day if you have enough time. There is a small observation deck that you can visit for free that gives you a beautiful view over it.
Hakone (1 day)
Hakone is another popular day trip from Tokyo due to it being such a charming little town. You can find a gorgeous view of Mount Fuji here, as well as onsens, shrines and more. When visiting Hakone for the day, check out the following:
Hakone Shrine: Possibly Hakone's most famous and iconic sight is Hakone Shrine. Looking out across Lake Ashi, this torii gate gives you such a peaceful and calming feeling. It's an absolute must when in Hakone to visit this spot.
Hakone Open-Air Museum: Alongside tons of sculptures and other amazing pieces of art, Hakone open-air museum also hosts some of Picasso's drawings and paintings.
Onsen: Hakone is known for its many onsens. If you want to try one of these typical Japanese hot spring spas, check out Yunessun. This onsen allows you to wear a swimsuit and don't separate men and women. It's the perfect place to try an onsen out for the first time.
Owakudani (Boiling Valley): Taking a gondola up the mountain you can already take a peek into the ominous volcanic landscape. Even though this volcano erupted 3000 years ago, the landscape has been forever changed. Walking near the volcanic zone, you can purchase a black egg. This egg has been boiled in the naturally boiling water and is said to prolong your life – worth a shot, I'd say 😉
Mt Fuji (1 day)
When spending three weeks in Japan, you kinda have to see the iconic Mount Fuji. From Tokyo, you can easily take a day trip out to visit some of the best Mount Fuji viewing spots. This iconic mountain isn't one of Japan's most iconic sights just because of its aesthetics, this volcano is also Japan's highest mountain at 3776 meters. You can choose to climb Mount Fuji during the climbing season (July-September), but the hiking trails usually take a full day – I'd recommend finding a hotel nearby if you want to climb it!
But you won't be able to see Mount Fuji when climbing it 😉 There are quite a few places where you can see Mount Fuji – like Hakone – but the Fuji Five Lake region is your best chance of seeing Mount Fuji in all its glory. The mountain is known to hide in the mist quite often, so visiting this area gives you the best chance of capturing it.
Chureito Pagoda: If you think of Mount Fuji, chances are that you imagine a photo with a red pagoda in the front. This is probably the most photographed spot in the whole of Japan! Especially when the sakura are blooming, this spot embodies so much of the what is classic Japan.
North shore of Lake Kawaguchiko: One of the most breathtaking places to see Mount Fuji is from the north shore of Lake Kawaguchiko. Especially if you're visiting in spring or autumn, nature makes it look even more beautiful.
You can book a Mount Fuji tour from Tokyo that takes you to the best viewing spots! This way, you don't have to worry about making it to all the best spots on your own.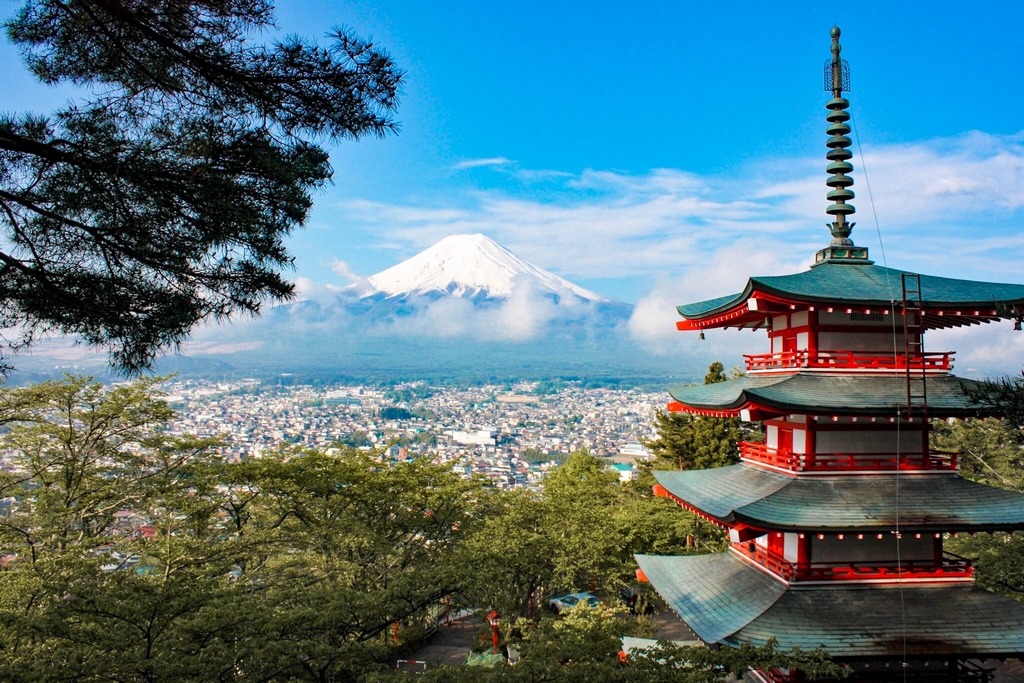 Kyoto (3 days)
After those day trips from Tokyo, it really is time to leave Tokyo and head over to Kyoto. Using the shinkansen, it takes about two and a half hours to get to Kyoto. Due to the number of long train rides, you will be doing following this 3 week Japan itinerary, I'd highly recommend getting a 2 week JR pass. Please check out my Japan Rail pass review for more information and how it can save you a lot of money.
Wondering where to stay in Kyoto for three nights? I recommend staying in downtown Kyoto, as it's close to all the major sights, it's easy to get around, and you can walk to the Geisha district in under 10 minutes. My hotel recommendation is Hotel Resol Kyoto Kawaramachi Sanjo.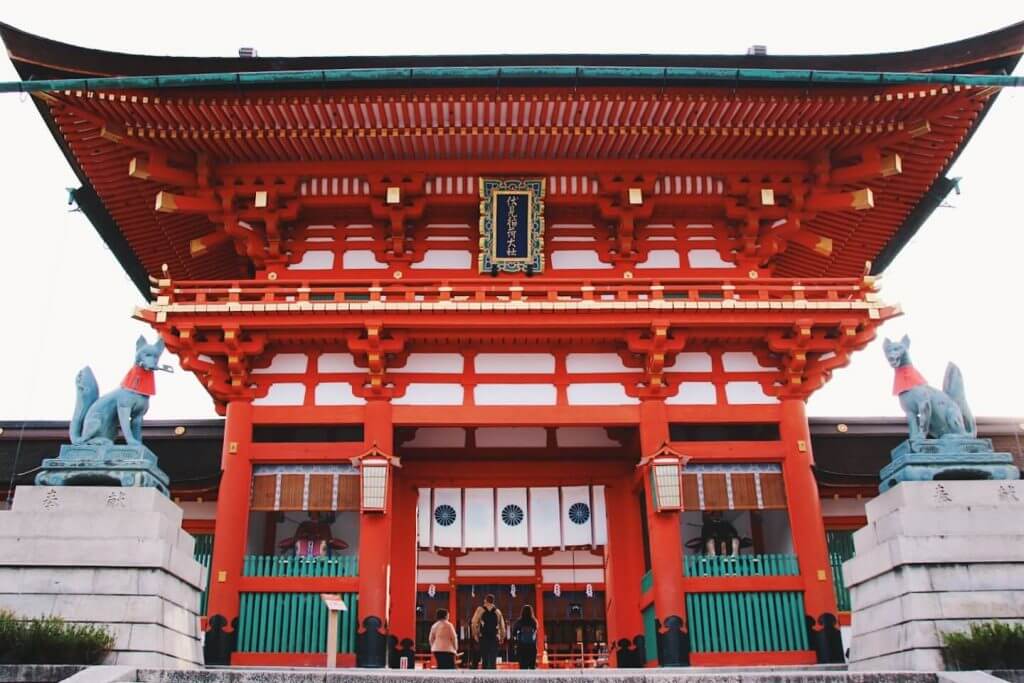 Kyoto represents Japan very well. In a way that the city has such big contrasts between traditional and hypermodernity. From temples that have been there for over a thousand years to skyscrapers in Kyoto's centre.
The first day in Kyoto, I wouldn't plan in too much. You'll be travelling by Shinkansen from Tokyo and check into your hotel. Maybe head into the city centre for a first glimpse of the city – but when travelling through a country for three weeks, it's not a bad idea to take a little rest day.
Because you only really have two full days in Kyoto, I'd recommend seeing the following highlights:
Fushimi Inari Taisha: My personal favourite sight in Kyoto. The thousands of red torii gates that lead you up to Mount Inari – an amazing sight. The hike to the summit of Mount Inari and back takes about 2-3 hours but is totally worth your time. I'd recommend going early in the morning to avoid the huge seas of tourists.
Higashiyama and Gion: After Fushimi Inari, head over to the old geisha districts of Kyoto. Higashiyama and Gion lay next to each other and are filled with the most beautiful old tea houses and shrines. Take the afternoon to walk through the neighbourhoods and stop by several sights as Kiyomizu-Dera, Kodaiji Temple and the Yasaka Pagoda. In the evening, stop by Pontocho Alley to dine in one of the most beautiful streets of the city.
Kinkaku-ji: Start the next day by visiting the Golden Pavillion (also known as Kinkaku-ji). Being one of Kyoto's 17 UNESCO world heritage sites, this gorgeous zen temple has to be on your Kyoto itinerary.
Arashiyama Bamboo Grove: Head over to Arashiyama in the afternoon, where you can find the Arashiyama Bamboo Grove.
Arashiyama Iwatayama Monkey Park: Not far from the Bamboo Grove, you can find Iwatayama Monkey Park. Located on top of a hill, you'll be rewarded with a beautiful view over this part of Kyoto. 120 monkeys roam around the park freely and you can buy little bags of food to feed them (¥100 per bag).
Kyoto Tower: In the evening, grab some dinner in Central Kyoto and stop by Kyoto Tower. Even though it's not as famous as the Tokyo Tower, it's still worth a visit. You can go to the top for ¥770, where you will find a 360 view over Kyoto (which is especially pretty at night)!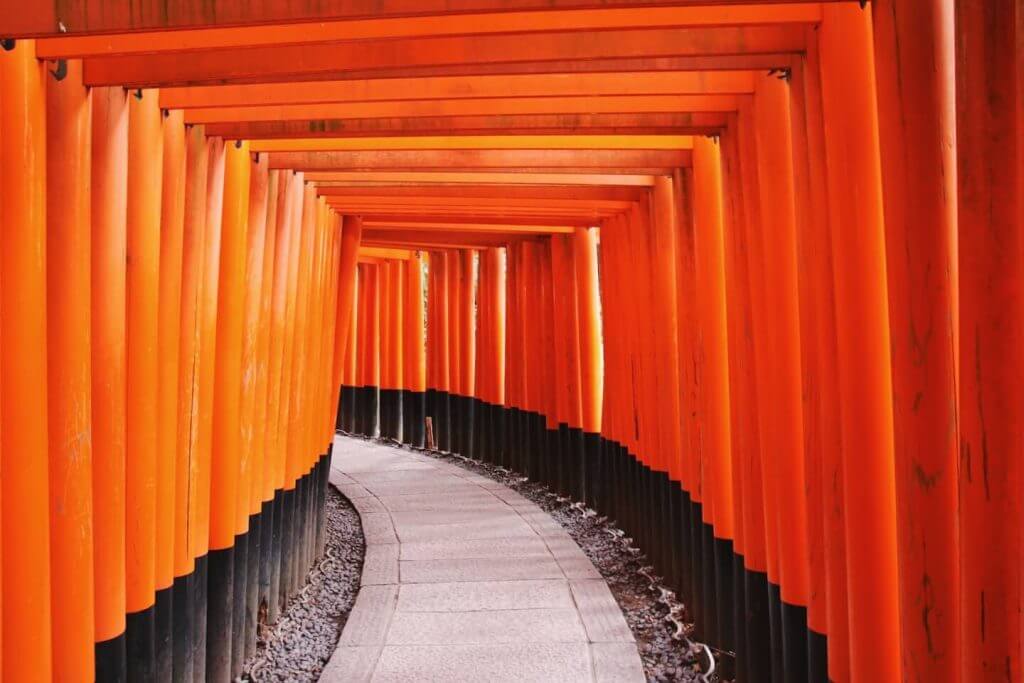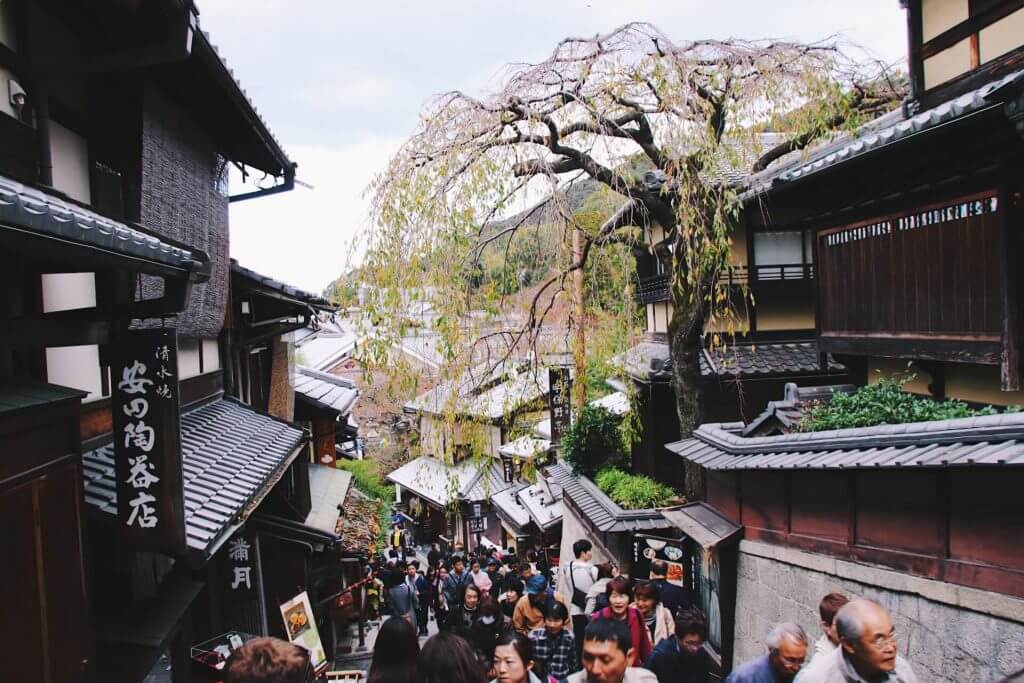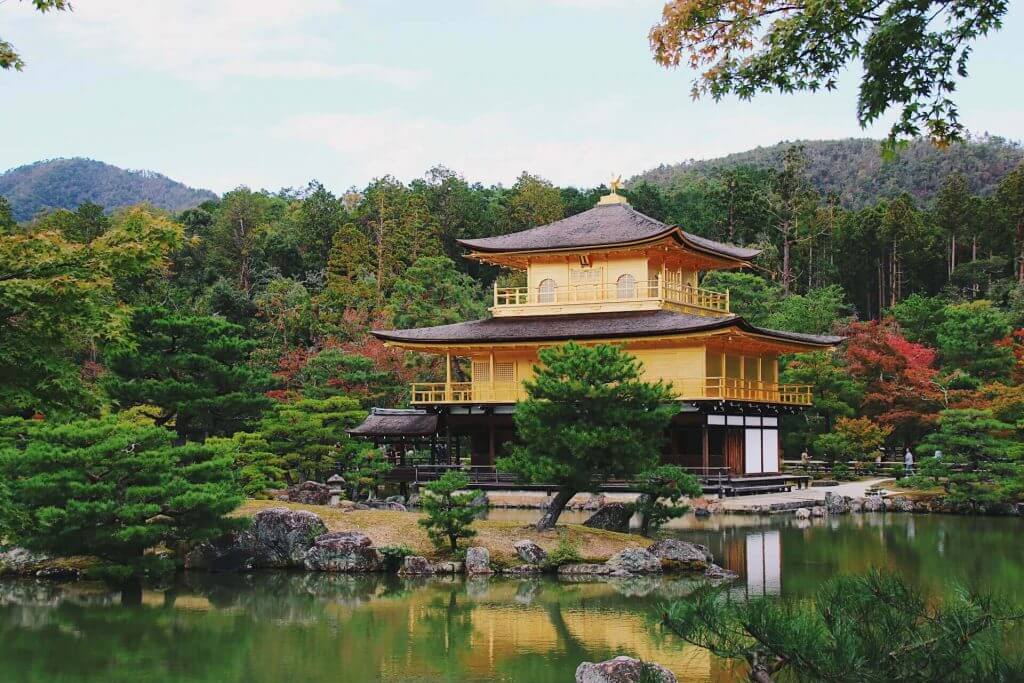 Osaka (2 days)
Using the Shinkansen, head over to Osaka in the morning. You will be staying in Osaka for 4 nights. We stayed in the Sonezaki Luxe Hotel in Osaka and even though it was the cheapest hotel we stayed in, it was also the best hotel we stayed in during our entire trip. Only 5-10 minutes by foot from the train station, lots of things to do around the hotel and a huge room (for Japanese standards). When spending 2 full days in Osaka, make sure to check out:
Umeda Sky Building: Almost next to Osaka's train station, the Umeda Sky Building stands tall. The Floating Garden Observatory is located on the 39th floor for a beautiful view across the city.
Osaka Castle: Osaka's pride and joy, the beautiful Osaka Castle. Inside, you can find a museum to learn more about the history of the castle and how it played a huge role in unifying Japan in the 16th century. Personally, I'm not quite sure if the entrance fee was worth it, but the view from the top was stunning!
Shitennoji Temple: One of Japan's oldest temples is also located in Osaka. When at the temple, also check out the 5-storied pagoda and the Gokuraku-Jodo Garden.
Shinsekai: This Osaka district was developed in the early 1900s and modelled after Paris (as you can see looking at the Tsutenkaku Tower, which resembles the Eifel Tower). It's the perfect place to try some of Osaka's famous street foods such as Takoyaki and Okonomiyaki.
Kuromon Market: Another spot to let your inner foodie live its best life. In this market, you can try tons more amazing dishes. Because Osaka stands so close to the sea, they have some of the best and freshest fish dishes in the whole of Japan!
Minami/Dotonbori: This part of Osaka is filled with life. A sea of neon lights, music and the most amazing smells (street food everywhere!). In this district, you can find the famous Glico Man, the Moving Crab, and Hozenji Yokocho.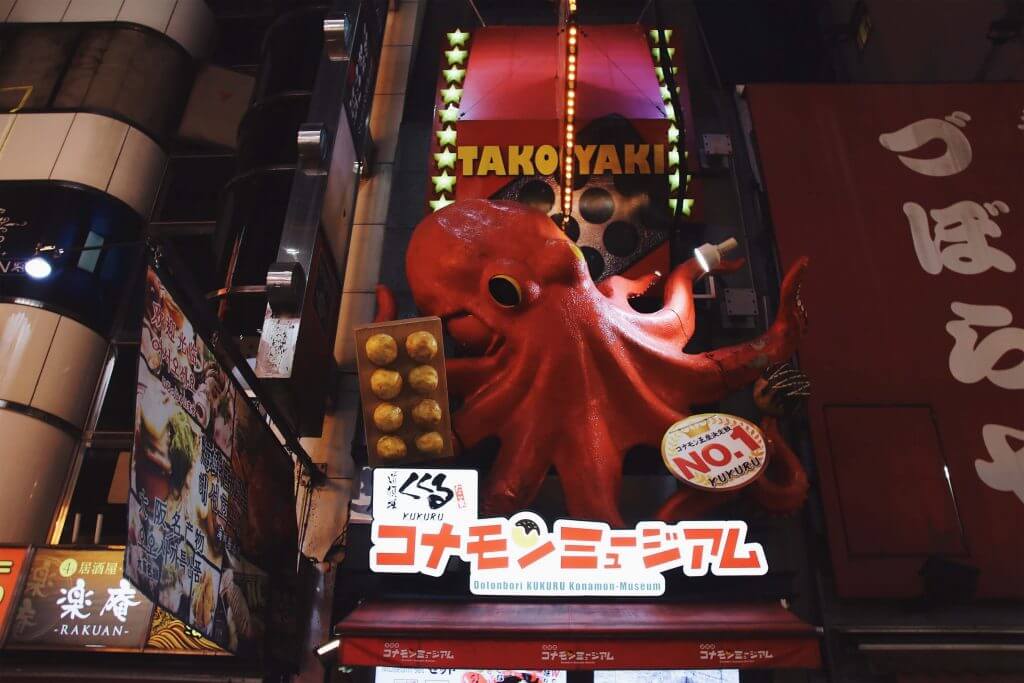 Nara (1 day)
From Osaka, it's super easy to make your way over to Nara for a little day trip. Nara is a city that should not be missed when in Japan, especially if you're in Osaka or Kyoto. This gorgeous little traditional town was Japan's first capital city and hosts 8 UNESCO world heritage sites. Alongside the stunning temples and rich history of the city, Nara is mainly known for its deer park. In this park, 1200 deer roam around freely, posing for pictures and begging tourists for some of the tasty deer crackers that are sold all over the park. When in Nara, make sure to check out the following:
Kōfuku-ji: You can find the first temple of the day just a few minutes from Nara's train station. The Kōfuku-ji temple site includes the country's second-tallest wooden pagoda, the southern Octagonal Halls and the Central Golden Hall. The temple grounds are free to enter, but the temples itself require a small fee.
Isuien Garden: A stunning Japanese garden that dates back to the 17th century.
Todai-ji: The world's biggest wooden structure (and one of Nara's UNESCO world heritage sites), Todai-ji, was one of my favourite sights in Nara. Todai-ji dates back to the year 752 and its size is so incredible. To know that it's made from wood only simply blows my mind. Inside, you can find the world's largest Daibutsu-san (bronze Buddha statue).
Kasuga-Taisha: Another UNESCO world heritage site, the Kasuga-Taisha. Known for its 3000 stone lanterns lining up towards the entrance.
Nara Deer Park: And of course, Nara Deer Park. The icons of the city. You can buy some special crackers to feed them at stands all over the park. One fun thing to try is to bow for them. They've learned to bow back for a little treat 😉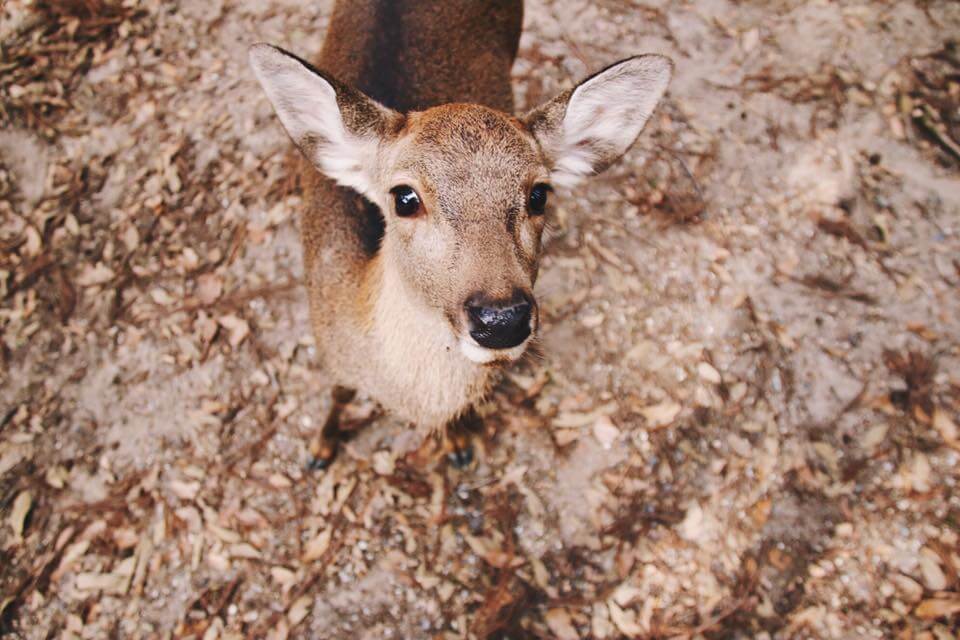 Kobe (1 day)
Another city you can visit for the day from Osaka is Kobe. The harbour town is mainly known for the tasty (and expensive) Kobe beef steak, but Kobe has way more to offer! From Osaka, it takes about an hour to get to Kobe by train – you can use your JR pass for this trip.
Ropeway up Mount Rokko: Taking the cable cart up Mount Rokko gives you a stunning view across Hanshin region (Kobe and Osaka). On top of the mountain, you can find some more things to do such as a botanical garden and an observation deck.
Soraku-en Garden: A traditional Japanese garden in the middle of Kobe. A bit of peace and quiet amidst the busy city.
Kobe Port Tower: Possibly the most iconic Japan landmark in Kobe city, the port tower. With 5 different observation decks, it's definitely worth a visit. You'll be able to see all the way to Osaka on a clear day. As well as the observation decks, you will find many restaurants (including a 360 view restaurant) and shops in the tower.
Nada Sake Museum: You can't leave Japan without trying its popular rice wine, Sake. The Nada district in Kobe is actually Japan's top sake production region. As well as many Sake breweries, you can find some museums here to learn all about this tasty alcoholic drink.
Try Kobe Beef: Kobe's claim to fame has to be its special beef. It is considered to be the tastiest beef on the planet. Only 3000 cattle qualify each year to be considered Kobe beef cows and the animals are raised with extraordinary care. No wonder it's so expensive!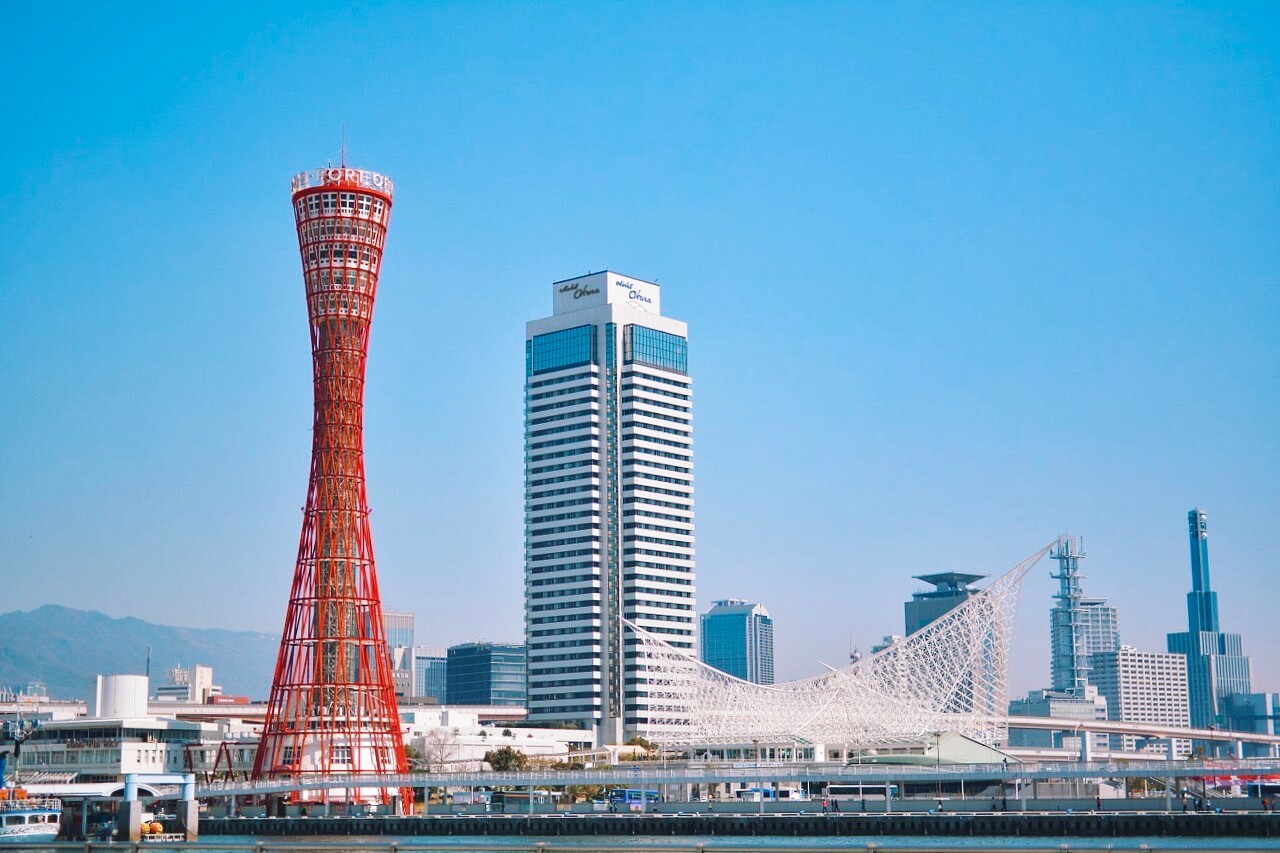 Himeji Castle (1 day)
Today, we leave Osaka and make our way to Okayama, where we will sleep for 2 nights. It takes about one hour and forty minutes to get to Okayama from Osaka. But we make a little stop at the famous Himeji Castle on the way to Okayama.
Himeji Castle is one of Japan's most beautiful castles. Due to its elegant and white appearance, it immediately catches your attention. As the castle has never been destroyed by war or natural disaster, it's one of 12 original castles in Japan.
Okayama (1 day)
Capital of the prefecture that shares its name, Okayama is a transport hub where the Sanyo Shinkansen meets with the railway connecting to Shikoku. Okayama gets more sun than any other part of Japan, claiming the nickname "Land of Sunshine". When spending a day in Okayama, check out the following highlights:
Okayama Castle: Nicknames the Crow Castle due to its black appearance, the Okayama Castle is one of the main highlights of the city. The castle was completed in 1597 after 8 years of building.
Korakuen Gardens: This 300-year-old Japanese garden is one of the three most beautiful gardens in Japan.
Kibiji Cycling Road: This 2-hour bike ride takes you along shrines, farmhouses and the beautiful rural Japanese countryside of Okayama. You can hire a bike at either Bizen Ichinomiya or Soja bike shop. It's a fun and unique way to see this part of Japan.
Hiroshima (2 days)
Hiroshima will forever be connected with the terrible atomic bombing that happened on August 6 1945, killing between 129.000 and 226.000 people. The bomb destroyed nearly everything within a 2-kilometre radius. But rather than being a radioactive wasteland, Hiroshima has been rebuilt into a thriving city. You will be staying in Hiroshima for three nights.
Atomic Bomb Dome: Even though this building was located almost directly underneath the very first atomic bomb dropping in history, it somehow survived. The ruins are now a monument with world heritage status.
Peace Park: Before the dropping of the bomb, the location of the Peace Park was the political and economic centre of Hiroshima. While rebuilding the city, it was decided to turn this place into a memorial.
Shukkei-en Garden: A stunning Japanese garden in the middle of Hiroshima.
Hiroshima Castle: Nicknamed the Carp Castle, Hiroshima Castle was first built in 1589. It was the centre of the city. Unfortunately, it got destroyed in the bombing in 1945. The castle was rebuilt and now hosts a museum where you can learn about Japan's history. On the top, you can find a beautiful panoramic view of the city.
Miyajima Island (1 day)
From Hiroshima, you can make the popular day trip to Miyajima Island. The official name of this island is actually Itsukushima, but it's more widely known as Miyajima (translated to Shrine Island). If you've been using a JR pass to travel around Japan, you can also use this pass for the ferry to get to the island. Once you're on the island, check out the following:
Giant Torii: The "floating" torii gate of Miyajima has been ranked as one of Japan's best three views. At high tide, the torii gate seems to be floating, but when the tide is low, you're able to walk next to it. A fun way to see the torii gate up close is to hire a kayak and paddle your way towards it.
NOTE: Constructions to the giant torii gate in Miyajima has begun in June 2019 and is expected to take about a year. During the renovations, you can't be able to see the torii gate.
Itsukushima Shrine: The pride of the island has to be the Itsukushima Shrine. Built over water in the year 593, the shrine seems to be floating above the water surface. It has been listed as a UNESCO world heritage site. The entire island has a long history with the Shinto religion, which is seen back in this old but beautiful shrine.
Five-storied pagoda: This beautiful pagoda was built in 1407 and restored in 1544. With notable Chinese influences, this is one absolutely stunning building.
Daisho-in Temple: Even though this temple isn't as well known as the Itsukushima Shrine, it is definitely worth visiting. 500 statues with unique facial expressions are lined up towards the entrance of the temple and inside the Henjokutsu cave, you will find a dimly lit room with a ceiling full of lanterns. It's a magical sight.
The Ropeway: For some amazing views, check out the Miyajima ropeway. This cable cart takes you up Mount Misen, where you can find some more temples to visit. But the main reason to check out the ropeway is to enjoy the stunning views from the cable cart over the Selo Sea.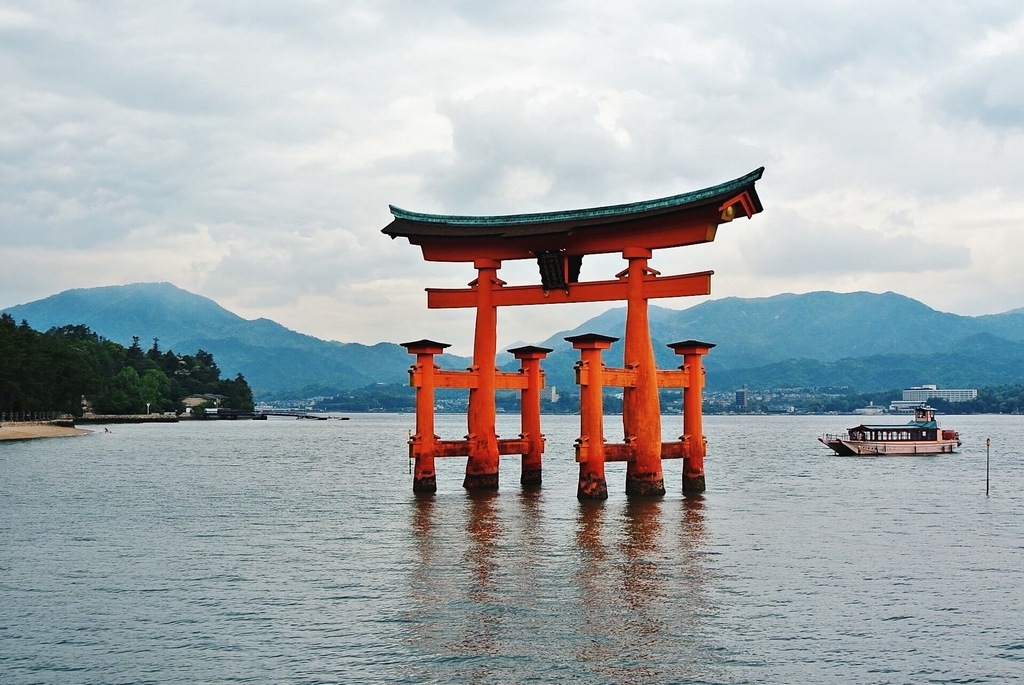 After this day trip to Miyajima island, enjoy one last sleep in Hiroshima. The following day, it's the end of this 3 week Japan itinerary. Make your way back to either Osaka or Tokyo for your flight home. I'd definitely check if you're able to fly back from Osaka, as it's much closer to Hiroshima compared to Tokyo. I hope you enjoyed this Japan itinerary and that it has helped you plan your own trip to Japan! Please check out the following tips and tricks to make your three weeks in Japan even more amazing.
Best times to visit Japan
When planning your three weeks in Japan, the time of year obviously plays a huge role. Depending on what time of year you go, the prices will change and some highlights may be busier than expected. I would personally always recommend going in the autumn because it's a lot cheaper and quieter while the temperatures are still lovely. But here are the pros and cons of each season in Japan.
Spring
Pros of visiting Japan in spring: The iconic cherry blossoms will be in full bloom. What's more Japan than seeing the sea of pink across the cities and parks? The weather will also be lovely and mild – perfect for travelling around!
Cons of visiting Japan in spring: You won't be to only one looking to enjoy the sakura… Spring in Japan tends to get quite busy. And when it's busy, the hotel prices go up too!
Summer
If you're bound to travel in the summer due to school or work, I have no doubts that you'll still have a wonderful time in Japan. But if you can avoid summer, please do so! Summer is the tourist high season in Japan. Alongside the heat, the humidity and typhoon season – it's best avoided.
Autumn
Pros of visiting Japan in autumn: I ADORE Japan in autumn. The leaves are coloured beautifully, the temperature is mild and pretty perfect for travelling around and it's not very busy. Autumn is a lot quieter and therefore cheaper in Japan compared to spring and summer.
Cons of visiting Japan in autumn: You'll miss the popular cherry blossoms, but I think that the autumn leaves kinda make up for that!
Winter
Pros of visiting Japan in winter: Winter is by far the cheapest and most quiet time to visit Japan. Not many people tend to go there on holiday during this time (apart from going skiing in Sapporo etc.).
Cons of visiting Japan in winter: It is COLD. If you're planning to travel to Japan in winter, make sure you pack a lot of warm clothes.
Japan Travel Essentials
There are a few things you need to know BEFORE going on your trip to Japan. Sorting these things out before your trip will save you a lot of hassle. For a more in-depth guide to Japan, check out my everything you need to know before going to Japan tips blogpost.
Japan Rail Pass
If you're planning to follow this 3 week Japan itinerary, I'd highly recommend getting a JR pass for 2 weeks. This will save you so. much. money! Trains in Japan are amazing. They are on time, they're fast, they're clean. But they are also pretty expensive. With the JR Pass, you can travel on any JR line for the duration of your pass. Considering how much it would cost to buy individual tickets (especially for the last 2 weeks of this itinerary), you'd be spending almost double.
You have to book your Japan Rail Passes before you arrive in Japan. You can check out my Japan Rail Pass Guide for more information about how it works and how to order them.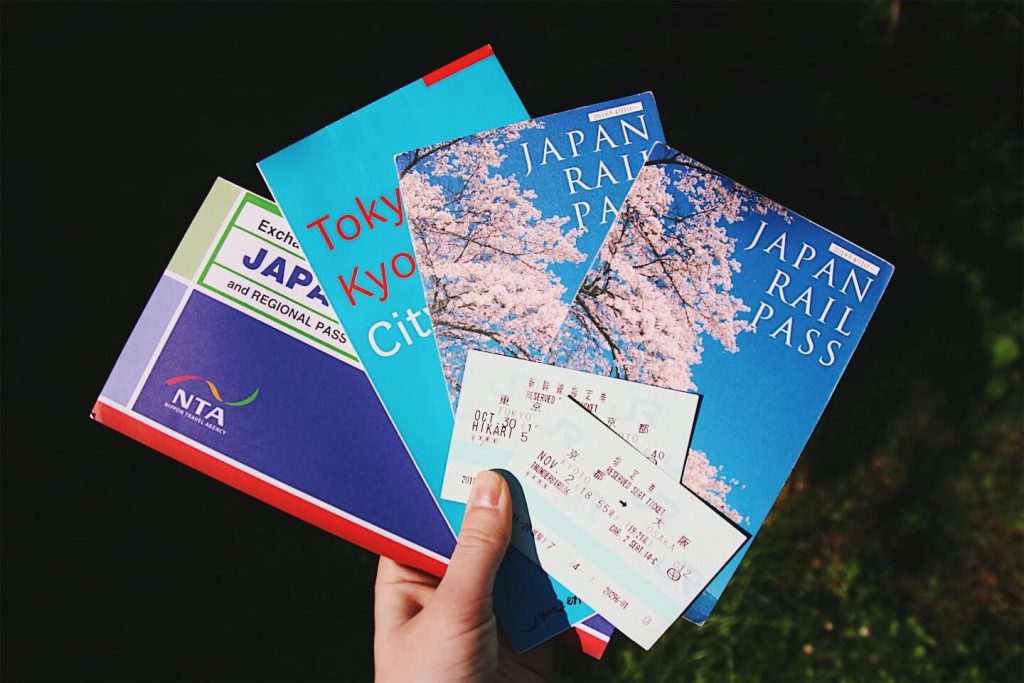 Pocket Wifi
Instead of having to buy a SIM card in Japan and spending tons of money on it, order a Pocket Wifi before your trip. This little device gives you access to the internet everywhere in Japan. Charge it at night in your hotel room and pop it in your backpack during the day. Staying connected during your Japan trip isn't just important for updating your social media, but it's an absolute lifesaver when it comes to Google Maps and simply Googling some more information about the places you're visiting. You can get one from Japan Wireless for £75 for 21 days.
International Money Card
The currency in Japan is the Japanese Yen (JPY, ¥, 円). Rather than having to guess how much you're going to spend and exchange it before you go to Japan (and pay a huge fee doing so), get an international money card instead. These types of cards also aren't connected to your bank account, so if you'd lose it, you wouldn't have to worry about someone emptying your entire savings account. You simply top them up whenever you run out of cash. If you're in the UK, I'd recommend getting one with Monzo. If you're outside the UK, go with Transferwise. Using one of these cards allows you to pay the daily exchange rate without any extra fees!
2 weeks in Japan instead?
If you don't have three weeks to spend in Japan and want to go for two weeks instead, you can totally do that. You can either decide to cut down this itinerary to one that fits your time schedule better. Or you can check out my 2 week Japan itinerary. This itinerary takes you from Tokyo to Kyoto, Osaka and Nara.
3 weeks in Japan Itinerary – Conclusion
That concluded my three weeks in Japan recommended itinerary. I hope it has helped you plan an efficient and very exciting stay in this wonderful country. I, for one, can't wait to visit again!
Save for later…