Osaka may not be as popular as Kyoto or Tokyo, but it's a city that should definitely be on your list when visiting Japan. Located in the Kansai region, Osaka is only a short train ride away from Kyoto. This ocean city is mainly known for its fresh fish, delicious street food and amazing nightlife scene. There is much to see in Osaka, enough to fill days on end! But this one day Osaka itinerary shows how to see the best spots in the most efficient way in under 24 hours.
The Perfect One Day Osaka Itinerary
Kita/Umeda District
As the main train station in Osaka (Osaka JR train station) is located in the Kita/Umeda district, our day in the city starts here. This part of Osaka is also known as the "day-time heart of the city", due to all the transport and business hubs that can be found here. Kita is the Japanese word for "North", and later we'll check out the Southern heart of the city.
Many hotels are also located in this part of town. During our trip to Osaka, we stayed in the Sonezake Luxe Hotel (more on that later). Inside Osaka JR Train Station, you can find lots of shops and restaurants too. Including Osaka's Pokemon Centre.
Umeda Sky Building
Start your day in Osaka by visiting Umeda Sky Building. This observation deck on the 19th tallest building in Osaka gives you a spectacular view over the city. It's located close to Osaka Station, which makes it the perfect start of your day after having arrived in the city. The Floating Garden Observatory is located on the 39th floor.
Opening hours: Mon-Sun 9:30 AM till 10:30 PM
Entrance fee: ¥1500
Osaka Castle
One of Osaka's most famous landmarks: the beautiful Osaka Castle. From Osaka Station, take the subway to Osakajokoen station. It takes around 10 minutes. From there, you can walk to the castle.
Osaka Castle played a major role in unifying Japan back in the 16th century. You can learn all about its history inside, where you can find a museum dedicated to the building. Personally, I didn't think the museum was really worth ¥600, but maybe the heat and the crowd played a role in that. I did enjoy the view from the top of the castle though! If you're trying to do Japan on the cheap, you might want to skip going inside.
Make sure to take some time to walk inside the castle gardens and check out some of the food vendors that have lined up outside the castle. It's a great place to try some of Osaka's famous dishes such as takoyaki and okonomiyaki.
Opening hours: Open every day from 9 AM till 5 PM (closed from December 28th till January 1st).
Entrance fee: Visiting the castle park is free, entering the museum costs ¥600.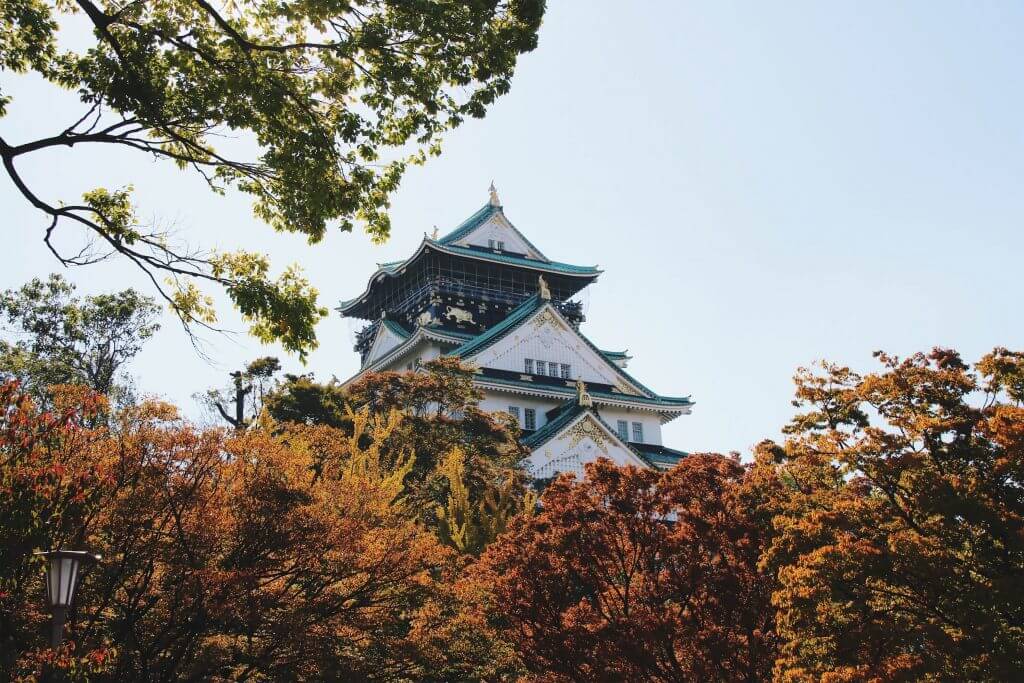 Shitennoji Temple (Tennoji District)
Next on the list is Shitennoji Temple. This is one of Japan's oldest temples. To get there, take the subway to Osaka-Uehommachi station. From Osaka Castle, this should take around 10 minutes.
Shitennoji was established in the year 593 by Prince Shotoku. He was one of the people that helped to guide Buddism into Japan. Inside the main hall, you can find the Prince's shrine. When visiting this beautiful temple, make sure to have a look inside the 5-storied pagoda and the Gokuraku-Jodo Garden. It's free to visit the outsides of the temple but a small fee is requested for visiting the gardens and the main hall.
Opening hours: Mon-Sun 8:30 AM till 4:30 PM
Entrance fee: ¥300 to visit the gardens and the inside of the temple
Shinsekai
From the Tennoji District, take the subway to Ebisucho Station. From there you can walk to Shinsekai – the next stop in this day trip itinerary. Skinsekai is roughly translated into "New World". This district in Osaka was developed in 1903 during the National Industrial Exposition and was mainly inspired by the France capital of Paris. Tsutenkaku Tower is probably one of the district's most iconic sights, which is modelled to look after the Eiffel Tower.
In Shinsekai, you can find many shops and the most amazing street food stands. It's the perfect place to grab some Osaka speciality dishes like kushikatsu. If you haven't had time to visit the observatory deck in Umeda Sky Building, you can still look across Osaka from the Tsutenkaku Tower.
Opening hours Tsutenkaku Tower: Mon-Sun 9 AM till 9 PM
Entrance fee Tsutenkaku Tower: ¥700
Kuromon Market
If you haven't had enough street food and snacks in Osaka yet, I'd recommend visiting Kuromon Market. This covered public market is similar to the Nishiki Market in Kyoto. Stretching out over 600 meters and home to 150+ shops, Kuromon Market is THE place to be for foodies in Osaka. You can find all the city's speciality dishes, traditional sweets and snacks here.
Opening hours: Mon-Sun 8 AM till 6 PM
Minami / Dotonbori
In the evening, we explore Minami District. Located right outside of Namba station, Minami is the heart of Osaka's nightlife. Minami means "South" in Japanese, indicating that this is the South heart of the city. The sea of neon lights, music and fresh street food is a little overwhelming at first, but it's something to get used to pretty quickly. You can find the famous Dotonbori street here too.
Glico man: This famous sign was first installed in 1935 and has been altered six times since. It's such an iconic picture of Osaka's brightly lit Minami district – a must-see when visiting this part of Osaka.
The Moving Crab: Another Dotonbori icon, the moving crab. Above the Kani Doraku restaurant on the main street in Minami, the crab cannot be missed.
Shop in Shinsaibashisuji: One of Osaka's largest shopping centres/arcades. You can find more western shops here like H&M and Zara.
Hozenji Yokocho: Just a few minutes away from the light neon lights of Dotonbori, you can find the Hozenji Yokocho street. This little alleyway leads to Hozenji Temple and transports you right back in time. It has a lovely atmosphere and it feels like the entire city used to look like this a few hundreds of years ago. You can find some restaurants on this street, too.
As you might have noticed in the rest of this itinerary, Osaka is BIG on street food. Dotonbori is the perfect place to try some of these beautiful dishes. After having had something to eat, you can send some more time shopping, in one of the many arcades or finding a bar and try some Japanese sake.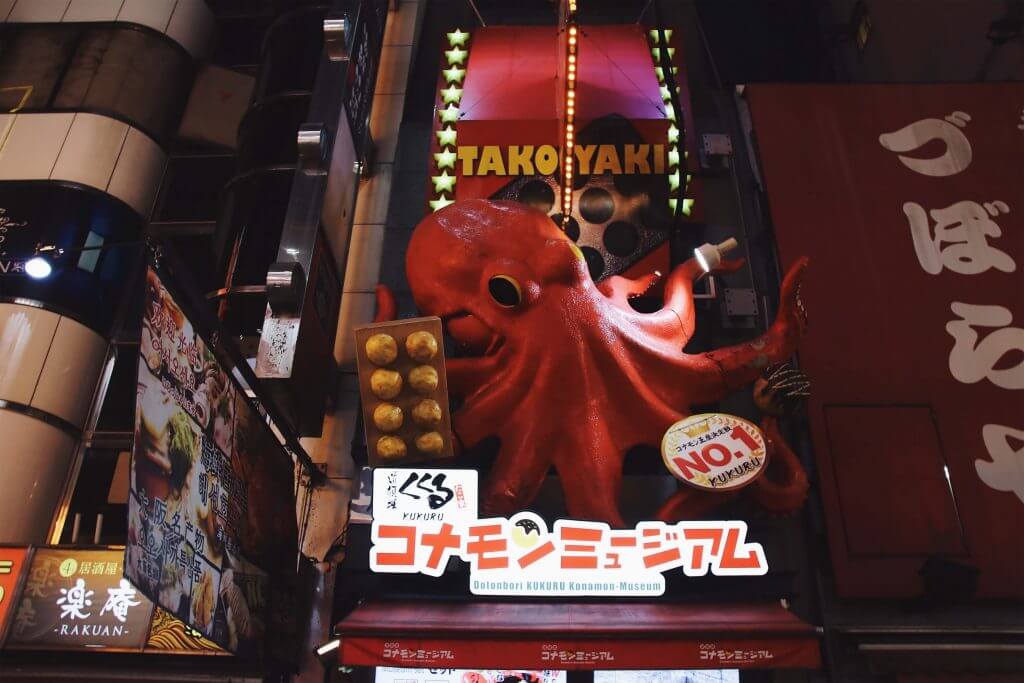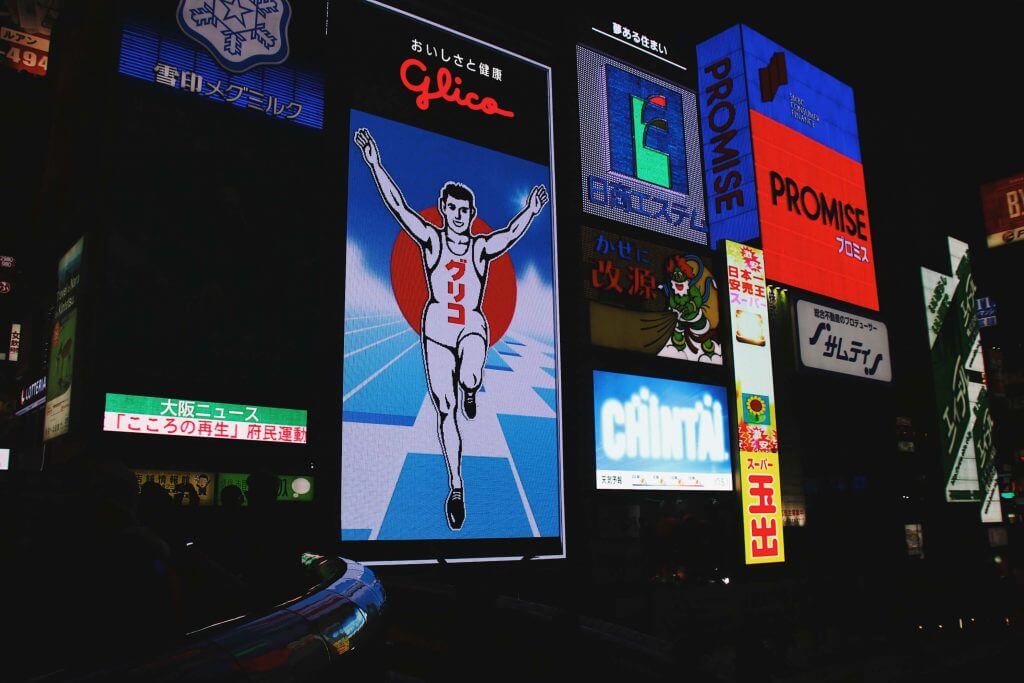 2 days in Osaka or more?
Osaka is a large city and seeing all its highlights is almost impossible in one day. Of course, this all depends on your full Japan itinerary. If you have dedicated more time to explore Osaka, here are a few things you might want to add to your plan:
Universal Studio Osaka
Japan's Universal Studios is located in Osaka. This is one of the four Universal Studio Parks in the world. Filled with amazing rides, this theme park acts as a perfect day out. Universal Studios is divided into nine districts, including "Hollywood", "The Wizarding World of Harry Potter" and "Jurrasic Park". Currently, the park is expanding and adding a "Super Mario World" to the park which will open in 2020. The park is located near the Osaka Bay Area and can be reached by getting the subway to Universal City Station.
For more information, you can check out this Universal Studios Osaka guide or visit their official website.
Osaka Bay Area and Aquarium (Kaiyukan)
In the Osaka Bay Area, you can find many awesome things to do. Including the popular Osaka Aquarium (Kaikykan). With 15 tanks filled with the most beautiful marine life, this aquarium is pretty impressive. The main attraction is the Pacific Rim Tank. This tank is nine meters deep!
Day Trips from Osaka
Osaka is located close to a few other cities that can act as a perfect day trip. Because it's relatively cheap to stay in Osaka compared to nearby cities as Kyoto, getting a hotel in Osaka for a few days and making a few day trips is something that I'd highly recommend. You can check out this guide to 13 best day trips from Osaka. Here are a few cities to consider:
Osaka to Nara Day Trip
Possibly one of Japan's most popular day trips is taken to Nara. A little city located just 50 minutes outside of Osaka (by train). Nara is known for its famous deer park, where 1200+ deer roam around freely. You can buy some crackers to feed them and they have learned to bow to thank you! If you need any help planning a day trip to Nara, you can check out my one day Nara itinerary.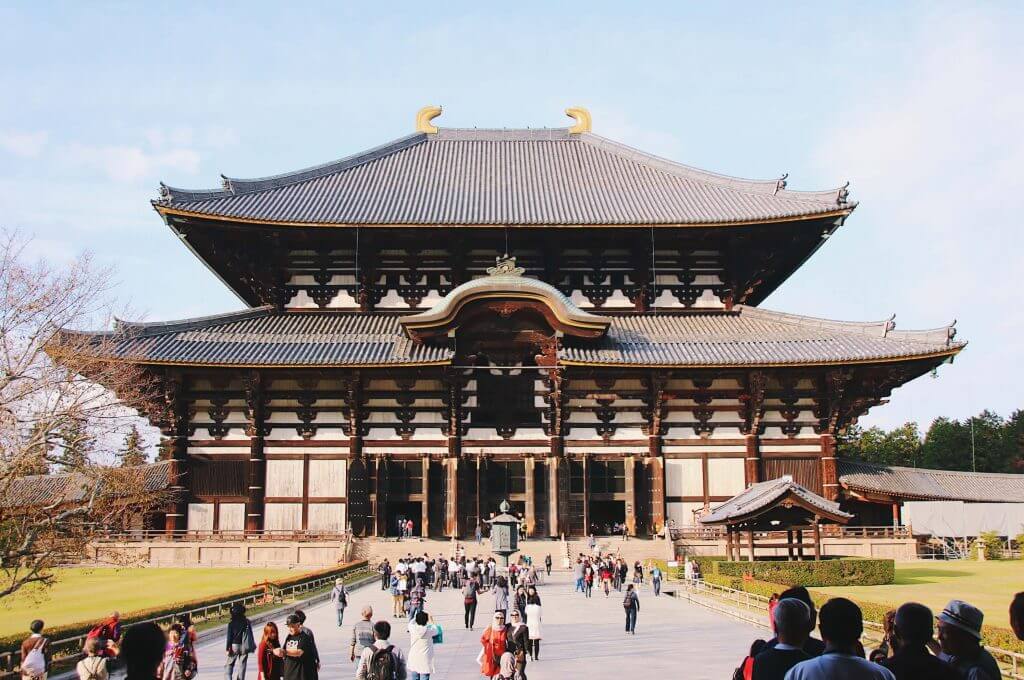 Two train lines connect Osaka and Nara: The JR Yamatoji Line and the Kintetsu Nara Line.
From Osaka Station, you can use the JR Yamatoji Line if you are using the JR Pass to travel by train. It will take around 50 minutes to get to Nara and will cost ¥800 if you're not using the JR Pass. If you're not using the JR Pass, I'd recommend using the Kintetsu-Nara Line to travel to Nara. This only costs ¥560 and will get you to Kintetsu-Nara Station which is located closer to the city compared to Nara JR Station.
Osaka to Kyoto Day Trip
Kyoto is another famous city to visit in Japan. Known for its many shrines, temples where geishas dance and hold tea ceremonies. This city is a must-visit for first-time Japan visitors, especially if you're already in Osaka! From Osaka, it only takes 15-30 minutes to get to Kyoto. To find out what to do in Kyoto, you can check out my 2 day Kyoto itinerary.
The shinkansen takes you to Kyoto from Shin-Osaka station in only 15 minutes. This ticket will cost you ¥1420, though. If you want to save a bit of money, you might want to take the JR Line from Osaka to Kyoto for ¥560 (or free if you're using the JR Pass).
Osaka to Kobe Day Trip
Japan's sixth-largest city is often missed by first-time visitors, but Kobe is definitely worth visiting. Known for the special Kobe Beef and located only 25 minutes by train from Osaka (using the JR Special Rapid Service), a trip to Kobe might be the perfect addition to your Japan itinerary.
How to get to Osaka?
By plane: Osaka has its own international airport called Osaka's Kansai International Airport. It's one of Japan's biggest airports and is often used to fly to by foreigners when visiting Japan for a holiday. If you're looking at flights to Japan, it might be worth checking how much flights to Osaka costs rather than only looking at one of Tokyo's airports. It might save you a lot of money!
By train: The easiest and fastest way to get around Japan is by using trains. The bullet train can take you from Tokyo to Osaka in 2 hours and 30 minutes. By using the JR Pass, you can save yourself a lot of money. To find out more about this pass, you can read my JR Pass Guide.
How to get around Osaka?
Using the metro/subway is definitely the easiest, fastest and cheapest way to get around Osaka. You can use one of Japan's smart cards (Suica/Pasmo). These can be bought and topped up with money at any station. When using public transport, you simply tap in and out at your stations and the correct fee will be taken off automatically. Alternatively, you can buy a one-day metro card for Osaka. This gives you unlimited access to the metro for the entire day.
Where to stay in Osaka?
Even though you might be sightseeing in Osaka for one day, staying in Osaka for a few more days can be very beneficial. Especially because other cities as Kyoto and Nara are so close, sleeping in the same hotel for a few nights avoids you having to carry your suitcases around everywhere you go.
I'd recommend staying in the Kita district, mainly because it's close to the train station. Especially if you're only visiting Osaka for a day and continue to explore other cities while staying at the same hotel, you want to avoid staying near Minami.
Sonezaki Luxe Hotel
During our trip to Osaka, we stayed in the Sonezaki Luxe Hotel. I would 100% recommend staying in this hotel. Only 5-10 minutes by foot from the train station and very affordable. It was by far the best hotel we stayed in during our trip to Japan and also the cheapest! It's very quiet outside the hotel, even though there is a busy street filled with restaurants, bars and arcades just around the corner.
What & Where to eat in Osaka?
Osaka's local cuisine is on point. There are so many specialities to try when visiting this seaside city, many made with fresh fish. Here is a list of some dishes you should definitely try when in Osaka! Most of these can be found all across the city.
Takoyaki
This is probably Osaka's most famous type of street food. There are over 650 takoyaki restaurants in the city! Takoyaki is a fried doughy snack filled with octopus. They are served with some Japanese mayonnaise, takoyaki sauce and bonito flakes.
Okonomiyaki
This is a Japanese-styled savoury pancake. Usually, the pancake is grilled and then topped with a variety of ingredients. Ingredients can differ from cheese and squid to tomato and pork. The name of this dish is literally translated into "grilled stuff that you like".
Taiyaki
A Japanese fish-shaped dessert cake. Get it with different types of filling. My personal favourite and most common filling: red beans! This snack is the perfect sweet bite for after your meal.
Aquarium Bar Kind
One place to check out when in the Kita district of Osaka is Aquarium Bar Kind. A bar filled with fish tanks and the most lovely owners. Because of our tight time schedule, we only had one day in Osaka which made us miss the famous Osaka Aquarium. This bar looked like a cute little alternative. The owner was incredibly friendly, showed us tons of his fish and taught us how to drink sake properly. You can really see how much the owners care about their fish and their wellbeing. Plus, it's awesome to support some local business while travelling!
Osaka Travel Essentials
Hyperdia: Using Osaka's subway or other public transport doesn't have to be difficult. You can use the Hyperdia app or website to type in your current station and destination, and the app will tell you exactly what train to take, at which platform to find it and how long it will take to get to your destination. Plus, it's all in English!
Japan Rail Pass: If you're planning to travel to other cities inside of Japan, you might want to get a JR Pass. This pass allows you to travel freely on any JR train line, which includes many train lines in between bigger cities. You can also use it on the shinkansen between Kyoto and Tokyo! To find out whether the JR Pass is worth your money during your trip, check out my Japan Rail Pass Guide.
Pocket WiFi: This little portable WiFi device was a lifesaver when we travelled through Japan. It connects you to the WiFi wherever you are. This is especially handy when you use Google Maps or Hyperdia while exploring Osaka.
Finish your Japan itinerary
For some more information about Japan to finish your entire Japan itinerary, you can check out more Japan-related posts under the Japan Tag. Posts include our entire two week Japan itinerary, a budget breakdown of your trip to show you if Japan is expensive or not, and many other itineraries for cities like Kyoto and Tokyo.
Save for later…