Japan is known for many things. Sushi, sumo wrestling, calligraphy, karaoke and of course, kimonos. These beautiful and iconic robes come in countless eye-catching colours and patterns. What if I tell you, you can wear one when you're in Japan! And renting a kimono isn't even that expensive. When we travelled through Japan for two weeks, we rented a kimono for the day in Kyoto. Today, I'm sharing my experience and some tips in case you ever want to do the same thing.
What is a kimono?
The kimono is probably one of Japan's most famous products. The word "kimono" is literally translated to "something to wear". Traditionally, these beautiful robes were hand sown into the classic T-shape. Made of silk fabric, the kimonos were dyed with stunning colours and embroidered with symbols and pattern to match the owner's personality.
These iconic pieces of fashion are worn at ankle length and the long sleeves fall against the wearer's hips (or even to the ground, depending on the type of kimono). Kimonos are tied with a sash called Obi. The Obi is tied into a knot at the back, keeping the kimono tightly together.
When do the Japanese wear kimono?
Kimono used to be the general form of clothing worn by the Japanese. This started to change during the Meiji Era (1868-1912). Japan saw influences from western fashion like suits and dresses and started to implement these into their own culture. The kimono is now worn during more special occasions such as weddings, graduation ceremonies and festivals.
What types of kimono are there?
There are quite a few different types of kimono out there. It all depends on the style, the colour, the fabric and pattern. The most common types of kimono that are hired out are regular Kimonos and Yakuta.
Yakuta are casual kimonos made from light, cotton fabric and are a lot easier to move around in due to their lighter weight. They're perfect for warmer months. If you're planning to do a lot of walking while wearing your kimono, a yakuta might be the right option for you. Because this style of kimono is usually only worn in summer, you can only rent them if you visit during the summer months. You can find more information about the differences between a yakuta and kimono in this article.
Where to rent a kimono in Kyoto?
There are countless places to rent kimonos from in Japan. Whether you're visiting Tokyo, Kyoto, Osaka or another city – there will be a place to hire one. It's quite common for tourists to rent a kimono for the day, you'll see lots of them walking around. A quick Google search will give you the best prices and most reviewed rentals around you.
We decided to go with a company called Yumeyakata in Kyoto. I was recommended this shop by a friend of mine who visited Japan a couple of years ago. Yumeyakata's kimono rental is located not far from the ancient geisha districts, Gion and Higashiyama. From Gojo Station, it's about 3 minutes on foot.
What is the experience like?
I had never worn a kimono before this rental experience and I was a little bit intimidated! But the lovely staff at Yumeyakata made the entire experience super easy and I didn't feel uncomfortable at all. We arrived at the store at 10 AM and showed our reservation at the desk. One of the staff members then showed us to their kimono collection.
Picking our kimono
The shop has over 500 beautiful kimonos to choose from, plus hundreds of colourful obis and accessories. One of the staff members showed me the aisle I could choose from. Kimono sizes all depend on your height, and because I'm quite tall, I was guided to the 170+cm kimonos. It was definitely a challenge to decide which one I wanted to wear because there were so many to choose from. I wasn't quite sure what colour obi fitted with the colours of my kimono, but a staff member helped me pick a fitting one.
Getting dressed
At Yumeyakata, you are dressed by a professionally qualified kimono dresser. After choosing our kimono and obi, we were guided upstairs. Men and women are dressed on different floors, for privacy reasons.
One of the dressers came up to me and I handed my kimono and obi to her. She didn't speak English and my basic Japanese was nowhere near good enough to speak with her either. But with some hand gestures and smiles, we got there. She was very patient with me and made sure I was comfortable at all times. I had no idea a kimono had this many layers and parts to it. The folding techniques that were used were incredibly fascinating to look at.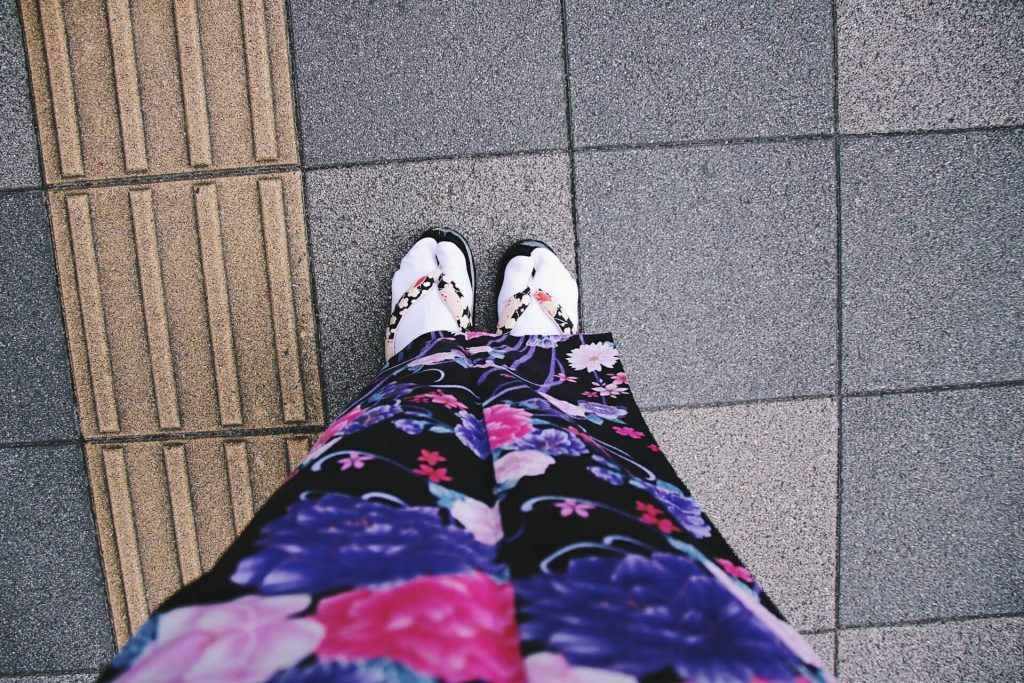 After I was dressed, I was given a little handbag for my phone and other valuable items that I didn't want to leave at the store. My clothes and backpack were stored safely in the back. I then was send back downstairs, where I got to pick some traditional Japanese socks and sandals to complete to look.
Richard was already waiting downstairs, wearing his kimono and we spent the next two hours walking around the area. The kimonos are definitely not the easiest pieces of clothing to walk around in if you're not used to them. It was, however, really fun to explore some parts of Kyoto wearing Japan's traditional clothing. We even got some compliments from people we met during our little walk.
Returning the kimono
Even though we rented the kimonos for the entire day, we only wore them for a couple of hours. Because we had planned to walk through Higashiyama and Gion during the afternoon, and my lacking skill of being able to move properly while wearing kimono, we decided to bring them back right after lunch.
When we returned to the shop, the same lady that dressed me also helped me undress. I was given my clothes back and got dressed in the back of the room.
How long did it take it put on the kimono?
From walking into the rental place until walking out of it wearing a kimono took about an hour. It took roughly 20 minutes to pick the kimono and obi, then another 20 to get dressed and a few more minutes in between everything. It definitely didn't feel too long or tedious, especially because it was our first time.
After returning the kimono, undressing took a lot less time. In about 5 minutes, they had taken off my kimono and I was able to put on my own clothes again.
How much does it cost to rent a kimono?
It obviously depends on what company you're renting from, how long you're renting the kimono for, the type of kimono and what extras you want to purchase. Usually you can find all the prices listed on the website of the company you want to rent from.
We paid ¥5000 (£34 / €38) for two kimonos to rent for a full day, but you can rent kimonos for as cheap as ¥1900 (£13 / €15). It's worth checking if the shop has any discounts or deals on. We got a ¥1000 discount because we rented two kimonos as part of a couples deal.
Cultural appropriation?
Wearing a kimono as a foreigner is a really unique and fun experience, and after having done it myself, I definitely feel more "connected" to the Japanese culture. One worry I had before booking this experience was what the locals would think of it. I obviously didn't want to insult anybody or start a conversation online about cultural appropriation. Which is why I've done my research!
Of course, I cannot speak for an entire nation or for a culture that I am not a part of, but from what I've read on forums about the topic, I'm quite confident to say that the Japanese are very accepting of foreigners wearing kimono. It's exciting to see foreigners engage appropriately with their culture and appreciate this form of art. While we walked through the streets of Kyoto wearing kimono, a lot of locals smiled at us and were incredibly friendly towards us. No sneers or weird looks, which makes me believe these forums were absolutely right.
Here are the Reddit and Quora threads that gave me a lot of helpful insights on the topic, in case you'd like to read the replies for yourself.
Things to keep in mind
Renting and wearing a kimono wasn't something we had done before visiting Japan, and there are some things we had to keep in mind! Here are some things that we noticed or found useful when renting our kimonos in Kyoto.
1. Early slots might cost extra
It is common for kimono rental shops to charge extra for early appointments. Usually, if you want to pick an appointment before 10 AM, you will get charged an additional fee. Of course, this means that you get to wear your kimono for longer, but if you're planning to only wear it for a few hours, it might not be worth it.
2. Don't take anything more than necessary
Because you'll only get given a small bag for your phone, purse and other valuables, don't take anything more than necessary. This is difficult if you're on a trip through Japan, but keep in mind that you will have to leave everything else at the shop. Of course, they will do their best to keep it safe, but better to be safe than sorry.
3. Use the bathroom before putting on a kimono
Needless to say, going to the bathroom while wearing a kimono ain't the easiest thing to do. It's better to avoid it by using the restroom before your appointment at the kimono rental.
4. Wear easy clothes
Plan your outfit accordingly! Make sure you wear something that's easy to take off and put on. It saves a lot of time and hassle for the dresser and yourself.
5. Be careful with "flipped" selfies!
Kimonos are worn in a very specific way. The collar of the kimono is worn left-over-right. In Japan, the dead are dressed for their funeral in kimonos with a collar worn right-over-left. Because selfie cameras often "flip" the image, please be careful that your kimono doesn't look like the collar is worn right-over-left!