Last Updated on December 8, 2021
Is Japan expensive? How much does a trip to Japan cost for 2 weeks? Here is a transparent budget breakdown for my two week trip to Japan. Along with some tips on how to do Japan on the cheap.
Before I travelled to Japan for the first time, I had no idea how much two weeks in Japan would cost from the UK. I saved as much money as possible, so I wouldn't have to miss out on anything while I was there. Turned out, it cost less than I expected!
To give you a better idea, I've broken down all my costs into flights, accommodation, transport, food, souvenirs, attractions and extra costs. Plus some tips on how to cut the costs on certain things in Japan.
So, let's dive in… Is Japan expensive?
If you're wondering what we did in Japan, check out my two week Japan itinerary.
*The Navigatio uses affiliate links. If you make a purchase through these links, I will receive a small commission at no extra cost to you. Thank you!
Flights – £468.57
£468.57 per person: return flights
If you're looking to save money on flights, you'll need to do a little research. Flights to Japan tend to get pretty expensive, but they don't have to cost you thousands of pounds. We managed to get a return flight to Tokyo for as little as £468.57. Here's how we got them this cheap:
Book your flights as early as possible! We booked our flights 8 months before our trip, and we watched prices shoot up afterwards. Some people paid over £1,000 for the same flight!
Check prices for different airports. Different airports have different flights with different prices. It's worth checking if nearby airports allow you to fly to your destination for cheaper. Do make sure you get your flights on the same ticket!
Always check overlay time on extremely cheap flights. We found a return flight for £300 – £350 but there was a 16-hour (!!) layover in Frankfurt. Same thing on the way back. That meant we would lose almost two full days in Japan. Not worth it!
Check for different dates. If you aren't tied to any specific dates for your trip, try checking different departure dates. Chances are that flying one or two days before/after your original plan can save you a few pounds.
Check different websites. Different websites offer different prices. When you've found the best dates, airports, and prices on one website, always double-check if another website doesn't give you that same flight for less money. My favourites are Cheaptickets, Skyscanner and HolidayPirates.
Accommodation – £636.18*
£1,272 for two people for 16 nights in Japan, making it £638.18 each. We stayed in mid-range hotels with a double room and private bathroom. This includes the Kyoto tourist tax.
When it comes to accommodation, you can make it as expensive as you want. For our trip, we decided not to go cheap out on hotels. I wanted a good bed and a private bathroom. If hostels are your thing, good for you! But we decided to stay in mid-range hotels. Here's how we picked our hotels:
Choose a hotel close to your planned itinerary. After planning what you want to do in each city, you can start looking for accommodation. Why book a cheap hotel/hostel/Airbnb if you're going to spend hours travelling by metro/train every day. I'd much rather spend that time exploring the city and pay a little extra for a room right in the middle of where the exciting things are happening. After planning my trip on Google maps, I use Booking.com to book my hotels and use their map feature to find hotels near where I want to stay.
Don't cheap out on accommodation. In my experience, accommodation can make or break your trip. Having a good room to get back to in the evening to relax and clear your mind is so important. A good bed allows you to fully recharge for the next day, which is crucial when you're exploring Japan. You don't have to go on and book 5-star hotels, but don't be afraid to spend a little more on the right room.
Don't like searching for the perfect hotel? Check out my guides on where to stay in Tokyo, where to stay in Kyoto, and where to stay in Osaka for my recommendations on what areas and hotels are the best.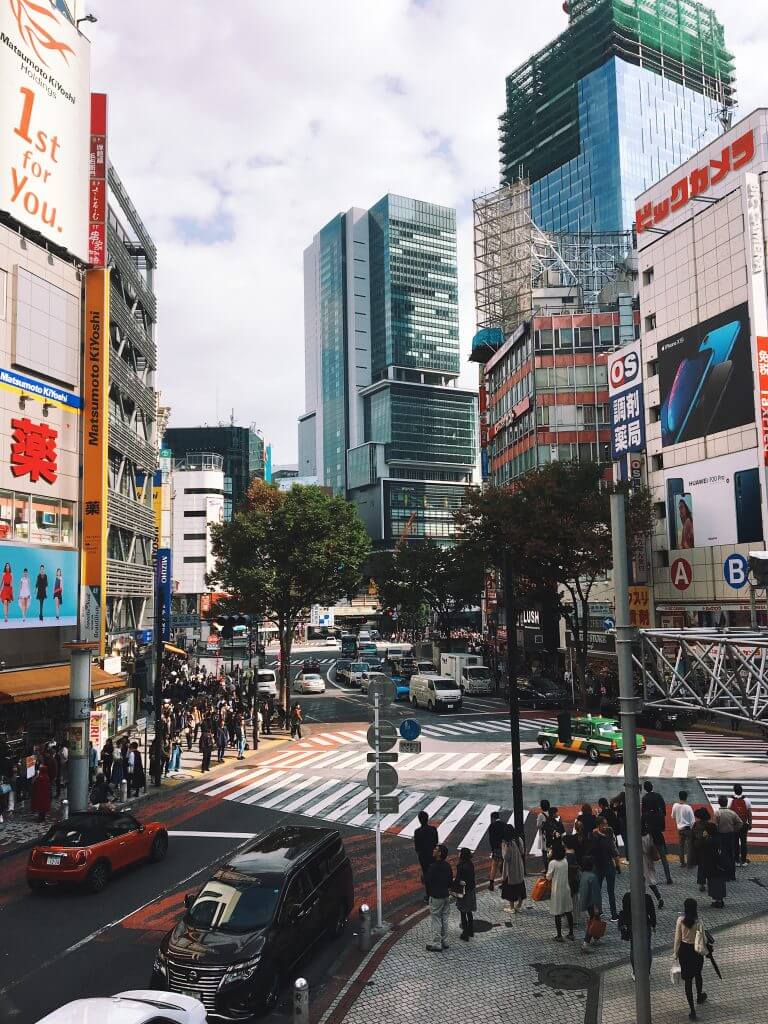 Transport – £264.32
£200* per person: 7-day JR rail pass
¥500 (£3.49) per person: Suica Card
¥8,720 (£60.83) per person: Trains/Metro (Suica card top-ups)
*Price of a 7-day JR Pass in 2018, prices have now gone up to £215.
Travelling inside Japan can seem a little daunting, especially if you don't speak the language. But it's actually really easy! Let's not forget how amazingly accurate train times are in Japan. And who doesn't want to ride the shinkansen when in Japan? Here is how we saved some money on transport:
Get a JR Rail Pass if you're travelling to multiple cities. The JR Rail Pass is a crazy money saver if you're travelling to a few cities in Japan. This pass allows you to take unlimited trips on the JR lines for a set amount of days. To find out whether it's worth it for your itinerary and a breakdown of the best/cheapest providers, check my JR Pass Guide.
Adjust your itinerary to the JR Pass. You can get a JR Pass for 7, 14 or 21 days. Because a 14-day JR Pass is a lot more expensive than a 7-day JR Pass, you can adjust your itinerary so the big train journeys fall within 7 days.
Get a Suica card. One way to make your travel inside the cities a lot easier AND cheaper is to get a Suica card. You can get this card and top it up at any train station. You simply tap in and out at stations and it automatically takes the correct fee off when scanning it. For more information about how to get a Suica card, how to top it up and how to use it, check this article.
Use HyperDia for planning your public transport trips. Japanese public transport is pretty straightforward, but using HyperDia made our lives so much easier. Bookmark the website on your phone and use it whenever you want to know how to get to your next stop. Fill in your current station and your preferred destination and the website will tell you where to get on, how long it will take and how much it will cost. Super easy!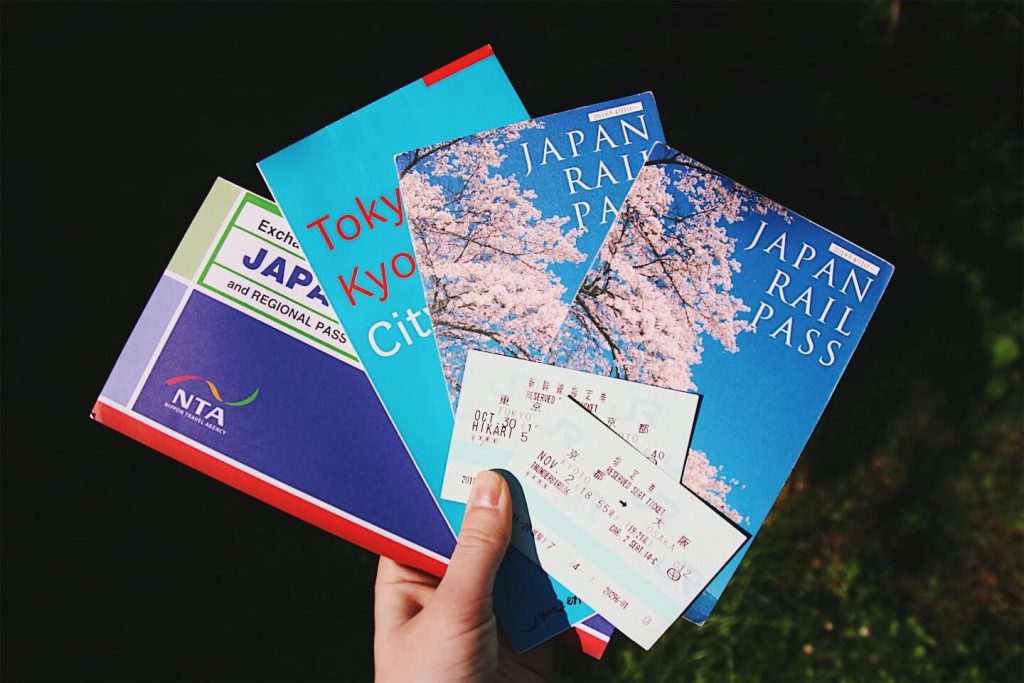 Food and Drinks – £253.47
¥36,332 (£253.47) per person
Japanese cuisine is *chef's kiss*. Sushi, ramen, tempura, Japanese curry, yakitori… There's so much good stuff to try in Japan and you don't wanna hold back!
You might wonder, is food expensive in Japan? To my surprise, we didn't spend that much money on food! Food in Japan is actually quite cheap, depending on where you go. There are, of course, expensive restaurants, but it's easy to eat delicious meals on a budget. Here are some tips for eating in Japan and saving money while doing so:
Try everything! There are so many great restaurants in Japan, so many street food vendors, so many crazy looking snacks in the supermarkets. Go and try them all!
Convenient store breakfast instead of hotel breakfast. Even though your home country might not have the best selection of ready-meals in the supermarket, Japan is on another level. Their convenient stores include fresh meals, healthy snacks and hot food for oh so cheap. We got breakfast at 7/11 or Family Mart for ¥300-¥600 (£2-£4) and we absolutely loved it. They'll even heat up any rice boxes for you. Especially since hotel breakfasts are incredibly overpriced, this is a super-easy way to save money.
Try CoCo curry. Japanese curry turned out to be one of my favourite meals while travelling in Japan. CoCo Ichibanya Curry is a chain that does amazing curries, and they are super affordable. We would have our entire dinner for less than ¥1,000 each.
Family restaurants in the back streets. Main street restaurants know they can ask for more money, especially to tourists that aren't familiar with the city. Try to wander around to find some little family-run restaurants in the less crowded streets. These restaurants often have more authentic dishes, you support a family business and they're often much cheaper. On our first evening, we stumbled upon a little restaurant and had the best ramen and tempura for only ¥500 each!
Souvenirs – £280.38
¥40,190 (£280.38) per person
If you're anything like me, you're going to spend a ton of money on souvenirs in Japan. From a secondhand Nintendo Gameboy SP to lucky charms from your favourite shrine, Japan has it all (yes, I bought both). There's so much cool stuff to bring home from Japan, things for yourself and as presents for your friends and family. Obviously, you can make this as cheap or as expensive as you'd like.
Attractions / Activities – £172.32
¥24,700 (£172.32) per person
This is another segment that you can make as expensive or as cheap as you want. It all depending on what things you want to do in Japan. To be honest, we did not really watch our spending as much when it came to activities. We just wanted to make the most of it!
Shrines and castles were really cheap to visit. Most were free, some were around ¥400-¥600 per person. The reason we spend this much on activities and entree tickets is that we went to Disney Sea (¥7,400/£51.63 per person), rented a kimono for a day (¥2,500/£17.44) and went to a concert (¥7,000/£48.84). This also includes all the money we spent on arcade games.
Book in advance when possible. Entree tickets to shrines, castles or museums have to be paid for on the spot, but if you're planning on bigger/more expensive activities you can save some money on buying them in advance. We booked tickets for the concert and the kimono rental before our trip.
Explore the ENTIRE arcade. The first week in Japan, we were slightly disappointed with the arcades because we only saw claw machines. Little did we know, the real stuff happens upstairs. All the cool arcade machines are usually found on the first floor onwards. Don't be like us and waste your money on the claw machines ;)!
Do your research on what shrines you want to pay for. Japan has so many beautiful shrines, and many of them are free to visit. We only paid to visit a handful, saving us quite a bit of money in the end. Some were perfectly viewable without paying an entree price.
Extra Costs – £31.08
¥8,910 (£62.16)*: Pocket Wifi for 16 days
*£31.08 per person
We had one extra cost that I'd like to address because it was worth every penny.
Two words: Pocket Wifi.
This little device is a lifesaver. It's a little box you can put in your bag and gives you wifi anywhere. ANYWHERE! You can connect up to 10 devices to it at once. Simply charge it at night, and you're good to go for the full day. Order it before you go to Japan, pick it up at the airport after arriving and right before you leave, you post it back to them at the airport. It's super easy and 100% worth your money.
Conclusion: How much money do I need for 2 weeks in Japan?
This is how much money we spent in Japan for 2 weeks per person:
| | |
| --- | --- |
| Flights | £468.57 |
| Accommodation | £636.18* |
| Transport | £264.32 |
| Food | £253.47 |
| Souvenirs | £280.38 |
| Activities | £172.32 |
| Extra costs | £31.08** |
| Total cost | £2106.32 |
*£1,272 for all hotels, for two people
**£62.16 in total, split between two people
While we did budget on our flights, accommodation and a few things we booked in advance. But while we were in Japan, we really didn't watch our spending. We wanted to enjoy it fully and bought all the food, souvenirs, and entree tickets we wanted. So if you want to go to Japan as cheap as possible, you can probably knock a couple of hundred pounds off this if you watch your spending.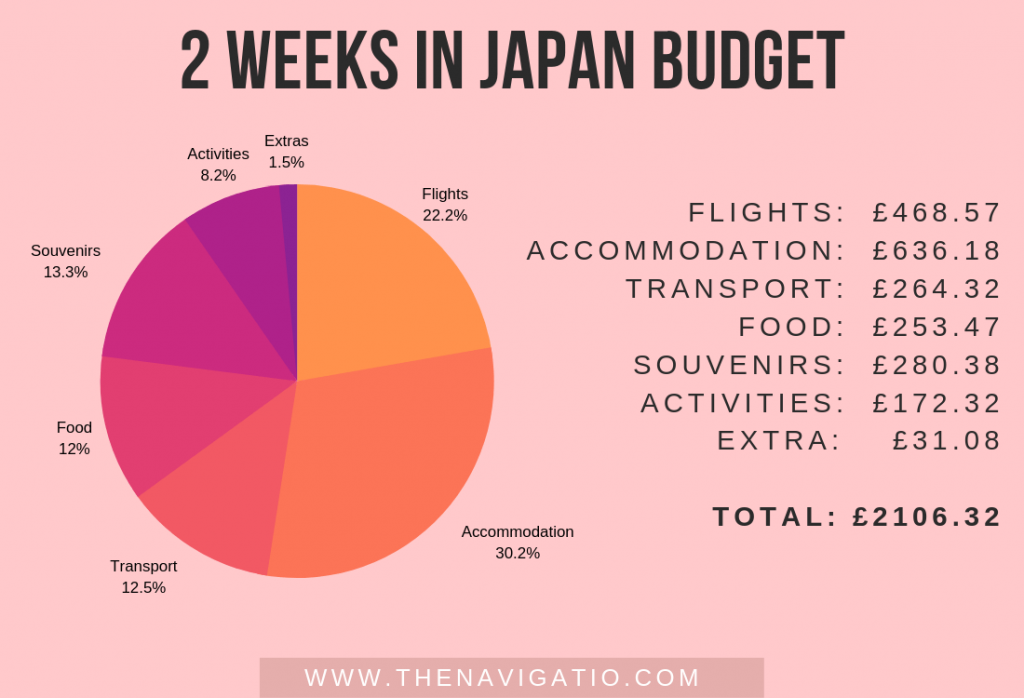 So, is Japan expensive?
While it definitely wasn't a cheap holiday, it wasn't as expensive as I expected. Hopefully, this gave you a good idea of the costs of travelling to Japan for 2 weeks from the UK.
Save for later…